menu
New Zealand Gambling Commission
The New Zealand Gambling Commission is an independent decision-making body that makes all licensing and enforcement decisions regarding gambling activity in New Zealand.  The Gambling Commission is entirely responsible for dealing with casino licensing applications. It also handles appeals on enforcement decisions that have been made by the Secretary of Internal Affairs. This can be in relation to a gaming machine or any non casino gambling activities. This means that casinos, bingo halls, and other gambling providers apply for licenses at this organization and that it oversees their business operations. Any venue within the gambling industry that offers gaming machines will have to obtain a license from the Gambling Commission.
In short, the New Zealand Gambling Commission is in charge of:
- Which casino applications get approved and which ones get renewed.
- Which changes to agreements licensed casino operators can make.
- Makes enforcement decisions on revoking and/or changing the conditions of casino licenses.
- Any regulatory and enforcement decisions made by the Department of Internal Affairs in regard to both online and offline gambling in New Zealand.
- Advising the Minister of Internal Affairs on setting the problem gambling levy
- Inform the Minister of Internal Affairs of any matter that relates to the commission's performance and adherence to the Gambling Act 2003.
The Gambling Commission works closely with the Department of Internal Affairs. This department works to build safe gambling environments and creates regulations for reducing gambling harm. The Department of Internal Affairs deals with traditional gaming services as well as non casino gambling activities, making sure that gambling in the country remains honest and fair.
The New Zealand Gambling Commission is headquartered at Level 2, 41 Bath Street, Parnell, Auckland and can be reached at +64 9 353 7223.
Estimated reading time: 9 minutes.
Table of contents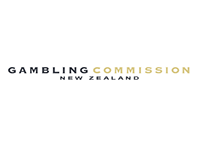 Online gambling regulation in New Zealand
Ever since the Gambling Act 2003 was introduced, New Zealand-based companies aren't allowed to offer online casino gaming, gaming machines, or any form of games of chance at all. For this reason, only so-called "offshore casinos" are allowed to offer their services to Kiwi players, with the exception of SkyCity Casino, which supports the taxation of the online gaming market and is therefore the only company with a physical presence in New Zealand to operate an online casino (although its online venue is registered in Malta).
Due to the strict laws and the Gambling Act 2003, there are just two companies that offer online betting. The New Zealand Lottery Commission offers online lottery games and has been doing so since 2008. The other company is TAB, which provides New Zealanders with a way to legally place online bets on horse racing.
According to current legislation and the Gambling Act, New Zealand residents are allowed to gamble for real money at licensed online casinos based outside of New Zealand as long as they include their winnings in their tax filings. A problem gambling levy will be applied to all profits.
As there are over 1,000 online casinos, it can be quite hard for players new to the wonderful world of online gambling to distinguish good, reputable online casinos from dodgy, scam casinos. It is important to choose a reputable licensed casino that promotes responsible gambling while offering gaming machines that have verified payouts and undergo routine audits. Many websites that have an offshore license also feature non casino gambling activities, such as Bingo games, lottery games, and skill-based titles.
Many international online casinos include New Zealand or NZ in their names or even have .co.nz URL extensions. However, none of them are actually local New Zealand businesses and they just cater their marketing heavily towards Kiwi players. These types of sites complete casino licensing applications with other jurisdictions.
For this reason, you must do thorough research before signing up at an online casino and playing pokies or other casino games for real money. Luckily, our experts have conducted extensive research and reviewed many online casinos available to New Zealand residents.
All online casinos listed below have a valid gaming license in place, issued by reputable international gaming authorities, and have built up stellar reputations among New Zealand and global casino players. Based on the current Gambling Act, those from New Zealand can legally and safely play any gaming machine offered by these operators.

Online Sportsbook in New Zealand
The Gambling Act 2003 restricts any local gambling company from offering online sports betting unless it has obtained a license from the NZ Gambling Commission. In New Zealand, the state has a monopoly on sports betting through the NZ Racing Board (NZRB), also known as the TAB NZ or just TAB. This organization offers odds on local and international sports matches and is heavily regulated by the New Zealand Gambling Commission. Here, one can benefit from odds on local and international sports, and offers parlay and single-game betting options. Multiple TAB venues throughout NZ allow for in-person bets to be placed. Just like other forms of gambling, betting on sports is regulated by the department of IDepartmentfairs, which will make all licensing and enforcement decisions.
Although the NZ Racing Board is the only New Zealand-based online bookmaker, punters can place bets on their favorite sports matches via offshore bookmakers.

New Zealand casino numbers
It is no secret that gambling and also online gambling are quite popular in New Zealand. Pokies are the most popular form of gambling, followed by lotteries, bingo, and gaming machines not located in a casino. Due to the pandemic, online sports betting and gambling, in general, have increased in popularity.
| Type of Gambling | 2019 - 2020 | 2020 - 2021 |
| --- | --- | --- |
| Sportsbetting through TAB NZ | NZ$315m | NZ$385m |
| Lottery Tickets via NZ Lotteries Commission | NZ$631m | $694m |
| Gaming machines outside casinos | NZ$802m | NZ$987m |
| Pokies and table games inside casinos | NZ$504m | NZ$559m |
| Total | $2,252b | $2,625b |

Frequently Asked Questions about the New Zealand Gambling Commission
What is the New Zealand Gambling Commission?
The New Zealand Gambling Commission is an independent regulatory authority responsible for overseeing and regulating gambling activities in New Zealand. Its primary role is to ensure that gambling is fair, transparent, and conducted without any illegal practices.
What are the responsibilities of the New Zealand Gambling Commission?
The Commission has a wide range of responsibilities, including granting licenses, ensuring compliance with gambling laws, adjudicating disputes between operators and consumers, and offering advice to the government on gambling-related matters.
How does the New Zealand Gambling Commission ensure fair gambling?
The Commission undertakes thorough inspections and audits of gambling operations, investigates complaints, and takes necessary actions against operators found in violation of the regulations. By enforcing strict guidelines, they ensure that all gambling activities uphold integrity and fairness.
Can I lodge a complaint with the New Zealand Gambling Commission?
Yes, if you believe that a gambling operator has violated the regulations or if you have disputes that cannot be resolved directly with the operator, you can file a complaint with the Commission for investigation and resolution.
Is online gambling regulated by the New Zealand Gambling Commission?
The Commission primarily regulates land-based gambling. Online gambling that originates within New Zealand is not permitted, but New Zealanders can legally play on international online gambling sites. The Commission's role in online gambling is more advisory and interpretative regarding the law.
Author: Amelia Smith
Last updated 24/10/2023 - Article published 30/01/2023