Kahnawake Gaming Commission
The Kahnawake Gaming Commission may not be as familiar to New Zealand players as some of the more well-known licensing bodies, but it has a long history of involvement in regulating online casinos. In recent years it has made serious efforts to improve its standards and can be ranked as one of the most important gambling jurisdictions in the world.
Reading time: 5 minutes.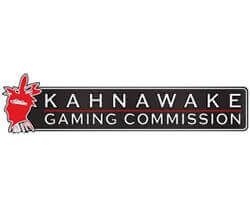 Choose a great NZ casino
History of Kahnawake
The Mohawk Territory of Kahnawake is found in Quebec, Canada. Kahnawake is an Indian reserve measuring around 48 square kilometres, and is one of several territories that make up the Mohawk Nation. It was one of the first regions in the world to recognize the potential of the online gambling industry, setting up the Kahnawake Gaming Commission in June 1996 after the Mohawk Council of Kahnawake approved the Kahnawake Gaming Law.
Three years later, in July 1999, the Commission first put into effect its regulations for interactive gaming and since that date has been involved in the licensing and regulation of online casino operators from all over the world. Kahnawake can therefore claim to have been regulating online gaming for longer than almost any other territory on the planet.
Role of the Kahnawake Gaming Commission
The role of the Commission is to issue gaming licenses to a range of gambling operators, including poker rooms, bookmakers and online casinos. The Commission is made up of three members, each of whom is appointed by the Mohawk Council of Kahnawake, the body with ultimate authority over the Commission. Each member serves a two year term.
Presently, the Kahnawake Commission gives out four types of licenses in accordance with the Regulations of 1999, though these rules have been revised several times.
Kahnawake License
The Commission lays down a number of stringent rules for license applicants to adhere to in order to obtain an online gaming license.
Kahnawake has appointed a number of specialist agents with experience in the industry to carry out detailed checks on any applicants' legitimacy and ability to comply with the regulations. These agencies conduct numerous tests and assessments on behalf of the Commission, which include auditing and system reviews and continue to conduct regular checks after a license has been granted to ensure ongoing compliance.
Many of these agencies are well known to online players and include eCOGRA, Gaming Associates, and Technical Systems Testing. It is common to see the logos of these auditing bodies on the sites of online casinos licensed by Kahnawake, which is a reassuring sign for New Zealand players who want to reassure themselves that a site is safe to use. Licensed operators are also able to display the official logo of the Kahnawake Commission on their site, and are required to offer a hotlink to the site's certificate of approval, enabling visitors and players to verify that they have a genuine Kahnawake License.
To begin the application process for a Kahnawake Gaming Commission license, operators have to pay an initial fee, which is around $25,000 for what is known as a Client Provider Authorization license and $5,000 for a Key Person License. Among the many other requirements stipulated for license applicants are that all online gaming operations have to be hosted in a data centre within the territory of Kahnawake, at Mohawk Internet Technologies, which is run by a company called Continent 8 Technologies.
Regulation
Having been mandated to control gaming across the Kahnawake region, the Kahnawake Commission is also given the power to enact regulations to enable it to fulfil its role, under Section 35 of the Kahnawake Gaming Law. As mentioned above, those regulations have been amended several times to reflect the changing nature of the online gaming world.
In drawing up their regulations, the Commission has taken advice from a number of experts in the gaming regulation field, including Frank Catania, the former Director of the New Jersey Division of Gaming Enforcement. The main role of the Commission is to try to ensure that all online gambling operators are run fairly, responsibly and honestly and to check that operators are carrying out their duties correctly, particularly when it comes to paying out customer winnings, providing a good level of customer services and promptly updating balances.
As the online gaming world has evolved, player protection has become an increasingly high priority for regulatory bodies and in recent years the Kahnawake Gaming Commission have made the protection of player information a high priority, along with ensuring that operators have sufficient safeguards to prevent underage and vulnerable players using the sites. The Commission has also put in place a number of voluntary exclusion options for players.
Links with other authorities
Throughout the years of its operation, the Kahnawake Gaming Commission has sought to build links with other regulatory authorities in order to co-ordinate activities to provide a better experience for online players. In 2005 it signed a memorandum of understanding with Antigua and Barbuda's Financial Services Regulatory Commission and also made a similar connection with the Lotteries and Gaming Authority of Malta in 2006.
Reputation
It is fair to say that the Kahnawake Gaming Commission had a reputation for being less than stringent regulator in its early days, but in recent years, they have done a lot of work to change that. They have been involved in an ongoing effort to improve and tighten regulations and have taken more of an active role in resolving player disputes and complaints.
Summary
It may not be one of the world's most instantly recognisable gaming license authorities, but the Kahnawake Gaming Commission can claim to be one of the oldest, and their two decades and more of experience in online casino regulation has enabled them to amass considerable expertise in this sector. Their ongoing efforts to improve the regulatory framework they apply are also a sign that they take their responsibilities seriously and while they may not yet have the same reputation as the likes of the Malta and Gibraltar gaming authorities, the appearance of the Kahnawake Gaming Commission logo on any online casino site should be reassuring to New Zealand players looking for reputable operators.