menu
eCOGRA casino
The online gaming industry has grown to immense heights, providing Kiwi players with thousands of games. However, how would you trust a casino site to provide fair gaming and adequate player protection?
Since its inception, ECOGRA has stood in the gap, ensuring fair gaming through unbiased online gaming software. Today, its safe and fair seal gives players confidence to register and play games at online casinos. The body achieves this primarily through extensive software and game evaluations.
If there's one thing you shouldn't miss before registering with a new online gambling site, it is the eCOGRA seal. Regulatory bodies like the Gambling Commission in Great Britain have their roles in assessing online casinos. Hence, we will review how eCOGRA helps players stay safe and enjoy the online gaming industry.
Estimated reading time: 8 minutes.
Table of contents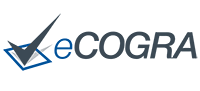 More casino brands
Casino Games

Amount of casino games offered

2050

Jackpot Pokies

Amount of slots with jackpot option

25

18+. New customers only. Minimum deposit NZ$10. T&C apply.

Casino Games

Amount of casino games offered

3200

Jackpot Pokies

Amount of slots with jackpot option

165

18+. New customers only. Minimum deposit NZ$10. T&C apply.

Casino Games

Amount of casino games offered

2000

Jackpot Pokies

Amount of slots with jackpot option

49

18+. New customers only. Minimum deposit NZ$10. T&C apply.

Casino Games

Amount of casino games offered

1450

Jackpot Pokies

Amount of slots with jackpot option

6

18+. New customers only. Minimum deposit NZ$10. T&C apply.

Casino Games

Amount of casino games offered

1600

Jackpot Pokies

Amount of slots with jackpot option

25

18+. New customers only. Minimum deposit NZ$10. T&C apply.

What is eCOGRA?
eCOGRA stands for Ecommerce Online Gaming Regulation and Assurance. A group of several industry leaders, including Microgaming, set it up as an independent organization in the online gambling industry. Its services include:
Testing and inspection
ISO 27001 certification
The certification of online gambling software and systems
The online gambling industry has several bodies performing inspection and certification services. However, eCOGRA has high standards that leave fair casino sites onboard. This approved testing agency's consistent assurance has made the eCOGRA safe and fair seal a must-have feature.
eCOGRA works for both online casinos and players. On one end, casino operators can use it to test games from software developers. Then, players can get the assurance of game fairness, customer privacy, and other features for player protection.
The eCOGRA-certified software seal doesn't fully give an online casino the green light. You must also check with the regulatory body providing the license.
We will look at the services of eCOGRA soon. In the meantime, let's review its history to see how it has developed over the years.

The history of eCOGRA
eCOGRA, founded in 2003, became the first online gaming regulation and assurance service. The body sets high standards, vetting software developers and casino operators to provide a reliable operating environment. Today, eCOGRA has grown into the most important regulatory body in the online gambling industry.
The body has been approved as a testing agency in 37 online gambling jurisdictions across four continents. That includes New Zealand, Great Britain, Canada, etc. The continents are Asia, Europe, North America, and South America.
Regulating casino software providers and gaming sites poses a challenge to bodies certifying products in the industry. Notwithstanding, eCOGRA has continuously evolved standards to protect vulnerable customers and eliminate underage gambling. These standards are contained in the eCOGRA Generally Accepted Practices (eGAP).
They demand every operator conduct themselves with fairness and player protection. Those who pass the rigorous testing laboratory receive the eCOGRA seal of approval.
eCOGRA is the first testing laboratory to earn ISO/IEC 17021-1-2015 accreditation. To date, it is the only independent regulatory body with this certification. ISO/IEC 17021 is a standard for international information security management systems.
It assesses the confidentiality and integrity of any business's operations. That also includes online casinos as it relates to customer privacy and the security of monetary deposits.
The ISO/IEC accreditation allows eCOGRA to provide product conformity certification for remote online gambling products. It also allows eCOGRA to conduct third-party audits and issue certifications to compliant online casinos.
eCOGRA leads other testing and calibration laboratories. It has the gold standard for online gaming regulation, enhancing customer satisfaction.

So, what does eCOGRA do?
The ISO/IEC-accredited certifications add weight to the eCOGRA safe and fair seal endorsements. However, the testing agency does more than certify online casinos. Its services include the following:
iGaming Testing and Inspection
ISO certification
Alternative Dispute Resolution (ADR)
Product certifications
eCOGRA eGAP seal
These services include software providers and online gambling operators. The agency tests and certifies games across jurisdictions.
Product certifications are done against the jurisdiction's requirements. Conformity assessment is also included, bringing in checks according to ISO/IEC 17025:2017, ISO/IEC 17020: 2012, and ISO/IEC 17065: 2012.
Conformity testing for products helps prevent underage gambling, combating fraudulent exploitation. The scope of the product certification covers the following:
RNG-powered games, including slots, virtual sports, table games, video poker, etc.
Real event-based wagering products
Random number generators
Casino sites and applications
Information security management systems
Software products that pass this test will receive the eCOGRA-certified software seal. Hence, you can use the products with confidence in their impartiality.
eCOGRA-approved casinos are not left off the hook after the initial regulation and assurance tests. The approved testing body implements continuous monitoring through annual visits. It accomplishes this through its compliance agents, who review the casinos.
Alternative Dispute Resolution (ADR)
eCOGRA does more than game evaluations, product testing, and certifications. Additionally, the Malta Gaming Commission and the UK Gambling Commission have approved it as a certified ADR body. The MGA demands that all casinos provide procedures for complaining and an ADR body.
This mandate is part of the player protection regulations. You can go to the eCOGRA website and lodge your complaint. However, you must have tried resolving the dispute with the casino operator before heading to the ADR body.

How casinos become eCOGRA-certified
These are the steps casinos take to become eCOGRA-certified:
The manager, owner, or co-owner applies for the certificate
The operator submits the required documentation (See eGAP requirements)
eCOGRA will conduct several tests, advise if needed, and issue the certificate.
The certification process covers three significant aspects: fair gaming, player protection, and responsible operator conduct. Hence, a gaming platform will receive its certificate once it passes these tests.
All eCOGRA-approved casinos must be legally registered companies. This is a prerequisite before the body can conduct any platform inspections.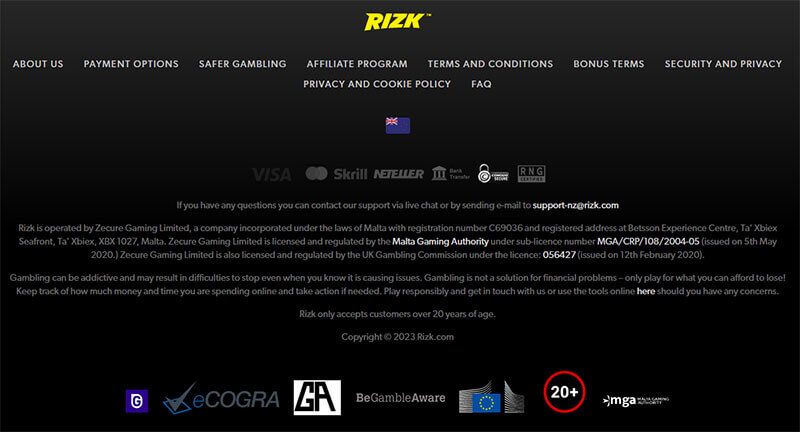 Example of a eCOGRA seal showing on Rizk.

What are the eGAP requirements?
eGAP requirements continue to evolve with new technologies and international regulations. They consist of policy objectives and protocols, including the following:
Proper information security (the site must support secure communication)
Adequate and safe handling of financial transactions
Regular review and maintenance of the site's software
Have a responsible marketing commitment
Take proper steps to prevent illegal activity, including money laundering
Offer self-regulation services to protect vulnerable customers
Offer prompt and accurate customer service
Online casinos that meet these general requirements will receive the eCOGRA safe and fair seal. They can also access the ADR service without any extra charge.

A brief look into how eCOGRA ensures fairness
Without a doubt, one of the most significant concerns for New Zealand online casino players is fairness. You want to ensure the games you wager on are not unintentionally or deliberately rigged. Also, outcomes should be fair and truly random.
To earn their Play It Safe Seal, online casinos must prove to the eCOGRA experts that their games are fair. The testing agency also works closely with the software gaming companies to minimize potential unfairness at the source.
eCOGRA can check both the inputs and outputs of a casino's software by employing a type of testing called Total Gaming Transaction Review (TGTR). This enables them to confirm payout percentages, check through transactions, and carry out transaction spot checks for accurate customer payments.
The certification agency also assesses the random number generators of online casinos. In general, eCOGRA achieves its testing through the following:
Games
Information systems security
Technical security (vulnerability and penetration testing)
Social engineering
Automated regulator reporting
Return to player
Random number generators
Live dealer studios

Benefits of playing at casinos with the ECOGRA seal
The benefits of playing at eCOGRA-certified casinos are numerous. The most important thing is fairness and knowing you'll receive accurate customer payments for your winnings. Nevertheless, the benefits also extend to the operators.
For players, these are the benefits:
Fair game results
Prevention of underage gambling
Prompt and accurate customer service
Customer information security
A reliable operating environment
Combating and preventing criminal and fraudulent acts
For the gaming platforms, they stand to gain the following:
Building and retaining trust with players
Efficient and less-risky business operations
Fast conflict resolution through ADR
Continuous support from the testing agency
Improvements to systems
Adapting quickly to new regulations

The eCOGRA trust seal
Online gaming sites are not the only ones that can bear the seal of this testing agency. The eCOGRA affiliate trust seal is for affiliates that promote fair and responsible gaming. Also, these affiliates must meet specific criteria, including ethical business operations, transparent reporting, accurate payments, etc.
The criteria for this seal are embedded in eGAP.
Other independent testing bodies
eCOGRA might be the most prominent testing body for online gaming sites. However, others have proven to offer reliable and fair certifications. They include:
Gaming Laboratories International (GLI)
iTech Labs
BMM Testlabs
Gaming Associates
Some of these bodies existed before eCOGRA.

Summary
Playing in an eCOGRA-certified casino is the only way to ensure peace of mind in New Zealand. Some sites may show certifications from other third-party testers. Nevertheless, eCOGRA's seal is the highest assurance you can get for fair gaming.
You'll find the seal on the home page of most casino websites. Alternatively, the seal can be found on their "About Us" page. You can also double-check with eCOGRA to be sure.
Author: Amelia Smith
Last updated 06/10/2023 - Article published 15/12/2019