Online Blackjack
Playing blackjack on the internet has never been easier. Thanks to modern technology, players of all locations and skill levels are able to enjoy the wonderful world of Blackjack, one of the highest ranking casino games that has been around for decades. This game is so well-loved and popular that you will likely find a version at almost any online casino that features classic table games. Blackjack is not only fun but rewarding, making it a favourite to both new and experienced players around the world.
Reading time: 5 minutes.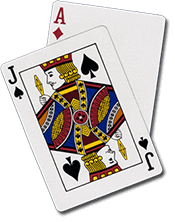 Choose a great NZ casino
Great Tips on How to Play Blackjack
Blackjack is a simple card game that requires you to get closest to the number 21 without exceeding this number. This number is achieved by adding the value of the cards that make up the hand you are dealt. In blackjack, the cards 2 to 10 are seen at their actual values, while all face (picture) cards are valued at 10. Blackjack is won with a ten and an ace. The ace can either be 1 or 11, it all depends on which is more favourable to your hand. A hand containing an ace valued at 11 is known as a 'soft' hand, while a an ace valued at 1 is known as a 'hard' hand. This simple game is played at a fast pace when compared to other card games, making it perfect for players looking for fast gameplay and results.
Blackjack is essentially a game of chance and playing for fun is a great way to improve your gameplay. It is an ideal game for those looking for a fun and entertaining time at an online casino with some good opportunities to win. That said, knowing the rules of the game is important when it comes to playing a successful and profitable game without falling behind.
Playing for real money is the only way you can win with online blackjack. While playing for free is an option, this serves more as a way to get a feel for the game and does not result in any wins. One of the best ways to gain some knowledge on gameplay is to take note of how other bettors play the game. Another good idea is to start small. While small bets mean smaller wins, it is better than betting large and risking too much. never bet more than you can afford to lose, which is true across all games, not just online blackjack.
To start the game, you must choose and make your first bet. You will then be dealt two face up cards, whereas the blackjack dealer in this case only gets one face up card. Depending on which variation of blackjack you are playing, the dealer could receive a second face-down card, known as a 'hole' card, while in other versions, the dealer gets this second card at a later or different stage of the game.
If two of your cards are equal to 21, you immediately score a 'Blackjack'. This means that you win the round by default, except if the dealer scores a blackjack as well. If this happens, it results in a tie, also known as a 'push'. If you won the round with 21, the payout ratio is 3 to 2, while other winning hands pay at a rate of 1 to 1. In the event that you don't score a blackjack, you can play your hands based on the following decisions or moves:
Stand – This is a decision to have no additional cards dealt and the dealer will have a chance to play.
Hit– This is a request for another card and you can continue to request more cards or "hit" until you want to stand or eventually go bust.
Double down – This is when you double your bet amount, taking an additional card and thereafter deciding to stand.
Split – You can split your cards into two hands when two cards are the same. Here an equal bet to your initial bet is put on each hand, which essentially doubles your bet and each hand will receive a second card. Also note that each hand can be played independently in any way you see fit.
Surrender– You may surrender half your bet if you think you have a losing hand. In this way, you only risk losing 50% of your bet.
Take Insurance– You can opt for insurance when the dealer's card happens is an ace. This means you decide to bet 50% less of your initial bet. This also means that you project that that the dealer's hand will result in a blackjack, and if correct, you'll get paid out at a 2 to 1 ratio. If the dealer does not score a blackjack, you will lose your insurance, but can continue with your original hand. Deciding which move to make will depend on the blackjack strategy you are using.
Know Your Online Blackjack Variants
There are a few blackjack variants available to cater for the needs of all players. Playing at a reputable, well-established casino will give you more opportunities to experience the range of blackjack versions available on the Internet. Most online variations feature the same rules and gameplay with some slight alterations. Some versions only use one card deck, while others can be played with several decks. In some versions, the dealer may stand on soft 17 while he hits on soft 17 in others. Certain variations will let you surrender while others will not – some will let you double down on any two cards, while others are pickier.
In Double Exposure Blackjack, both of the dealer's cards are dealt face up, while another version, Bonus Blackjack, features special bonus jackpots on certain hands, while Triple 7s Blackjack offers a massive progressive jackpot. While so many options, it is a good idea to become familiar with the rules of each version, to take time to play for free and then, once confident, go ahead and start making real money bets.
Blackjack is essentially a game of luck, although there are strategies that can be put in place to boost your winning chances. These strategies not only improve your chances of winning but adds an interesting and exciting element to your gameplay. By gaining experience, you could enjoy the most exciting and profitable experience playing one of the greatest casino games of all time.