Double with Blackjack
When you play a game of blackjack at an online casino, you will have the ability to make many decisions that can have an effect on the outcome of the game. This is why you should always take time to learn game rules and strategies and even take some time to master your own style of playing. Online blackjack does offer some amazing chances to win huge payouts and there are some features offered wit t eh game that can be quite beneficial. If you have ever played blackjack in the past, you will already be familiar with the term doubling down.
Reading time: 4 minutes.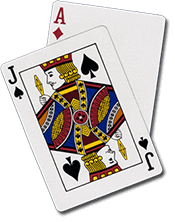 Double with Blackjack
The ability to double when playing blackjack is one of the exciting features of the game and it is one that is often used by those at the tabled. When you double, you have the chance to win a great profit and the option provides some added excitement to the game. Even if you are a beginner, you can make use of the double option and walk away with payouts, provided you know when to make use of the option and when to avoid it during real money play.
In order to take advantage of the double with blackjack option, you need to know how to use proper blackjack strategy, which will tell you when to double and when to avoid this option so that you have the best chances at winning.
Double Down Rules in Blackjack
The actual rules that apply to doubling down will vary per casino as well as per game variation. Be sure to review the rules of each game before placing bets by making use of the free play mode that is featured. In most casinos, you will be allowed to double any of your two original cards. You may even find the option to double down on a blackjack. There may be some sites that will restrict you from doubling on hands that are 9, 10 or 11 unless your first two cards equal these amounts.
After splitting a pair, you will still have the option to double, but this is also a rule that will be set by individual sites and games, so you need to be aware of this rule. Once you make the decision to double, you will have to place an additional wager, so you will also want to make sure your budget supports this type of play.
After the additional wager has been placed, you will receive one card and will not have any further action on the hand. The total hand value will be that of the first cards and the double card. You will not be allowed to hit after doubling, so be sure you are making the right decision as this option will end the game.
Doubling Strategy
Most blackjack players believe they should always double if they have a total of 11 in their hand. When you do this, you will have a pretty good chance of receiving a ten-card, which will make your hand worth 21, often leading to a win. However, this may not always be the right way to go about playing. If you are able to count cards, you will know there is never a guarantee with blackjack, but this counting strategy will surely help you decide when to double as you will have a better idea of how many ten cards remain in the deck.
Should the deck have a negative count, doubling can lead to great loses. In this case, there are more low cards in the deck, so your chances of winning are reduced. When the count is positive, you should take the chance of doubling as you will have a much better opportunity of drawing a ten card or one of high value that can leave you with a strong hand.
In regards to strategy, if you are a card counter, always have an accurate count and double when the count is positive. If you are just a casual player who does not count cards, you can follow a few easy rules that will tell you when to double. These include:
- Doubling with a hard hand total of 11
- Double a hard hand of 10 when the dealer shows a 4, 5 or 6
- Double with a hand total of 9 when the dealer shows a 5 or 6

With these basic rules, you will have some great success with the double option and will be able to increase your profits as you engage in this exciting and rewarding casino card game.