Roulette
Choosing an online casino game to play can get confusing, especially since there are so many options available. Luckily, we're here to help you figure things out. Online slots are one of the most popular options for players trying to earn some quick wins, while video poker games are perfect for those looking for a bit of a challenge. Then there are table games, which offers kiwi players the most classic casino experience without having to leave the comfort of your home.
New Zealand online casinos usually boast a wide range of table games, with the most popular being Blackjack, Baccarat and Roulette. The popular Roulette wheel is synonymous with gambling and can been seen at both land-based and online casinos all around the world and on the Internet. Playing Roulette is a fun, rewarding experience that most new and seasoned players will enjoy. One of the most main drawcards of Roulette is the fact that it is a game of chance, which means almost anybody has the potential to win. That said, playing Roulette for cash can be risky if you do not pay attention to the rules of the game, which include setting a limit to the amount of money you spend. It is also important to choose the right online casino at which to play. Players can check the reliability, safety and credibility of the site by looking at safety and security, casino licenses and fairness, reputation and trustworthiness and more to ensure a secure gaming experience.
Reading time: 5 minutes.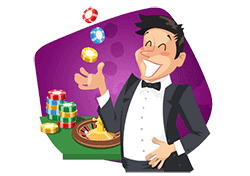 Choose a great NZ casino
How to Play Roulette Online
Playing Online Roulette is a thrilling experience that can be enjoyed directly from the comfort of your home. Once you have joined a reputable online casino, you can start playing for real money once you make your first deposit. There are usually many Roulette versions available on the Internet, with the most popular and widely available being European Roulette, American Roulette and French Roulette. European and French Roulette features a single zero, while American Roulette has a single 0 and double 00. Betting on a single number affords odds of 35-to-1, although this varies depending on what game version you are playing.
The game starts by choosing your betting limit and placing your chips on the table. Once you make your wager, the betting part of the game ends and the wheel will bet set in motion. Once the wheel stops, the ball will rest in a particular pocket and if you are successful, you are paid out your wins.
Keep in mind that this is the basic rules of the game, and there may be slight changes depending on the variant you are playing. You do not only have to bet on a single number during the game - you can wager on even or odd spaces, colours like red or black, and more. Column bets will double your money, while betting on red, black, odd or even will pay out even more money. Players can also make use of the 'split' bet – where you can bet on two numbers at the same time. This results in a payout of 8/1.
The Different Types of Online Roulette
Online Roulette is an easy game that works pretty much the same as its land-based counterpart. The aim of the game is straightforward - predict the colour and number the ball will land on and win. While the rationale behind the game is straightforward, there are different versions available that sees slight tweaks in the rules and gameplay. The following are popular, recommended Online Roulette variations.
European Roulette
European Roulette is a favouriteOnline Roulette game that makes use of a wheel with a single zero. This means that there is a decent Return to Player (RTP) of 97-98%, making it one of the easiest and rewarding Roulette versions on the Internet. As is the standard with online games, players can expect excellent graphics and effects as the software providers aims to mirror an actual gaming experience. Some of the most popular European Roulette versions are the ones produced by Microgaming and Real Time Gaming.
French Roulette
Another popular version of the game, French Roulette is slightly more complicated than European Roulette. This variant has a wider variety of betting options, which could be more confusing to new players. That said, learning the rules of the game and gaining some experience will make understanding the game easier. One of the most popular French Roulette games is available through Playtech.
American Roulette
What makes this version different from the others is the fact that it has 38 pockets instead of the standard 37. This is because there is a single and double zero pocket, which results in a higher house edge than European Roulette. This makes it a good option for more seasoned gamers looking for a new challenge. Players can expect smooth and seamless gameplay and excellent graphics and you spin your way to fun and rewards. Betsoft offers an excellent version of American Roulette.
Online Roulette Strategies
Despite being a game of chance, there are certain strategies you can apply to improve your winning opportunities. Some of the most popular strategies include:
The Martingale Strategy – This is a popular strategy that encourages players double their bet after every loss. This should help you to always reclaimany losses when you eventually win.
The Reverse Martingale – Unlike the Martingale, here players are advised to increase bets whenever you win and lower your bets when you lose. The idea is that you will limit your losses and gain more wins. For this strategy to work, players need to make a few wins quite soon after each other before quitting at the right time. Making incorrect judgements can cost you, so this is a better strategy for experienced players with a healthy bankroll.
The D'Alembert Strategy – Often considered a more conservative strategy, here players are encouraged place more conservative bets after a loss. This strategy also features an even chance system, allowing you to bet on odd and even numbers, on numbers 1 – 36, and on black and red.
Playing Online Roulette is a great way to boost your income and spend some exciting moments at an online casino. Our advice would be to choose a reputable online casino and gain some experience but playing free versions or low bets before making large wagers to reap the most rewards.