Video poker
Video poker has always been a popular option for gamblers, both online and off. In fact, video poker has been making its rounds since the 1970s and remains a favourite amongst gamblers all over the world. These days, you do not have to visit a land-based casino to enjoy some video poker games as everything is available to play immediately from your desktop or mobile device.
If you like games with a combination of luck and skill, with low house edges and the chance to win some impressive rewards, the video poker is just for you. What's more, there are even video poker games attached to progressive jackpots, increasing your winning opportunities in a massive way. The good news for video poker lovers is that almost all reputable, well-established online casinos feature a wide range of video poker games available in both single and multi-hand versions for pure convenience and entertainment.
Reading time: 5 minutes.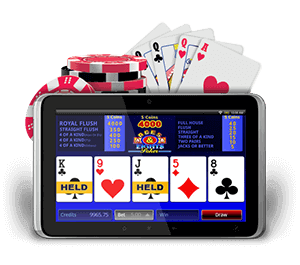 Choose a great NZ casino
How To Play Video Poker
Once you have chosen an online casino and signed up, you can make your real money bet and start your playing experience. The rules of video poker depend on the type of game you are playing, although it is all generally easy to understand. Starting off is easy as you simply have to choose your coin limits. Typically, games allow you to bet anything between one and five coins per hand, although it is a general rule of thumb to bet the maximum if possible for the best chance to win big.
Once you have made your bet, simply hit the Deal button and you will receive you first round of cards, depending on the game you are playing. You will be allowed to look at your cards, and have the option to 'hold', keep in place or re-draw. If you want to change your cards, click on your mouse and this will be done. Once you are happy with your cards, you must try to make the best possible hand to win the round. Payouts will be paid according to the hand you present at the end of the round.
Double or Nothing
If you win a hand at video poker, you have the opportunity to Collect or Double. If you choose Collect, it means you get to collect your wins according to the paytable. If you are feeling lucky, go ahead and double, which gives you the opportunity to double your wins by picking a high card. Choosing double will present you will five cards – one faced up and four faced down. Your job is to select a face down card and if it is higher than the upwards facing one, you double your wins. If not, you lose everything. With Double or Nothing, you have double the chances of winning but also double the risk of losing it all, so think carefully before using this option.
Different Types of Online Video Poker
There are many video poker options to choose from, including the following:
Jacks or Better – Jacks or Better is one of the more popular video poker games and is available at most online casinos. Here, players must make the best five-card poker hand. What makes things interesting is that you only win by hitting at least one pair of Jacks, which pays 1 coin, while two pairs pay 2 coins, and so on.
Wild Card Video Poker – Wild card video poker include games like Deuces Wild that makes use of a wild card, which can replace any other card. In Deuces Wild, the 2s represent the wild, giving you more opportunities to land a winning hand. What's more, the cash payouts in these types of games are generally more than standard video poker games, which is definitely a benefit.
Progressive Jackpot Games – There are video poker games that are connected to progressive jackpots, which can take you from normal players to multi-millionaire within minutes. With progressive games, a variety of games are tied together to one jackpot, and for every bet staked, a portion of it goes toward the jackpot pool. Once triggered, the lucky recipient will win the entire pot, which can often be in the millions. The jackpot is triggered differently based on the game you are playing, so be sure to read and understand the rules of the game before placing huge money bets.
A Video Poker Strategy Worth Looking Into
Video poker is considered a game of chance and strategy, giving players good chances to win. The key to any video poker strategy is to know which cards to hold and which to let go. While no strategy offers a guaranteed win, using the right moves will help you see better results and potentially win the hand.
Choosing an Online Video Poker Game
Choosing a video poker game can be a daunting task since there are so many options available. Some of the most popular games include Jacks or Better, Deuces Wild, Aces and Faces, Joker Poker and Double Joker. It is important to check out the payout table, the type of hand needed to win, and whether the game features a wild card or is connected to a progressive jackpot. It is also important to play at an online casino that is highly respected and safe to guarantee the most successful gaming experience.
The rules of the game are also important, since two wild cards could be a bonus, but if the conditions of the win are strict, it might not be worth it. Therefore, players should pay attention to the game's features, decide what you are looking for in a game and use it to your advantage. With so many options available, players have more than enough time to check out a few games before committing to one. Many online casinos also offer free versions of these games, which is ideal for players to get a feel for the game before betting any real money. Video poker games are diverse and entertaining and offers plenty of good wins, while the progressive games can boost your bankroll in a life-changing way.