menu
Progressive Jackpots
If you've ever visited an online casino before, there is no doubt that you have come across jackpot games. They are often widely advertised directly on the homepages of online gambling sites, with the fact that you can win life-changing jackpots. A term that you regularly encounter is 'progressive jackpot.' Pokies can have a progressive jackpot, but sometimes they have (multiple) 'regular' jackpots.
In this progressive jackpot guide, we will explain to you in detail what progressive slot games are, how they work, and what the most popular ones are for Kiwi players.
Estimated reading time: 13 minutes.
Table of contents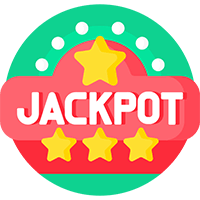 Best online pokies casinos
Casino Games

Amount of casino games offered

2050

Jackpot Pokies

Amount of slots with jackpot option

25

18+. New customers only. Minimum deposit NZ$10. T&C apply.

Casino Games

Amount of casino games offered

3200

Jackpot Pokies

Amount of slots with jackpot option

165

18+. New customers only. Minimum deposit NZ$10. T&C apply.

Casino Games

Amount of casino games offered

2000

Jackpot Pokies

Amount of slots with jackpot option

49

18+. New customers only. Minimum deposit NZ$10. T&C apply.

Casino Games

Amount of casino games offered

1450

Jackpot Pokies

Amount of slots with jackpot option

6

18+. New customers only. Minimum deposit NZ$10. T&C apply.

Casino Games

Amount of casino games offered

1600

Jackpot Pokies

Amount of slots with jackpot option

25

18+. New customers only. Minimum deposit NZ$10. T&C apply.

What is a Progressive Jackpot?
A progressive Jackpot is a jackpot whose amount keeps increasing as players play the slot. The jackpot amount constantly increases until one lucky player wins it. If the jackpot has been hit, the amount will be reset to the seed amount.
You can encounter these progressive jackpots on slots in online casinos but also, for example, in land-based casinos, such as the Dunedin Casino or SkyCity Casino venues. With well-known progressive slot games and lotteries such as Powerball, BulseyeO, and the National Keno, the jackpot amount also increases if nobody wins the jackpot a certain day, week, or month.
With online pokies that have a built-in online progressive jackpots, the jackpot amount increases faster if more players are playing the slot. A small part of every bet that is wagered on the slot goes to the jackpot pool and increases it. So if many people play the progressive pokies game, the amount goes up faster. Are fewer people playing? Then the jackpot amount will increase slightly less quickly. Fortunately, progressive jackpots can never get lower unless they are won!
A small part of every bet placed on an online progressive jackpot slot also goes to the so-called 'Shadow Jackpot'. This is actually a sort of piggy bank of the jackpot behind the scenes in case someone hits the jackpot. If someone then wins the jackpot, the money in the Shadow Jackpot ensures that it can be seeded again with the correct amount right away.

Local and Network Progressive Jackpot Slots
A progressive jackpot can either be a local, or a network jackpot. Local means that you can only win the jackpot on a specific progressive slot machine or in a specific casino. In that case, the jackpot amount is often relatively low (compared to network-wide progressive jackpot slots).
A network progressive jackpot, on the other hand, can go much higher. The jackpot can be won on all kinds of different progressive slot machines, and/or the jackpot can fall in one of the many casinos within the same casino group. Slot machines are considered progressive when some of the bets in them increases the maximum jackpot.
Contrary to popular beliefs, progressive slot machines are not always a group of slot machines with a shared jackpot. Instead, individual slot machines may offer progressive jackpots. In other words, the whole network my be one machine.
The jackpot amount increases simultaneously on all online slots, and if the jackpot hits, the jackpot amount on all slots is reset to the starting seed amount. The biggest jackpots won in online casinos are all network progressive jackpots, and these amounts run into the millions!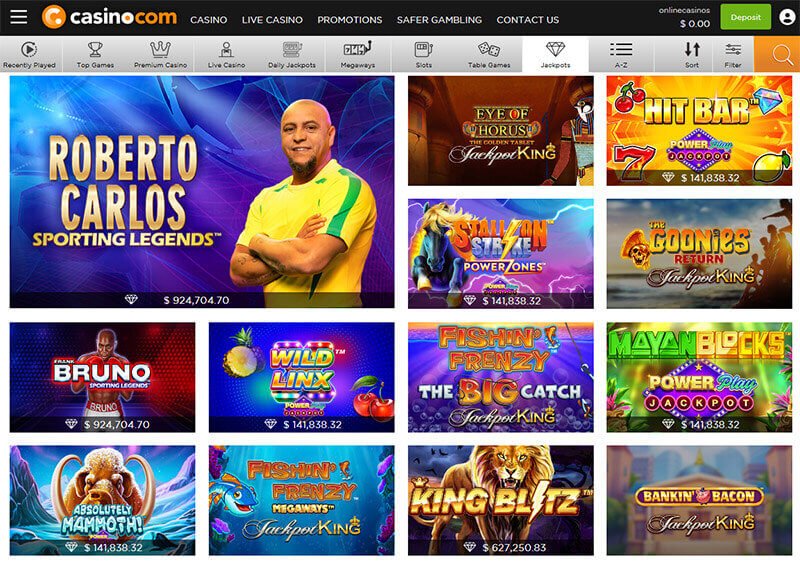 Progressive jackpots as can be found at Casino.com.

Highest Progressive Jackpot Slot Win
At the moment, the highest progressive jackpot slot win is more than €19,430,723.60 (about 33 million NZD). The jackpot fell on the well-known Mega Moolah progressive jackpot, and it fell on the Absolootly Mad slot from Microgaming. In New Zealand, the current online jackpot record is NZ$10,144,395,82 won by Rawiri Pou with Mega Moolah as well, at 32Red Casino.

Casinos with Progressive Jackpots
Almost every online casino for New Zealand players has jackpot slots, but not every casino has the same offer. Below you will find the best online casino NZ for Kiwi players with the largest selection of jackpot slots. These casinos are all licensed and regulated casinos, which means that you can gamble online safely with them. In addition, you do not have to worry about depositing and withdrawing. Depositing is easy via Neteller, Skrill, and PayPal, and withdrawing your winnings is completely hassle-free.

What Types of Progressive Jackpots are There?
Below we will break down the most popular progressive jackpots that you can win at New Zealand online casinos. These progressive slots come from different casino software providers and each has different features, seed amounts, and mechanics.
Mega Moolah
The Mega Moolah jackpot is the most famous progressive jackpot in online casinos, mainly because it has been around for so long. This jackpot always stands at at least several million and still tops the charts as the highest progressive jackpot slot ever won. The concept was invented by Microgaming, and you can win the Mega Moolah jackpot on various slots. There are multiple levels in the Mega Moolah jackpot slot (mini, minor, major, and mega), and only the highest is worth millions.
WoWpot
The WoWpot progressive jackpot slot was also invented by Microgaming, and you can now win it on a number of slots from this game provider. This jackpot is very similar to the Mega Moolah jackpot as in that there are several jackpots that you can win, with the highest always being worth many millions. The WoWpot can be seen as a sort of sequel to the Mega Moolah jackpot.
Dream Drop
The Dream Drop jackpot was invented by Relax Gaming, and you can win it on one of the many Relax Gaming slots. The jackpot consists of 5 levels (Rapid, Midi, Maxi, Major, and Mega), and the Mega Jackpot is always worth at least one million New Zealand dollars.
Mega Fortune
This game also offers players a chance to win a large progressive jackpot. In fact, this game offers the chance to win some of the highest jackpot prizes in the entire online casino industry, just like Mega Moolah. Appropriately, the theme of this game is everything you will encounter in a luxurious life: diamonds, yachts, watches, and limousines.
In September 2011, a lucky player won the Mega Fortune jackpot for €11,736,228 (about 18 million NZD). In January 2013, an extremely fortunate player from Finland won a jackpot of €17,860,868 (over 30 million NZD).
Spin to Win
The Spin to Win jackpot is a relatively new concept invented by Stakelogic. When you activate the jackpot feature on one of the Stakelogic slots, you are redirected to the live casino studio of Stakelogic. A live dealer will then spin the wheel to determine your jackpot!
MegaPays
MegaPays is the type of progressive jackpot you can win on Big Time Gaming slots. This casino game provider once also invented the concept of 'Megaways.' Because this has become such a success, Big Time Gaming also came up with 'MegaPays.' On a number of slots, you can win this type of jackpot, and it can reach hundreds of thousands! The most popular MegaPays slots among Kiwi players are Danger, High Voltage, The Great Pigsby, Star Clusters, and Who Wants to be a Millionaire.
Arabian nights
The Arabian Nights slot from NetEnt is not a new game and has already delivered sweet payouts to many players. This Middle East-themed game offers the chance to play along with a progressive jackpot. It seems like you are going on a trip, and Arab items, including swords, clothes, and magic lamps, can potentially land you a big jackpot.
In March 2010, a man from Norway won a bonus of no less than 4.8 million euros (over 8 million NZD) on Arabian Nights. This was then the largest single jackpot ever paid out by Betsson Casino.
Red Tiger Daily Jackpot Drops
Red Tiger slot games also have a progressive jackpot set. It goes up for 24 hours straight but must also be won by a player within these 24 hours. If the time is almost up and nobody has won the jackpot when playing progressive slots, it will be interesting to participate! This progressive jackpot can fall in any online casino that features games by Red Tiger Gaming.

Progressive Jackpot Slots Software Providers
As you might have noticed whilst reading this guide, there are several casino software providers that create progressive jackpot slots. Below we will break down the different progressive jackpot software providers.
NetEnt
With its high-quality video slot games, NetEnt is most famous for making Arabian Nights and Mega Fortune. NetEnt always emphasizes on stunning graphics, and great sound effects, and some of the highest progressive jackpots have landed on their games.
Microgaming
This company is one of the oldest casino software providers. Among other things, they are the supplier of the game Mega Moolah; as we mentioned earlier, this is the game on which the highest progressive jackpot ever fell.
Blueprint Gaming
This casino software provider may not be as well known as NetEnt, but Blueprint Gaming has a varied selection of progressive slots. For example, try Buffalo Rising or Spinal Trap.
Hopefully, this article has made you realize that there is a world of possibilities out there when it comes to winning life-changing amounts of money in an online casino. Anyone can win the progressive jackpot, and you don't need any complicated or elaborate strategies. This makes these types of online casino games very fun and exciting for beginner casino players as well. Just be sure to check the payout limits at each online casino. And don't forget, enjoy the thrill of the game!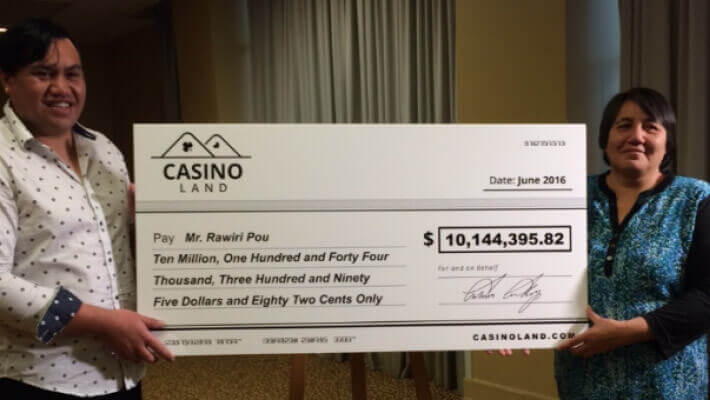 Proud Player Rawiri Pou showing his jackpot in 2016, won with only a $250 deposit.

How to start playing progressive slots
Most casino visitors, both online and offline, aspire to win the massive jackpots associated with any progressive slot game. Many players believe they have a decent chance of securing life-changing fortunes if they understand the game at these casinos. To gain insight into obtaining these progressive jackpots and improving your odds of winning, this section provides valuable information on progressive jackpot slots.
While various progressive slots have different methods for players to win their jackpot rewards, most of these games have three common ways to collect these prizes.
Jackpot Wheel
To secure one of the progressive jackpot slot machine payouts, an exciting approach is to utilize the jackpot wheel mode. This model features a wheel with multiple slots and a fixed pointer at the centre. Once the wheel stops spinning, the cash prize from the slot where the pointer lands is awarded. Although the mechanics are simpler compared to a casino's money wheel game, obtaining the largest possible prize is challenging.
Typically, the major prize on the jackpot wheel is just one square, among many others. Accessing the jackpot wheel usually requires creating a winning combination by matching bonus symbols during the base game. To maximize your chances, employing an optimal strategy is crucial.
Collect Symbols
To enhance your slot play experience and increase your chances of winning, another method involves collecting a specific number of matching symbols. This is typically accomplished through an engaging mini-game where you are presented with various objects. Behind these objects lie the symbols for the jackpot prizes. By collecting three of these symbols, the mini-game concludes, and you are rewarded with one of the coveted jackpot prizes. Start exploring this exciting feature to potentially claim your jackpot reward.
Symbols Match
When it comes to winning the jackpot, the traditional method involves aligning specific symbols on the reels. This concept mirrors the scenario where the highest paying symbols line up on a 1x3 slot with one payline. However, since we are discussing progressive slots, the process of matching a single symbol is not as straightforward.
Matching symbols used to be the primary trigger for large jackpots and are still prevalent in classic-style slot games. Nevertheless, the wheel has evolved to become a popular strategy for one simple reason - it generates excitement and anticipation that is difficult to duplicate by matching or collecting slot machine symbols.

Progressive Jackpot Strategies and Tips
Jackpot slots require a different set of methods compared to your regular slot strategies. This is because they are programmed slightly differently. To help you get the most out of your gameplay, here are four progressive slot strategies to consider.
Minimum Bet
When it comes to progressive slots, it's important to note that not all of them have a strict bet requirement to win the highest jackpot prize. Surprisingly, setting the maximum bet is not always necessary to strike it rich. In fact, there are several slots where you can claim the progressive jackpot even with the minimum bet. By taking advantage of free spins and understanding the house edge, you can increase your chances of winning big without breaking the bank.
Loss Limit
Progressive slots often have the lowest RTP and higher variance rate than other games. Profiting out of these games tends to be difficult, and you are likely to go through your bankroll without winning the largest jackpot prize. Having a loss limit can help you enjoy the game without experiencing any financial pressure. Simply stop playing if your bankroll hits a specific limit. Another method is to have a set budget for progressive slots and another for different casino games, allowing you to enjoy the casino experience.
Jackpot Prize Amount
When making your first deposit and setting up your casino account, it is essential to familiarize yourself with the minimum progressive jackpot amounts for the specific slots you intend to play. While many progressive slots still feature a minimum jackpot prize of around $5,000 or more, it is advisable to avoid playing these slots right after the jackpot resets. Aim for progressive slots with a jackpot prize that is at least twice the minimum amount.
Progressive Slot RTP & Variance
When it comes to slot games, opting for higher RTP (Return to Player) and lower variance rates can lead to reduced risks and improved rewards. Typically, well-known progressive slots have lower RTP and higher variance rates. Nonetheless, some progressive slots offer more favourable risk-to-reward ratios. Although these slots may not offer million-dollar jackpots, they still provide substantial progressive jackpot rewards with a moderate level of risk involved.

Frequently Asked Questions about Progressive Jackpots
Who pays for progressive slot machines and their jackpot?
Progressive slot machines are primarily funded by the players themselves. Whenever a player takes a spin on the slot, a fraction of their wager contributes to the overall jackpot (players contribute). This small percentage from each bet accumulates over time, especially when the machine is part of a larger network, creating the massive jackpots that attract many players.
How to find the best progressive pokies?
Many NZ casinos, particularly those featured on our site, showcase a range of progressive pokies with impressive jackpots to win millions. Some of these games offer life-changing payouts even for minimal bets, sometimes as low as NZ$0.10. To locate these games, search for terms like "slot game" or "progressive slot" within the casino's game library. Additionally, most casinos prominently display the current jackpot amounts alongside each game, helping players identify the best huge jackpot.
What decides if I win? What are Random number generators?
Wins in casino games, especially a progressive slot machine, are determined by a mechanism known as a Random Number Generator (RNG). An RNG ensures that every spin or game round is independent and offers a completely random outcome. This means that previous results have no influence on future spins, ensuring fairness and unpredictability in the game. It's this unbiased and impartial system that upholds the integrity and fairness of casino games, allowing players to trust the gaming process.
Author: Amelia Smith
Last updated 21/09/2023 - Article published 11/01/2023