menu
Mega Moolah
Only a few games have spiced up the online casino experience like Mega Moolah. Despite its release in 2006, the slot machine has remained one of the most loved casino games. It's now available on mobile for quick and easy accessibility.
Mega Moolah by Microgaming (now Game Global) is one of the most-played online slot machines. This progressive jackpot slot has paid out more than $1 billion since its launch. On February 6, 2022, the slot paid €7.29 million (NZ$12.2 million) to an unnamed player.
This extensive review will teach you how to play Mega Moolah. But remember that it's a luck-based game like any other slot.
Estimated reading time: 16 minutes.
Table of contents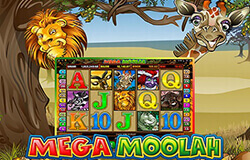 The mega moolah theme and graphics
The graphics in the Mega Moolah slot reveal its age compared to more modern progressive jackpots. That was an era where 3D designs were not mainstream in online casinos. However, the simple use of colors and images has kept the gameplay attractive.
You'll find subtle and framed reels outlining the 5-reel, 3-row play area that contains the millions. The symbols are colorful enough to contrast the almost-neutral setting on the reels. That makes the Mega Moolah slot machine a delight to watch when spinning the reels.
An African safari fills the background, giving the slot machine a wild and free theme. The animals that appear on the reels reinforce that theme. Unfortunately, there aren't many animations in the background, as you'll find in modern online slots.
The real excitement comes when you look above the reels. That's where the progressive jackpots count as more players join from different online casinos. The mouth-watering prizes will pump up your adrenaline if you have yet to make your first deposit.
This Africa Safari-themed slot game is a delight to play with your first deposit. The primary thing is to ensure you play the slot game on a reputable casino site.
The slot has many bonus features that make the graphics more appealing. You'll soon learn about them and how to grab the million-dollar payout from the progressive jackpot.

How to play Mega Moolah?
Mega Moolah happens on a 5x3 grid with 25 adjustable winning lines. Players will encounter wild animals and a randomly appearing jackpot wheel that can pay a life-changing sum.
Create a new casino account.
Meet the minimum deposit requirement to fund your account.
Load the Mega Moolah slot.
Set the stakes and pay lines to get started with this progressive jackpot slot.
After setting the stake amount, tap the "Spin" button to play the game and form a winning combination.
The game supports 1 to 5 coins per line. Also, the minimum bet you can make at most Mega Moolah online casinos is 0.01 credits. That means the actual minimum bet is 0.25 credits if you use all 25 betting lines.
The maximum bet is 0.05 credits per line or 6.25 credits with all pay lines. You can use the "Bet Max" button to get the max bet instead of manually adjusting the coins and credit.
You'll receive a payout if you match at least three symbols from the leftmost reel. However, you only need to match two wilds and premium-symbol characters to receive a payout.
There's also an Autospin function that allows you to spin 10 to 100 rounds automatically. You can stop this feature anytime by clicking the "Stop" button.
You'll find most of these controls below the reels. The remaining ones are hidden in the side menu. Click the menu icon at the left to open the window for more controls.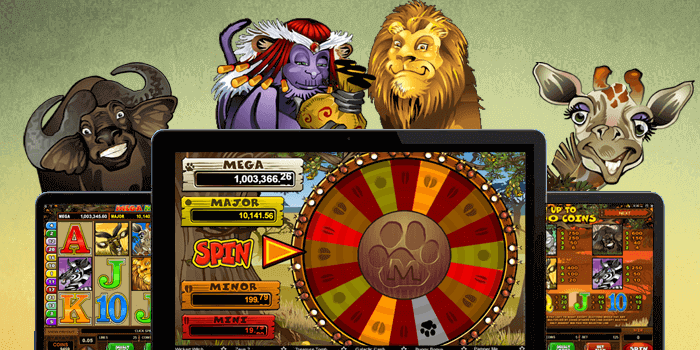 Mega Moolah on mobile devices.

Mega Moolah paytable
Like any other slot machine, Mega Moolah by Microgaming has a paytable. You'll meet multiple animals, including the lion, giraffe, elephant, kudu, buffalo, and zebra. You can also find the witch doctor, who is the scatter.
The card royals (A to 10) have the lowest pay in the game. They also pay when you have at least three on a payline.
The buffalo, elephant, witch doctor, and lion pay from two on a payline. Below is how the Mega Moolah paytable works for a NZ$1 bet:
| Symbol | Two of a kind | Three of a kind | Four of a kind | Five of a kind |
| --- | --- | --- | --- | --- |
| Lion (wild) | 15 | 125 | 1,500 | 15,000 |
| Witchdoctor (scatter) | 5 | 75 | 500 | 2,500 |
| Elephant | 6 | 50 | 250 | 750 |
| Buffalo | 4 | 40 | 150 | 600 |
| Giraffe | | 30 | 125 | 500 |
| Kudu | | 20 | 100 | 400 |
| Zebra | | 10 | 50 | 250 |
| A | | 8 | 40 | 150 |
| K | | 6 | 30 | 100 |
| Q | | 4 | 20 | 75 |
| J | | 3 | 15 | 60 |
| 10 | | 2 | 10 | 40 |

Mega Moolah bonus features
You won't find features like an avalanche, expanding wilds, etc. Instead, it makes up for that with substantial free spins and jackpot payouts.
The lion is the wild symbol, substituting all standard icons and the premium ones (buffalo, elephant, and witch doctor). It can also come with a 2x multiplier if it appears in a winning combination. And if you spot five lions on the safari, that automatically triggers more wins.
Free Spins Bonus
150 free spins in casino games is a tall order. You'd need online casino deposit bonuses to harvest that number of free spins. Notwithstanding, this progressive slot has bonus spins you can activate while playing.
Let's see how you can activate these bonus spins to enjoy Mega Moolah more:
Land at least three witch doctors (the scatter icon) on the reels.
The free spin bonus round will start with 15 bonus spins.
Land at least three witch doctors during the free spins round to get 15 bonus spins to continue.
Winning with the free spins on Mega Moolah will come with a 3x multiplier. You can retrigger the bonus spins until you reach the game's maximum win, 12,000x. That figure is only attainable when playing the game without the jackpot bonus.
The amount increases beyond that when the four progressive jackpots kick in—still, winning 12,000x with the maximum stake of NZ$6.25 returns a substantial amount.

Mega Moolah jackpot games
The free spins bonus can deliver some spectacular payouts, but even the highest win is nothing compared to the mega jackpot. Playing the jackpot wheel defines and differentiates the Mega Moolah jackpot from other slot machines. That's where you can land wins that make 150 free spins look average in the casino kingdom.
This slot game comes with inbuilt progressive jackpots that can activate randomly during the base game. The big Mega Moolah jackpot wheel can change a player's story, even in a losing round. It occurs on both winning and losing spins.
The random activation adds more unpredictability, which is already in high supply in the casino kingdom. We'll address this in our section on strategies to win the Mega Moolah progressive jackpot.
The following are the four jackpots in the Mega Moolah pokies:
Mini Jackpot: Players have eight chances to win this jackpot, and the minimum payout is 10 coins.
Minor Jackpot: The big wheel gives you four chances to win the Minor Jackpot, and the minimum payout is 100 coins.
Major Jackpot: You have two chances to win this jackpot on the wheel, and the minimum payout is 10,000 coins.
Mega Jackpot: The wheel only has a single section to win this jackpot, and the minimum payout is 1,000,000 coins. Impressive! Even so, this value has been known to climb into the tens of millions.
The Jackpot Wheel
Breaking into any of these jackpots requires spinning the Mega Moolah bonus wheel. Don't expect free spins offers. You have only one chance to get the converted prize.
The Mega Moolah bonus wheel contains more mini and minor jackpot segments than the major ones. Some segments have no prize. Nevertheless, the wheel is the best Mega Moolah bonus.
The progressive nature of this bonus round dwarfs most casino games. Even with casino bonuses, most slot games still play catch-up with the Mega Moolah bonuses in their payout.
Like any other progressive jackpot, Mega Moolah's prize keeps growing as players continue to spin it. This game can reach millions of dollars.
As of this Mega Moolah slot review, the prize is still increasing. Note that the jackpot rules state that payouts are in a lump sum.

Mega Moolah variance and RTP
The payout potential from the top Mega Moolah game is mind-blowing. However, that is one side of the deal. It's vital to consider the game's variance and RTP.
Online casino games have return-to-player rates. Some are fixed, while others are variable. That means you might find a higher value in one online casino and a lower value in another.
RTP-wise, Mega Moolah is not a player-friendly option by any means. You'll find a theoretical return rate of 88.12% if you play it without the jackpot. That also includes triggering the free spins on Mega Moolah.
Adding the mega money wheel with the progressive jackpot rounds increases the RTP to 93.42%. That is high but still below what most online casino slots offer.
You shouldn't play Mega Moolah slots just anywhere. We have some online casinos listed on our platform. They retain the game's RTP and ensure you have the total value when playing with the mega money wheel.
Variance Overview
The variance of a slot machine is how often it pays out. In a nutshell, a high-variance slot machine pays out less often but in massive amounts. The opposite is true about low-volatility slot machines.
With that in mind, it's common knowledge that jackpots, especially progressives, are highly volatile. But Mega Moolah takes the opposite route, allowing players to hit a winning combo at least 46.36% of the time. It has medium volatility, meaning you should have a balanced mix of high and low-paying wins.
The winning frequency is not a guarantee. If you see 150 free spins for the game with low wagering requirements, take it.

the Mega Moolah mobile experience
This online casino game is a beauty to play on your laptop or desktop. Seeing the progressive jackpots count into the millions bumps up the adrenaline. Nevertheless, you don't need a PC to have this incredible experience.
Many deposit casino sites today offer Mega Moolah pokies on mobile, and the experience is nothing short of fun. Those free bonuses don't have to wait until you get home and stay on your couch or work table. You can whip out your smartphone, activate casino bonuses, and enjoy the Mega Moolah 1 deposit game.
The reels stretch from one edge of the screen to another. Also, the tree in the background is more visible to its roots, unlike playing in a desktop online casino. The visuals look crisper as they are smaller and more punchy on smartphones.
Enjoying free spins on Mega Moolah is a delight for mobile players. You can also stay hands-free until the Mega Moolah free spins are used.
The central spin button is large enough, with a plus button above it. Click it to open the number of autospins you want. Select the number to enjoy the online casino game hands-free.
You'll find the menu and bet buttons at the bottom. Below them are your balance and current bet.
Bonuses and Offers
Deposit offers are also available for the slot. Some online casino operators offer deposit free spins, while others offer cash. There are also cases of 150 free spins for the game.
Check out our page on New Zealand casinos to find the best deposit bonuses for this game. We have reviews of Zodiac Casino and other sites with affordable minimum deposit requirements and spectacular deposit bonuses. These will help you decide where to play free spins on the game.
How to Play On Mobile
Open the casino site on your device. You can check out our list of the best Mega Moolah casinos for top-notch options.
You can also install and open the casino mobile application.
Log into your account.
Ensure you have enough funds. You can also use deposit bonus offers.
Load the Mega Moolah game.
Set your stake and start spinning the reels.
Some casinos offer free spins no-deposit deals for downloading their applications.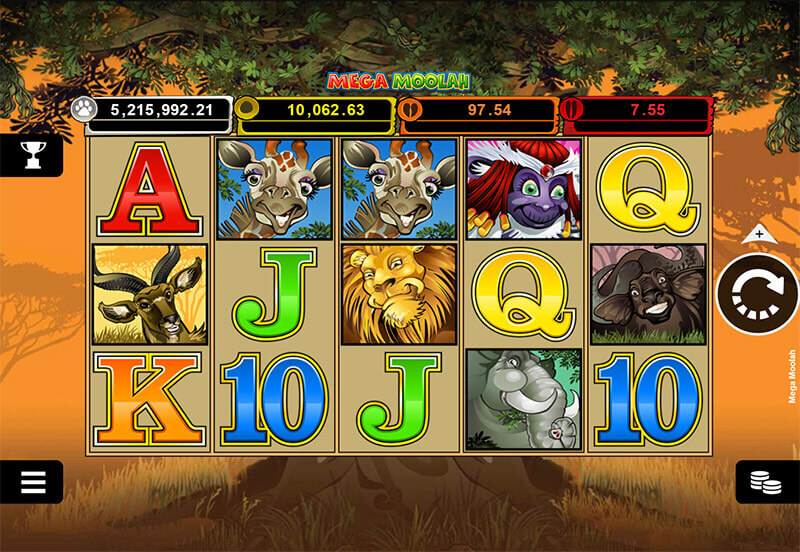 Playing the Mega Moolah slot at Fun casino.

Strategies to win the Mega Moolah jackpot
Winning a jackpot game like Mega Moolah requires dedication, persistence, and a keen understanding of the game mechanics. It's not simply about spinning the reels and hoping for the best; one needs to be strategic and attentive to the nuances of the game.
Without further ado, let's delve into some tried and tested strategies you can apply to win a payout in Mega Moolah:

Strategy #1: Play all the pay lines
Logically, selecting fewer pay lines reduces your chances of hitting a win. That's why it's advisable to play all the pay lines and increase your winning chances. Remember, the more you play Mega Moolah, the greater your likelihood of seeing the jackpot wheel.
Click the bet button and increase the paylines to 25.

Strategy #2: Play with a large bankroll
Scoring a win on Mega Moolah is purely about luck. After setting the bet limits and lines, you'll spin the reels and let fate take care of things. In that case, you must play the game more often with a large bankroll.
We advise playing Mega Moolah aggressively for the first 500 spins or so. The thing is that the payout RTP only becomes active after a large number of spins.
Ensure you have enough bankroll before starting the game. It might be based on chance, but a bigger bankroll gives you more playing time and spins.
One way to increase your bankroll is by playing live casino games that you are good at. These wins can give you extra cash to put into the slot.

Strategy #3: Exploit the casino bonuses
Deposit free spins should be your primary target when exploring deposit bonuses. Playing Mega Moolah for free is a chance that you shouldn't miss. Some sites offer free spins no deposit deals to new players.
You can also claim other promotions for returning players. These include cashbacks, weekend deposit free spins, reloads, etc. They will give you a bump and increase your chances of breaking into the mega-money wheel.
While we recommend getting more free spins on Mega Moolah, a cash deposit bonus can suffice. Let's assume the casino has rewarded you with a NZ$500 bonus on any slot machine. This will give you a substantial number of spins, equivalent to receiving 80 free spins or more.
You'll get 80 free spins if you place the maximum bet of NZ$6.25. But remember to read the bonus terms to confirm the bet limit. Some Mega Moolah casinos may lower the maximum bet.
We have several free spin casino sites in New Zealand for you. Check them out to explore free spins on Mega Moolah and other deposit bonus deals they have.
Keep wagering requirements in mind when using deposit bonus deals. In-game bonus spins don't require wagering requirements.

Strategy #4: Go for the big jackpot
This approach might be counter-intuitive as it involves ignoring the lower prizes. You can wait till the jackpot climbs to a high value before going in for the kill. There is no reason to play hastily when backed up by a large bankroll and bonus spins.

Strategy #5: play at a legal casino
Games Global has a good reputation in casino gaming. All its games, including Mega Moolah, are independently tested by eCOGRA to confirm the fairness and transparency of the RNG system. However, online spin casino sites can tinker with their systems to deliver biased results.
You can win at a site and never get a withdrawal. Hence, only play Mega Moolah at a legal casino to avoid payout delays if you trigger the jackpot. The best Mega Moolah casinos are legal in the UK, Sweden, Malta, Curacao, the US, Canada, Ontario, and other jurisdictions.
We have a section dedicated to the best New Zealand casinos, including those that offer free spins no deposit deals. They also have an affordable minimum deposit and low wagering requirements. Our team has vetted their licenses to ensure fairness.

About games global: the slot provider
This game is a property of Microgaming, an internationally renowned software provider now owned by Games Global. The company owns over hundreds of online slot machines from Microgaming, although its catalog includes thousands. Also, its games are often on the receiving end of bonus spins.
Games Global was established in 2021. It has made its way to the heart of the online gaming industry through several acquisitions, including Microgaming's Quickfire.

Other game variations to try
Mega Moolah has grown from just a casino game to a network. Other software providers have produced different versions to continue the winning potential of the original. Hence, you have variety when grabbing casino bonus deals like 80 free spins.
The following are a few Mega Moolah variations worth your time:
Book of Mega Moolah
This variant is a recent release from Games Global. The paylines are reduced to 10, but you can still trigger Mega Moolah free spins in the game. In addition, the four jackpots are available for big wins.
The Book of Mega Moolah retains the 5x3 layout of the original. It has updated visuals but the same symbols and background. Even with the Mega Moolah free spins, its maximum win in the base game is 5,000x.
Atlantean Treasures Mega Moolah
This game will serve you well if you want a higher RTP. It has a 92.08% RTP, but the maximum win in the base game decreases to 500x. You can still trigger the jackpots, but there aren't any Mega Moolah free spins in the bonus game.
Atlantean Treasure Mega Moolah is from Neon Valley Studios. It's one game that often enjoys deposit spins. You might find 150 free spins dedicated to it with an affordable minimum deposit.

Ready to win the mega moolah jackpot?
If the payout history of this game intrigues you, playing Mega Moolah should be at the top of your to-do list. Despite the low RTP, the variance is medium, meaning you'll hit a win at some point.
The jackpot wheel could appear randomly during the base game. Nonetheless, play the game for fun, and you might ultimately win the jackpot.

Mega Moolah FAQ
Can I win deposit spins from casinos for Mega Moolah?
Yes, many online casinos offer deposit spins as part of their promotional packages for Mega Moolah. Most of these casinos extend such spins to new players as a welcome bonus. For a list of casinos in New Zealand offering deposit spins for Mega Moolah, you can visit our casino page.
How can I trigger in-game Mega Moolah free spins?
In Mega Moolah, you can activate the in-game free spins by landing at least three monkey symbols anywhere on the reels. Initially, this will award you 15 free spins. If you manage to land three or more monkeys again during the free spins round, you'll be granted an additional 15 spins.
Can I play Mega Moolah for free?
Certainly! Many online casino sites offer a demo or free play version of Mega Moolah. While you can enjoy the gameplay in this mode, it's essential to note that you won't be eligible to win real money or the progressive jackpots.
Is there a casino rewards group with 150 free spins for this game?
Various casino reward groups offer free spins for Mega Moolah. One notable example is Zodiac Casino, which provides 80 deposit spins. There are also other casinos that offer up to 150 free spins. We recommend checking our casino page for the latest offers and promotions available in New Zealand.
Author: Amelia Smith
Last updated 29/09/2023 - Article published 19/06/2019