Microgaming
Microgaming is arguably the world's most famous online casino software developer and it can also claim the distinction of being the first to establish an online casino. Known for the high quality of its gaming products, Microgaming currently provides the software platform for more than 120 online casinos and over 40 online poker sites all over the world.
Reading time: 5 minutes.

Choose a great NZ casino
The story of Microgaming
Microgaming was established right at the beginning of the online gaming revolution, in 1994. That year the company produced its first fully-online casino gaming software and just two years later was ready to go live with the first Microgaming online site.
As it was there at the beginning of the online casino industry, Microgaming has played a role in shaping the rules and standards for online gaming. It was one of the original founding members of the Interactive Gaming Council (IGC) which was set up in 1997 and later became a key player in the e-Commerce and Online Gaming Regulation and Assurance (eCOGRA) organization, which has gone on to become the most significant games standards and player safety accreditation bodies in the online gaming sector.
Over the years, Microgaming has introduced a number of significant innovations to the online casino world, all of which have enhanced the experience of players. In 1999, it unveiled its PlayCheck technology and the following year released CashCheck; both useful tools that can help online players to monitor their gaming, which were revolutionary at the time of their launch. They were also one of the first games developers to link up with a mobile technology provider to help them tailor their games to the mobile gaming market and have led the way in live dealer casino games, releasing their live dealer platform in 2006.
Working from the Isle of Man, Microgaming is one of the world's most prolific suppliers of online casino software. So far they have produced over 850 unique casino games, including more than casino game 1,200 variants. They continue to develop a range of both licensed and proprietary software and regularly bring new titles to the market. Their innovations and vital role in setting industry standards have earned them numerous awards, including accolades from the Global Gaming Awards and Gambling Online.
Microgaming Software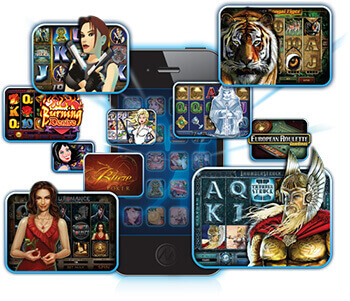 Microgaming's reputation for being an innovator has been built on a series of revolutionary gaming developments that have shaped the industry.
Back in 1998, they launched Cash Splash, which was the world's first wide-area progressive jackpot, and they are still considered the most significant developer of progressive jackpot games, which are extremely popular with New Zealand players. Perhaps their most famous progressive, Mega Moolah, produced what was at the time the world's biggest jackpot of €6.37 million in 2009, and the mobile Mega Moolah game also set a record for mobile jackpot winning prizes with a massive £3.7 million pay out.
Among their other innovations were the creation of anonymous online poker games, and the idea of poker variants. As noted above, they were pioneers in the field of live dealer table games, and their PlayCheck and CashCheck technology was regarded as ground-breaking when it was introduced at the turn of the century. Their poker network was also one of the first to include an achievement system, which enables players to build their rating as they play.
Perhaps their most significant software achievement was the Viper series. This series of casino software provides for high quality graphic-rich casino site interfaces, and includes a host of innovations designed to enhance the player experience from faster gaming modes and user-friendly navigation to password-protected details on hand and transaction history. By allowing players to customise their play in numerous ways, the Viper series represented a major step forward for online players.
Microgaming Titles
Microgaming's roster of titles is enormous and currently of games is impressive and currently includes over 850 unique games, with more than 1200 variants available via their download casino and 300 more in the Microgaming Flash casino.
Microgaming's stable of games feature some of the most advanced slots titles around such as Hitman, Hellboy and The Dark Knight. As you would expect, given their long history, Microgaming have a huge variety of titles, including everything from latest high-definition video slots to classic three-reeled games and multi-million paying progressive slots. Every New Zealand casino gamer will at some time have played a Microgaming title.
The company is also well known for their table games, and have a particularly good reputation for the quality of their poker titles. They have also produced more than fifty versions of video poker, and some of these variants enable players to play as many as one hundred hands simultaneously.
Microgaming casinos usually provide access to their games through download or instant play. Software support is available in over twenty languages, and New Zealand players will find that a Microgaming site will offer the ability to make deposits and withdrawals in a wide range of currencies, including New Zealand dollars.
Besides the many innovations that Microgaming have introduced to the industry, the company has been able to retain its dominant position in the online casino world, and its popularity among New Zealand players by providing competitive bonuses and perks. Players who register at Microgaming-powered sites will find some of the best welcome and high-roller bonuses around, while Microgaming slots titles are packed with prizes and bonus rewards.
Microgaming summary
Microgaming's long history as one of the foremost players in the online casino games industry offers New Zealand players reassurance if they are considering using a Microgaming-powered site. Their reputation for gaming innovation, and for their high quality of their software, along with the multi-million dollar jackpots associated with their progressive games have made Microgaming the preferred option for thousands of Kiwi players.