Cryptologic
CryptoLogic was established by two brothers in Toronto, Canada, in 1995. At the beginning, it was a small software development company that specialized in creating encryption technologies, but after making the switch to the online gaming sector, it began to grow rapidly.Currently based in Dublin, Ireland, CryptoLogic is now one of the world's leading providers of casino gaming software, powering many of the casinos used by New Zealand players.
The company has developed more than 100 casino games and has also been able to sign a deal with Marvel Comics, enabling it to develop titles with superhero themes, which have proven extremely popular with online gamers. They have built up a reputation for being accountable to their player base. CryptoLogic is a rare example of a software development company that also partners with some of the casinos which host its games. As a result, it has been able to keep in touch with the opinions of online gamers and is able to respond to feedback much more quickly than most companies of comparable size.
Reading time: 5 minutes.

Choose a great NZ casino
CryptoLogic Games
While CryptoLogic have a large range of slots titles they are best known for their high profile games themed around famous films or television series. Their ability to make deals with some of the world's biggest media companies has enabled them to produce a string of popular titles such as The Flash, Ferris Bueller's Day Off, and Conan the Barbarian, and their link-up with Marvel Comics produced a roster of superhero slots that includes Spiderman, X-Men, The Incredible Hulk, Iron Man and Ghost Rider.
Another notable feature of CryptoLogic's game output is that they are constantly improving and updating their software, in response to feedback and new technological developments. That approach to consistently improve their games has won them many fans among online casino gamers and with new variants and titles being released regularly, CryptoLogic do a good job of maintaining the interest and support of online players.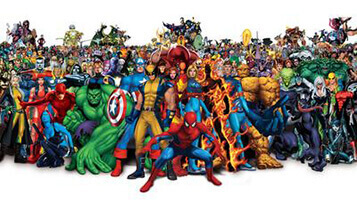 CryptoLogic games have a reputation for being attractive to look at and their slots in particular are beautifully designed and realised. In addition to the pleasing graphics and evocative sound effects, many CryptoLogic slots titles also include random jackpot wins which are among the most generous in the industry and extremely popular with players.
While they are best known for their slots games, CryptoLogic have developed a number of high quality table games, most of which feature impressive 3D graphics that are among the most elaborate and visually arresting in the industry. They produce a number of blackjack variants, European and American roulette, as well as Sic Bo, craps, baccarat, and various versions of poker. They also provide video poker fans with a number of interesting variations as well as the standard options of Jacks or Better, Joker Poker, and Deuces Wild.
Progressive jackpots are always popular with New Zealand players and while they haven't yet matched the range of headline-grabbing progressive jackpots offered by the likes of Microgaming and Playtech, they have produced a number of games in this genre. Perhaps the most well-known is Millionaire Club, which can be played in both three-reel and five-real versions. This game is not among the most well-known progressives out there but it has produced some multi-million dollar payouts and is a solid jackpot offering.
Software Versions
CryptoLogic's games come in download and no-download versions. While the no download versions will be the preferred option for players who like to enjoy casino gaming on the go, it is fair to say that CryptoLogic's titles – particularly the most recent and advanced games - are best enjoyed in their download version, which properly showcases the advanced graphics, animation and sound that characterises the best of the CryptoLogic output.
Bonuses with Cryptologic casinos
There is enormous diversity within the CryptoLogic casino network and New Zealand players will be able to find CryptoLogic-powered sites offering a wide variety of bonuses. The most common bonus offered by CryptoLogic sites is probably the Match Bonus, in which the casino will match a customer's initial deposit up to a set amount but you can also find CryptoLogic casinos that offer cash-back bonuses, no deposit bonuses, and a range of different types of player-friendly contests, offering cash or other prizes.
Game Fairness
CryptoLogic Limited is a public company and as a result, has gone to great lengths to demonstrate that the games it produces are fair and safe. Like all major software developers, CryptoLogic commits to having every aspect of their games thoroughly tested and they regularly undergo audits from well known independent auditing and accreditation bodies eCogra and TST, offering reassurance to players that the games are genuinely random and fair. In addition, many of the casinos in the CrytpoLogic network commit to having their sites audited and full details of all fairness and safety certificates are prominently displayed.
Summary
It can be difficult to stand out from the crowd in today's competitive online casino market, but from humble beginnings, CryptoLogic have carved out a distinct position as a provider of player-friendly, high-profile slots titles. Their reputation for technically solid games and for responding to player feedback has helped to make them one of the world's most popular casino software developers, and online players throughout New Zealand have come to appreciate the attention to detail and innovative approach to game features that CryptoLogic are known for. This is one games developer that is likely to be at the forefront of online casino gaming technology for many years to come.