menu
Casino Blacklist
When you make the decision to start gambling online, you will want to make sure you choose the right casino site. There are hundreds of operating sites that provide the chance to engage in real money play, but not all of these come with high recommendations. You will have to take some time to compare sites, licenses, and other aspects to make the right choice. Luckily, the industry has some great standards and guidelines in place, and there are lists of casinos that should always be avoided. By referencing the casino blacklist, you will learn which sites cannot be trusted and will have a better chance of choosing a site that will meet your needs while providing a safe and secure environment. There are many reasons why a casino may be placed on the blacklist, and they all have a role in your overall experience. Here, we take a look at how you can spot a blacklisted or rogue casino site so you can ensure you will have the best possible experience when you start to play real money games online.
We are not listing blacklisted casinos as we want to spend our energy on testing casinos that are worth it. Choose one of the casinos from our website, and we can guarantee you made a good choice.
Estimated reading time: 7 minutes.
Table of contents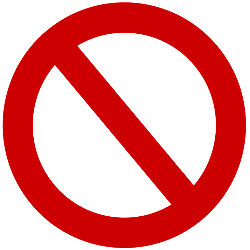 Top reasons casinos are blacklisted
Some online casinos may look like they will offer a fun and rewarding experience, but they may, in fact, be a rogue site.
Online casinos can receive many complaints that are hidden from casual players, so it is important to know what things to look for. Casino sites that receive complaints and then ignore them are sites that should always be avoided.
Lock Poker is an excellent example of a blacklisted casino. The online casino faced many issues until its eventual blacklisting. Initially one of the top five online poker in the United States, the blacklisted casino started canceling payouts to players in 2012. The routine continued until it closed in 2015. Within the timeframe, players lost millions of dollars, resulting in the second-largest scandal in online poker history, second only to Absolute Poker and Ultimate Bet Scandal.
When a gambling site lands on a list of blacklisted casinos, it has failed to meet the expectations and standards set forth by the gambling industry. The most common reasons for blacklisted casinos which are still evident today are:
Licensing and safety issues
Some rogue sites use pirated software. In this case, developers don't get paid, and there is no guarantee that the games allow fair play. Apart from this, the lack of a license or the presence of one such issued by questionable governing bodies leads to a blacklist after a thorough investigation. Finally, an online gambling site that fails to implement robust security measures to protect personal and financial information is blacklisted.
Failure to issue payments
Blacklisted online casinos report shady financial dealings. The questionable practices include altering withdrawals, using counterfeit chips, or laundering money. When operators fail to pay players their legitimate winnings or interest from bets, their refusal to adhere to fair gaming practices results in a ban.
Lack of randomness with games
Random number generators (RGN) ensure a fair and unbiased outcome. With this, neither the player nor the house can manipulate a game result. However, blacklisted casinos tamper with game outcomes to cheat players. Since unfair games undermine gambling integrity, blacklisting is a common punishment for such illegal practices.
False advertising
Online casinos use various advertisements to sell their services. Examples include bonus offers, celebrity influencers, and more. Sometimes, operators overpromise and underdeliver. Unethical marketing efforts or questionable practices can lead to the blacklisting of a casino's web page. Not just deceptive adverts but unfair terms and one-sided or overly restrictive conditions lead to customer complaints and potential blacklists.
Lack of customer support options
Online gambling sites with an unreliable customer support or contact center that does not respond to inquiries on time can become a blacklisted online casino. Likewise, sites with poor customer support offer unhelpful assistance or conflicting information from different agents or stop answering the phone completely.
When you gamble online, you are looking for a positive experience, but you also want to make sure you will receive your winnings and have fair chances at generating payouts. Watch for casinos that have slow payment processes, and always take time to read casino reviews and discover any filed complaints that have not been addressed.

Spotting rogue casinos
You may reference several lists online that contain sites to avoid, but not all rogue casinos have been spotted yet. As you compare different sites, you will want to know what to look for, so you need to beware of certain things that can indicate whether a casino is safe or if it is a rogue site that should be avoided or added to a list of blacklisted online casinos. They include:
Ambiguous descriptions
An online casino that looks too good to be true usually is. There may be great promotions and bonuses, but you need to be aware of promotional offers that are just too good. Casino sites that offer a huge bonus when you sign up and fails to provide ongoing promotions or has extremely high wagering requirements should be avoided. This is an indication that the online casino is rogue and is only trying to get your initial deposit amount.
No updates or newness
Any online casino that does not offer updates is one to beware of. You should be able to learn when sites are undergoing any type of update, and the best online casinos in the industry are always performing updates. These can include updates to the promotions, the website itself, casino games, interface, or even customer service options. If a site is updated regularly, they are invested and are working to provide you with a better experience. If you do not notice updates for a few months, this could be a red flag of a blacklisted casino.
Casino's reputation
Reputable casinos have a valid licence and are regulated by authorities. Examples include MGA, UKGC, and GRA. The first thing to note when browsing for a casino is the licensing information. If you cannot verify their legitimacy, we advise players to avoid them. It simply means the site is one of the rogue online casinos. Search for reviews and online feedback from reliable sources like player forums and review websites. Pay attention to consistently negative reviews and unresolved complaints.
Game integrity and fairness
Blacklisted online casinos don't use independent auditing firms to certify game integrity. Avoid sites with no website information on Random Number Generators or game testing, such as eCOGRA or iTech lab certifications. Trust online casinos with reviews and stay away from blacklisted casinos with no valid SSL certificate and firewall protection.
Trust your instinct
Intuition will also play a role in being able to spot rogue online casinos. If you have played online in the past, you will already know what a successful and trustworthy site looks like. As you visit different sites, keep in mind they are all trying to compete for your money. If you find different bonuses that are too good to be true, sites that claim massive jackpot payouts, or sites that do not offer any form of customer support, avoid playing or making any deposits.
Other telltale signs to spot a rogue casino on the blacklisted casinos list include:
Unfair terms and conditions.
Unrealistic withdrawal limits and delayed payments.
Unverified payment methods.
Unprofessional website design.
Spelling and grammatical errors.
Poor customer service.
Different factors are responsible for a casino's blacklist. Either way, paying attention to the warning signs and reading between the lines will save your funds in the long run. By being able to spot rogue and blacklisted casinos, you will avoid a bad experience. Your protection and safety is the most important thing, and this should be something the casino takes very seriously. Take time and review how different sites operate and even access player comments so you choose only the best and most trusted online casinos to engage in real money play.

Frequently asked questions about Blacklisted casinos
Why are blacklist casinos a concern for players?
Casinos with questionable practices cause various problems for players. Examples include withholding withdrawal requests, unfair gameplay, invalid bonus offers, and loss of funds. In the end, players run into financial losses and negative gaming experiences.
What resources can players use to find a reputable casino?
Read online casino website reviews, player forums, and gambling authority websites. Look out for information about licensed and trustworthy casinos to play with. Likewise, note warning signs, concerns, and various reasons for unsatisfied experiences before playing. Finally, test withdrawal channels and the customer request page for responsiveness.
How can players protect themselves from a rogue casino?
Read the terms and conditions before playing and gamble responsibly. Most importantly, avoid bonuses that sound too good to be true and report any suspicious activities immediately.
Author: Amelia Smith
Last updated 03/11/2023 - Article published 15/11/2019