menu
How to Recognize Bad Online Casinos
One of the most important aspects of playing online casino games is choosing a site that is safe and secure. It is essential to learn how to spot a bad online casino because it allows you to avoid unethical behavior, identity theft, predatory terms, and other questionable practices. As a new player, you may not be sure what to look for in online gambling sites. There are different factors that make up rogue casinos which include false advertising, online payment problems, poor customer support, predatory terms and conditions, and more.
In this easy to follow guide, we will provide useful tips on how to spot these rogue online casinos and bad online gambling websites before you start playing. Armed with this information and knowing what to look for, will allow you to enjoy a positive online gambling experience, and increase your chances of winning some amazing payouts.
Estimated reading time: 12 minutes.
Table of contents


More casino brands
Casino Games

Amount of casino games offered

2050

Jackpot Pokies

Amount of slots with jackpot option

25

18+. New customers only. Minimum deposit NZ$10. T&C apply.

Casino Games

Amount of casino games offered

3200

Jackpot Pokies

Amount of slots with jackpot option

165

18+. New customers only. Minimum deposit NZ$10. T&C apply.

Casino Games

Amount of casino games offered

2000

Jackpot Pokies

Amount of slots with jackpot option

49

18+. New customers only. Minimum deposit NZ$10. T&C apply.

Casino Games

Amount of casino games offered

1450

Jackpot Pokies

Amount of slots with jackpot option

6

18+. New customers only. Minimum deposit NZ$10. T&C apply.

Casino Games

Amount of casino games offered

1600

Jackpot Pokies

Amount of slots with jackpot option

25

18+. New customers only. Minimum deposit NZ$10. T&C apply.

Factors to consider when screening online casinos
When screening online casinos, it is important to judge them based on valid criteria. Judging using these factors will help you decide when to trust online casinos and when to avoid them. Here are some of the factors you should consider before gaming at a casino. Mind that we already reviewed all these points on casinos listed on our site.
Check for gambling license
One of the most important and common reasons you should avoid an online casino is if it is unregistered. All reputable and reliable casino sites will be licensed and regulated, and all the relevant information like their registration license number will be made available on the terms and conditions page. This is why you should read the fine print before you deposit funds into a casino. The information on the casino license will help you verify the legal standing of the site and you should also be able to view if it is a blacklisted casino. If a site does not provide access to this information, it may be a clue that they are operating without a license.
There are some casino sites with licenses which may not be good choices because of their questionable practices. It is a good first step in checking for a fraudulent online casino business but it is only one factor. When choosing a casino site, try to use only those that are licensed under trusted jurisdictions. These jurisdictions include Kahnawake, Curacao, Malta, the UK, Antigua & Barbuda, and Gibraltar. An online casino that is licensed by any of these will have to meet casino industry standards, so you will know you are playing at a safe and fair casino site.
Shady terms and conditions
The terms and conditions of an online casino contains the rules guiding every aspect of its business. It usually covers the rules on payments, withdrawals, bonuses, and playing games. Bad online casinos omit and hide information from their users. They also make updates to their casino rules without telling their players and it is common for them to have confusing terms and conditions.
These casinos use questionable practices to break the law and sometimes steal money from their users. Transparent and ethical casinos let players know about changes to their T&Cs so that they do not partake in behaviour that can lead to account bans. Casinos that have questionable practices surrounding their rules should be avoided.
Payment problems
Online casinos that delay withdrawals when players win or when bonuses are to be claimed may be fraudulent. Issues with payments are one of the biggest red flags when dealing with fraudulent online casinos. Players should have multiple deposit options and withdrawals should not take longer than the stipulated time in the cashier section. These options will allow players to choose the method they feel is safest before making a deposit.
The T&C section of the casino should contain the payment structure, payment terms, payment requirements, and minimum/maximum deposit requirements for bonuses and regular deposits. Before players place any bets at casinos, they should use review sites to check if a casino has had frequent dealer payment problems in the past. This is usually a big indicator of fraudulent practices at a casino.
Data privacy and security
A blacklisted casino cannot guarantee the safety and security of the users on its platform. These casinos do not use the right data protection and encryption standards like SSL (Secure Socket Layer) certificates. As these casinos are mostly not registered, they do not have to adhere to any strict data protection laws mandated by the gambling registration authorities. Player information, both financial and personal, are in grave danger when they gamble at unlicensed casinos with questionable practices.
An online casino without the required encryptions and data protection is liable to get hacked. Hacks are common among unlicensed casinos because they usually do not do enough to safeguard your data. Fraudulent casinos may also sell your information to third-party data brokers. These casinos do not have to follow the data protection laws of any regulatory body and can treat users' data how they like.
The data provided to online casinos are sensitive and can cause serious damage in the wrong hands. Always check the privacy policy document at an online casino for details on how they handle your data. A bad casino may not have this information or the provided information may not provide clear guidelines. If you encounter such a casino do not sign up or register.

Check review sites
Review sites like ours help players learn more about an online casino. You can view curated lists to see if a gambling site is a blacklisted casino. You can also see other casinos and how legitimate they are. Using these review platforms means you are outsourcing your verification process to a third party, therefore you should only use review sites that you trust. These sites will display the criteria they use in judging these casino sites and you can read in-depth analysis of each casino.
Casino review sites help you to avoid bad actors who engage in questionable practices. These sites highlight questionable practices and help users see how these can hurt them. It is important to trust only the information made available by vetted review sites. You can check out the reviews of your favourite casino here.

Gaming software and certified RNGs
Ensure that the gambling software used by the online casino is designed or created by trusted developers. Software is central to how the gaming business can operate. Therefore, you can trust that casinos with good software are not rogue casinos. You will also want to make sure that there are no rigged games at the online casino. Rigged games can come in the form of false advertising, dealer payment problems, and shady software.
Always verify the information provided about games provided by a casino, on the official page of the game's producer. Some of the most trustworthy software companies in the gambling industry include Yggdrasil, NetEnt, BetSoft, and Playtech.
Only choose online casinos that audit the Random Number Generators (RNGs) that are used in their gaming software. Games like roulette, blackjack, online poker, and pokies should be routinely tested. These tests are done by independent casino auditors that test all titles and remove rigged games. Games with false advertising will also be removed during these audits.
The routine audits will also verify that the RNG of available games function properly, while also providing verified payout percentages. Online casinos that do not audit games are often bad sites and you will most likely end up losing your money. Watch out for sites that are verified by agencies like eCOGRA, iTech, CFG, and TST.
A suspicious casino will not divulge information about their payout rates. Payout rates should be available in the terms and conditions page of the online casino. The best online casinos will be happy to provide you with the RTP (Return-To-Player) for each and every game that is supported at the site. An online casino that offers this information is showing you they can be trusted. It also ensures you are playing games that operate with fairness.

Unreasonably high paying bonuses and winnings
As a new player, you may be drawn to a site that has a very high welcome bonus. While there are casinos that do provide great rewards to real money players, not every casino is trustworthy. There are many online casinos that have problems with their bonuses and promotions. These rogue and bad casinos will try to attract a player with an unusually high-paying bonus. The bonus usually has unusually high wagering requirements which are unrealistic. These shady wagering requirements are a trap that these dodgy casinos use to prevent players from accessing their winnings. It is also used to make them play more games till their funds are exhausted. Mind that we only list the first deposit bonus in our comparisation tables.
Promotions with big money prizes on these sites usually have steep conditions that must be met before players receive winnings. Bad casinos also use false advertising, hidden terms and conditions, and rigged games to cheat players out of their bonuses. This means you will have a hard time clearing the bonus and ever being able to withdraw what has been won.
The best way to avoid these problems is to visit casino bonuses and promotions review sites. These sites (just like this one) are numerous on the internet and provide you and other players with the information you need to vet online gaming sites. The key to choosing a good casino is to read the terms of the bonus before making any decision. Gaming sites with high-paying offers and high requirements should be avoided where possible. It is always best to choose a bonus with reasonable wagering requirements and clear rules available in the terms and conditions page.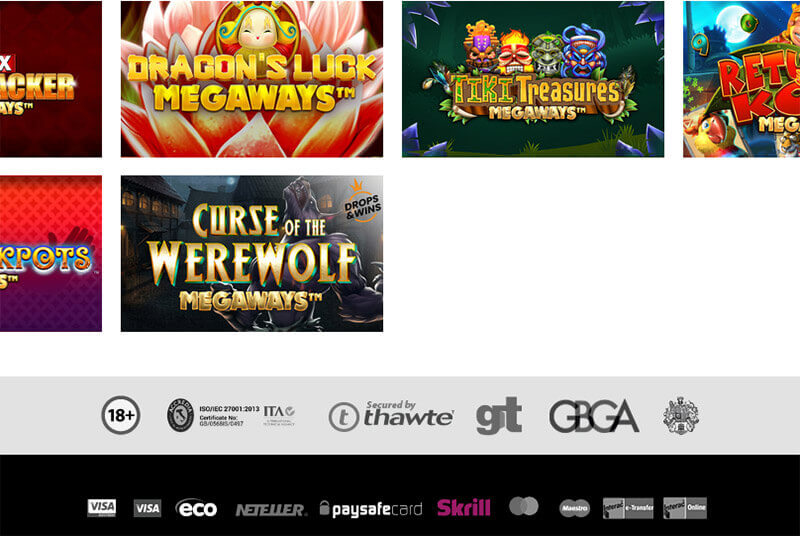 A trusted casinos has (verified) seals, just like Casino.com casino.

Lack of customer support
Poor customer service is a huge red flag at any online casino website. Online casinos should provide relevant customer support to help their users navigate issues like payment problems, withheld winnings, bad software, and glitches. This service should be designed to improve the gambling experience and can get assistance when needed. Online casinos that do not offer support at all or have limited means of support should be avoided. This can be an indicator of poor service, and it could also be a gambling site without a license.
Always choose casinos that have multiple ways to contact the customer service support team including email, phone, and live chat options. These options should also be available 24/7 so that users can make complaints at any time. The customer service team info should also be easy to find and freely available on the site.
Low-quality operators often skimp on the offering of customer service and refuse to handle complaints properly or communicate with their users. When they do offer it, it can take quite some time to get a response. During that time your money is tied up at the site. A bad casino will also overlook the offering of a FAQ section which contains the most frequently received complaints. This section should contain answers that reduce the burden of repeated complaints on the customer service team.
It is also suggested to test the customer support team when first signing up. Ask a few questions and see how quickly the team respond. A customer support team that takes days to offer an answer is an indicator it may be a fraudulent online casino.

Make a checklist
When you want to start gambling online, be sure to consider all of the factors we have outlined above. Have a checklist containing these features on hand so you can use them to evaluate online casinos you come across. Players should always make sure the online gambling site is licensed to a gaming authority, which is the most important thing. They will also want to ensure that the casino has a robust customer service and zero payment problems. The fairness of each game should also be tested to prevent problem gambling and questionable practices.
With these few tips, you can avoid getting roped into a bad casino and you will be on your way to enjoying a safe and rewarding experience. To make it easy for you, our team checked all the online casinos listed on our website using the factors we highlighted above. We only list sites that meet the checklist above, and we conduct routine checks to ensure each casino continues to meet high standards.
Risks players face at a blacklisted casino
Blacklisted casinos are involved in questionable practices which is why they should be avoided. It is risky to gamble at these sites because players will be exposed to numerous downsides. Some of the dangers you may encounter if you gamble at a shady online casino include:
Your account may be arbitrarily frozen and you will lose all your money. This is because rogue casinos may steal your money or get hacked because of lax casino security measures.
A casino without a license can treat its users as it pleases because they do not operate under any laws. Disputes cannot be resolved and there is no legal protection from scams.
Your banking information stored in the casino may be sold to third-parties or stolen in a data breach.
You may be playing rigged games and all your bets and the outcomes have been pre-programmed into the game.

Frequently asked questions about bad casinos
What should I do if I spot fraudulent online casino sites?
You should report the casino to the appropriate authorities such as the MGA or the Curacao Gaming Authority if you notice any with questionable practices.
How do I handle false advertising from online casinos?
You should avoid the casino where possible or report the casino to the appropriate authorities.
Are payment problems a red flag when screening online casinos?
Yes, unnecessary payment problems are a red flag for casinos. Bad casinos have questionable practices surrounding payment and this should make you wary.
Is online gambling safe?
Yes, gambling at an online casino is safe if you do so at a licensed casino only. You can check the registration status of an online casino by viewing the T&C section.
Who gives online casinos a license?
The licenses are given to casinos by regulatory bodies such as the MGA.
Author: Amelia Smith
Last updated 19/10/2023 - Article published 12/06/2021