Quickspin
QuickSpin was established relatively recently, in 2011 in Stockholm, Sweden. Although they came late to the online casino industry, they had an ambitious aim of pushing the boundaries of online gaming and the company's passion and new ideas have done just that. Many of its slots titles are among the most popular in the world and feature at some of the top online casinos enjoyed by New Zealand players.
Their success grabbed the attention of the online gaming industry and in May 2016, Playtech purchased QuickSpin in deal that is thought to be worth around €50 million, though the men who set up the company; Mats Westerland, Joachim Timmermans, and Daniel Lindberg, all agreed to stay on at QuickSpin for three more years. The deal gave QuickSpin access to more resources and expertise, while strengthening Playtech's position in Europe.
From its Stockholm base, QuickSpin's developer team of over sixty slots software experts have continued to produce innovations in game design that has helped to make its slots portfolio one of the most impressive in the business. From the beginning, the company has attempted to carve out a distinct position in the online casino game development world by emphasising the importance of maximising the gaming experience for players, which has led it to develop some of the most graphically exciting and innovative titles around.
Despite being a relative newcomer to the industry, QuickSpin has picked up several awards, including prestigious EGR magazine recognition. In 2014, the company won the award for Social Gaming Supplier, Mobile Gaming Software and Innovation in RNG Casino Software, which it won again in 2015. Along with the industry accolades, the company has been praised by gamers all over the world for the quality of its slots titles.
Reading time: 5 minutes.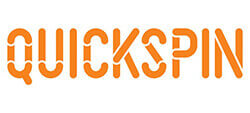 Choose a great NZ casino
QuickSpin Games and Features
Quickspin do not provide a full roster of casino games and instead have focused their efforts on developing slots titles. For that reason, they don't provide entire catalogues of games but instead offer small packages of games for online casinos, so New Zealand players will often find QuickSpin games available alongside titles from other developers.
The key characteristic of QuickSpin games is their high graphical quality. They also tend to be well laid out and feature a user-friendly auto-play option. This feature enables players to choose between 10 and 1000 auto spins but rather than offering the option of stopping the play at pre-designated points, allows players to use auto-play until a feature is hit or until they wish to stop manually. Some Quickspin slots also offer a Fast Play mode.
Their focus on quality and the relatively small size of the company means that there is not a huge quantity of QuickSpin games out there. In fact, their roster is currently less than thirty. But fans of their titles will agree that in this case, quantity is definitely worth sacrificing for quality, and the available QuickSpin titles offer a delightful, entertaining play experience.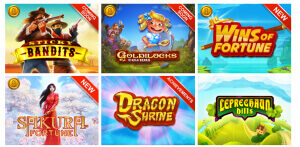 Many of the QuickSpin titles are based on well-known or interesting themes. Some of these include popular fairy tales or legends such as Big Bad Wolf, Beowulf, Goldilocks and Wild Bears. Other slots are influenced by famous adventure stories such as The Three Musketeers and Treasure Island and they have also developed games based on original themes, including popular titles such as Seven Highs 7, The Epic Journey and Second Strike.
By focusing solely on slots gaming without attempting to diversify into traditional casino table or card games, QuickSpin has been able to hone their game design approach to produce games that are universally popular with online players. As well as the titles mentioned above, New Zealand players may also be familiar with other top QuickSpin games such as , Firestorm, Genies Touch, Sugar Trail, Hidden Valley, Sinbad, Illuminous, Second Royal Frog, and Razortooth. As well as offering cutting-edge graphics and an immersive playing experience, many of these games also feature generous and inventive bonuses.
One of the most popular QuickSpin features is the Flexible Free Rounds mechanic, which isn't found in games produced by any other developer. Flexible Free Rounds enables players to set their own bet levels, giving them much more control over their wagering. This innovation has been particularly welcome for online players.
Another popular and innovative feature is the Feature Trigger, which sends players directly to the bonus feature for that game, which could be Free Spins, Re-spins or a Bonus rounds. All of the games produced by QuickSpin include both Flexible Free Rounds and Feature Trigger which helps to explain why their games are so popular with New Zealand players.
QuickSpin Mobile
The mobile gaming revolution has had a major impact on the online casino industry and while most software companies have tried to remake their products for mobile devices, QuickSpin have had an edge over the competition as they were one of the first to make the leap into mobile gaming. All of their titles are designed to be completely mobile friendly and expertly optimised for smaller mobile screens, without losing any of the features that desktop online gamers enjoy, which has been great news for mobile gamers.
QuickSpin Summary
QuickSpin's catalogue of games is not as big as many of its industry rivals' but in opting for quality over quantity, they have managed to achieve an enviable reputation among New Zealand gamers. The combination of innovative, player-friendly features, stunning graphics and perfectly optimised mobile compatibility for which their games are known has helped QuickSpin to earn praise and awards throughout their relatively short history.