The Benefits of Skrill
Skrill has a lot of benefits that shine through the more you use the system. Firstly, the security measures ensure each payment is anonymous and 100% secure with an SSL-128 bit encryption. Skrill also includes a sign-in service with each payment, which confirms only the owner of the account can complete payments.
Skrill isn't just available for online casinos. In fact, there are millions of online stores and even land-based points of sale that allow the service. For advanced users, a Skrill card is available, allowing you to withdraw funds and swipe the card as if you were using your bank account. This makes Skrill a lot more user-friendly and a great option for casinos as funds can be used a few seconds after an approved withdrawal.
The service comes with many options via the Skrill website and mobile app for iOS and Android devices. Here, you can manage your account, view transactions and see an entire history of your account. It also allows you to set limits for certain things, which makes it much easier to follow a strict budget.

Using Skrill at NZ Online Casinos
When it comes to actually using the Skrill service to make a deposit, you'll find the service is extremely easy to use. All you need is a casino that accepts Skrill, which all top-rated New Zealand Casinos provide as standard. To use Skrill, register a casino account or log in and visit the banking page. Find the purple Skrill option on the deposit page, which presents a deposit screen. Fill in the details such as the deposit value, casino bonus, currency and the Skrill ID or email account.
Next, the casino will redirect you to a secure Skrill login page where you need to enter the account. Only the account details for the email presented will allow access, which is yet another security feature. Once you're logged in, the payment request from the casino will already appear in the account. Make sure the value of the deposit is correct as well as the casino's name, followed by accepting the request.
In some cases, Skrill will redirect you to the casino or simply inform you that the payment was successful. Some casinos don't show the new balance directly after a successful payment, which is fixable by refreshing the page.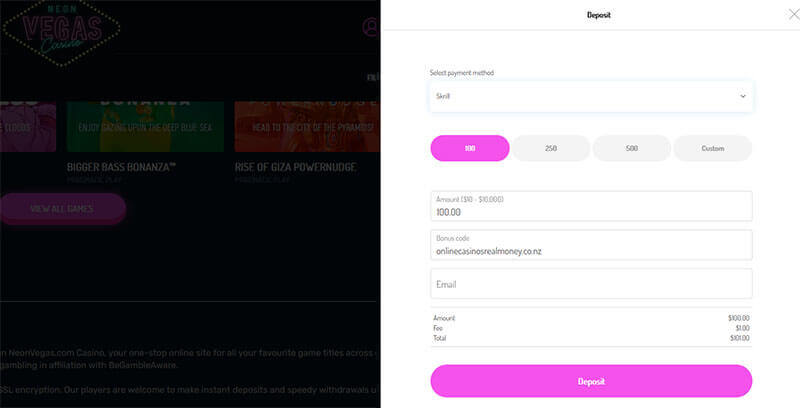 A Skrill deposit screen at the NeonVegas casino.

How to Withdraw Using Skrill
Most New Zealand casino provide withdrawals with Skrill as well. However, it worth checking before counting on it. Visit the casino banking page and select withdrawals to see if the same purple Skrill logo. If it's available, select the options and enter the details the page requires. In most cases, this would simply be the account ID/email and the amount you'd like to withdraw.
You wouldn't need to log into the account again for withdrawals as there's nothing to approve as with deposits doing out of the account. This makes withdrawals even safer as no specific details are required to complete the transaction. Most casinos would require a utility bill to confirm your address along with an ID document. These documents form part of the casino's encryption, which ensures it safe and hidden away.
Once the casino has all the documents, the payment will be accepted. Skill offers instant withdrawals, meaning the payment will reflect in the account as soon as the casino releases it. Most casinos state e-wallet payments such as Skrill require up to 24 hours to reflect, which allows the casino team time to confirm all the details. However, these payments take less than 2 hours with top-rated establishments.

Finding New Zealand Casinos with Skrill Options
Since Skrill is one of the most popular online casino payment options, it's easy to find establishments that provide deposits and withdrawals. However, it's important to choose a professional online casino as this could have an effect on security and withdrawal times. Some casinos take much longer to process withdrawals and if security isn't up to standard, you might find yourself sharing your account details with the wrong people.

Why Use Skrill at NZ Casinos
There aremanyreasons to use Skrill above other options at online casinos. Not only does the service protect you against hackers gaining access to your account details, it also makes it easier to make payments to millions of other international services with the same security.
The account management features give you great benefits when it comes to keeping your account as secure as possible. You can set transaction limits to specific things, which makes it easy to budget with the funds in the account. Users that have a Skrill card can use the management feature to further enhance their budget as the settings also apply to land-based points-of-sale.
Overall, having a Skrill account is a great option, even if you prefer to use other payment methods. Since there are so many online casinos to choose from, you might find the Skrill option a better solution to make both instant deposits and withdrawals. Skrill also follows the same strict banking laws, ensuring your funds always remain secure, irrespective of what happens to the service itself.
Author: Amelia Smith
Last updated 25/12/2022 - Article published 05/04/2019