menu
Apple Pay
If you're an iPhone user looking for a reliable payment method that offers speedy transactions and security, Apple Pay is the perfect choice for you. Apple Pay comes with a variety of perks that make it one of the best online payment options for mobile users.
In this article, we will explore the pros and cons of using Apple Pay at casinos in New Zealand. From its quick and easy deposits to its enhanced security features, we will show you everything you need to know before using Apple Pay at online casinos. Let's dive in!
Estimated reading time: 10 minutes.
Table of contents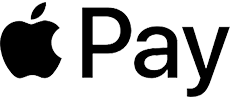 NZ casinos that accept Apple Pay
Casino Games

Amount of casino games offered

2000

Jackpot Pokies

Amount of slots with jackpot option

49

18+. New customers only. Minimum deposit NZ$10. T&C apply.

What is Apple Pay?
Launched in 2014 by tech giant Apple Inc, Apple Pay is a digital wallet that allows users to make quick and easy transactions via iPhone, iPad, or Apple Watch. One of the biggest benefits of using Apple Pay is its partnerships with major credit card providers like MasterCard, Visa, and American Express. This means you can digitize your credit and debit cards and use them to make payments and withdrawals on the go. With Apple Pay's contactless payment feature, you can easily make transactions at any merchant without having to physically hand over your card.
But security is key, and Apple Pay is one of the most trusted online payment platforms that will shield you from fraud and scams. With two-factor authentication options like Touch/Face ID, Pin, or passcode, your information is protected at all times.
And the best part? Apple Pay doesn't charge any fees to users or merchants. This is one of the reasons it has become so widely accepted, and within the first three days of its launch, more than one million credit cards were registered on the platform. By February 2020, Apple Pay was responsible for a staggering 5% of global card transactions. So, for casino players in New Zealand looking for a seamless and cost-effective payment option, Apple Pay is the way to go.

Apple Pay: Pros and Cons
With Apple Pay, you will find tons of benefits to enjoy when making payments online. While there are a good number of perks, there are also several downsides to take note of.
Pros
Safety and security: One of the main benefits of using Apple Pay at online casinos is the added layer of security provided by touch ID. This feature allows users to confirm transactions using their fingerprints, which adds an extra level of protection against unauthorized transactions.
Easy to use: Another benefit of using Apple Pay at online casinos is its ease of use. Players in New Zealand can simply select Apple Pay as their preferred payment method and then confirm the transaction using their fingerprints, making it a fast and convenient option.
Instant deposits: With Apple Pay, deposits at online casinos are processed instantly, which means players in New Zealand can start playing their favourite casino games right away. This can be beneficial for those who are looking to take advantage of promotions or bonuses that are only available for a limited time.
Compatible with all cards: Apple Pay is compatible with all credit and debit cards, which means players in New Zealand can use any card they have registered with their Apple Pay account to make deposits at online casinos. This can also be useful for those who have multiple cards or those who prefer to use a certain card for online transactions.
No fees: One of the biggest advantages of using Apple Pay at online casinos is that there are no additional fees associated with the service. This means that players in New Zealand can enjoy the convenience and security of this payment method without having to worry about additional costs.
Cons
No withdrawals: When it comes to using Apple Pay at online casinos, you will find that it is only available for deposits and not withdrawals. This means that players will need to use an alternative method to withdraw their winnings.
Not the most widely accepted: While Apple Pay is becoming increasingly popular, it is only accepted by a VERY few casinos. This means that players may need to find an alternative method to deposit funds if their preferred casino does not accept Apple Pay.
Only works with Apple devices: Apple Pay is only available for use on Apple devices such as iPhones, iPads, and Macs. This means that players using other types of devices such as Android smartphones or PCs will not be able to use Apple Pay to deposit funds at online casinos.

How to deposit using Apple Pay
With Apple Pay, funding your account is a seamless and effortless process, allowing you to dive into the action in no time. Keep in mind that the minimum deposit amount is usually set to $10 for New Zealand players.
To begin, you'll need to have an active debit card connected to your Apple Wallet. Simply ensure that your card is funded with the amount you wish to deposit and you're good to go.
- Look for a reputable online casino in New Zealand that supports Apple Pay. Trustworthy casinos will be licensed and secure, ensuring your experience is both safe and enjoyable.
- If you're looking to claim a bonus, be sure to check if Apple Pay is eligible for the offer. Some casinos may exclude e-wallet options such as Apple Pay from their welcome bonus terms and conditions, so it's essential to read the fine print.
- Once you've found the perfect casino, navigate to the cashier section and select Apple Pay as your deposit method. Simply select the amount you wish to deposit and authenticate the payment with Touch ID.
- Before you know it, your account will be funded and ready for action. Head to the casino lobby and choose from a wide selection of slots, table games, live casino games, and video poker. Get ready to experience the excitement of online casino gaming in New Zealand like never before!

Apple Pay Transaction Times
Deposits made using Apple Pay are instantly approved and take only a few seconds to verify. The instant withdrawals make Apple Pay one of the best payment options to go for.
When it comes to withdrawals, most online casinos do not support Apple Pay as a withdrawal method. However, there are a few New Zealand casinos that do support it, and the withdrawal time frame is just the same as other e-wallets. Once you request a withdrawal, it will be processed by the casino in a matter of hours. The withdrawal will then be approved within 24 hours, but some online casinos could take several days to process the withdrawal. However, the best Apple Pay online casinos New Zealand will save you time by handling your request quickly and efficiently.

Apple Pay Deposit Limits
When it comes to using Apple Pay at online casinos, the deposit limits are generally on par with other e-wallet options. However, some casinos do offer lower minimum deposit limits to accommodate players of all budget types. For instance, you may be able to make deposits as low as $10 using Apple Pay. It's important to note, however, that the minimum deposit required to claim a welcome bonus may be higher than this.
Most online casinos that accept Apple Pay will have a minimum deposit limit of at least $10. However, there are a few exceptions where the minimum deposit required is $20 or higher. On the other hand, the maximum deposit limit for Apple Pay is typically quite high. Many casinos have a five-figure limit for how much you can deposit at one time, with most falling between $5,000 and $10,000.
It's important to keep in mind that deposit limits can vary from one casino to the next, so it's always a good idea to check with the specific casino you're interested in to confirm their deposit limits for Apple Pay. Additionally, it's worth noting that some casinos may also have additional deposit limits in place for specific promotions or bonuses. For example, a casino may have a lower deposit limit for a specific bonus offer in order to encourage players to try it out.

Apple Pay Casino Bonuses
Casino bonuses are more like marketing tactics deployed by online casinos to attract new players and keep already registered players on their platforms. For players, these bonuses improve your chances of getting lucky without any risk on your part. Before claiming casino bonuses, it is important to know how they work. You should also read and understand the terms and conditions of each offer to help you get the best out of them.
Welcome Bonus: The welcome bonus is the most lucrative offer at online casinos. This bonus is given to new players as an incentive, encouraging them to sign up to the casino. The welcome bonus can take many forms. In most cases, you get a first-deposit bonus. With this bonus, your first deposit at the online casino will be doubled up to a certain amount. For example, a casino may offer a 100% match bonus of up to $200 on the player's first deposit.
No Deposit Bonus: The no deposit bonus is a registration offer that only requires you to register an account to claim it. Once you meet the requirement, you might get a bonus cash offer or free spins on slots. For example, a casino may offer $10 as a no deposit bonus for new players to try out their games. In most cases, the value of the no deposit bonus is usually on the low side.
Free Spins: This free spins bonus is just as the name implies. This bonus offer is made to online casino players on different occasions. You could get some free spins when you sign up for the first time as a part of the no deposit bonus or it could be offered to you on your first deposit. Free spins could also be offered to existing players. For example, a casino may offer 20 free spins on the slot game "Starburst" as a Game of the Week bonus.
Cashback:For regular players, there is no generous offer that beats the cashback bonus. The cashback bonus offers players a percentage of their losses on casino games. For example, a casino may offer 10% cashback on losses incurred on a certain day of the week. This bonus offer tends to be the most lucrative for regular players, as it comes without wagering requirements. This allows players to withdraw winnings from the offer immediately.
Loyalty Bonus: The loyalty bonus is a bonus offered to players who have been loyal to a particular casino. The loyalty bonus is usually in the form of a tier system where players get points for playing casino games. The points can be redeemed for bonuses like free spins and bonus cash. For example, a casino may offer a VIP program where players can earn points for every wager they make, and redeem these points for bonuses, free spins, or other rewards.

Frequently asked questions about Apple Pay NZ
How do I set up Apple Pay?
To set up Apple Pay at a New Zealand casino, you will need to add your Apple Pay account to your casino account and then link a credit or debit card to your Apple Pay account.
Are there any limits on the amount I can deposit or withdraw using Apple Pay at a New Zealand casino?
The deposit and withdrawal limits may vary depending on the casino your account status. however most casinos have a minimum amount of maximum>
How long does it take for deposits and withdrawals to process at a New Zealand casino?
Deposits made with Apple Pay are usually processed instantly. Withdrawals can take up to several working days, depending on the casino.
Do I need an iPhone or iPad to use Apple Pay?
No, you can also use Apple Pay on a Mac or Apple Watch. In addition, you can use Apple Pay using Safari browser on any device.
Author: Amelia Smith
Last updated 24/05/2023 - Article published 15/01/2023