Close casino account
Online casinos that cater to the needs of New Zealand players are quite rewarding and enjoyable. However, after playing at some sites, you may wish to end your membership and close an account. Account closure is a simple process and you will find that each casino provides an easy way to terminate your account.
There are other ways in which an account can be closed. Online casinos reserve the right to terminate an account if you breach terms and conditions or are found to be engaging in any form of cheating or any illegal activity. When a casino closes your account, you run the risk of losing any fund remaining and you can't reopen the account.
Here we take a close look at how you can close your casino account and some other options that may be a better choice if you want to gamble online again in the future.
Reading time: 5 minutes.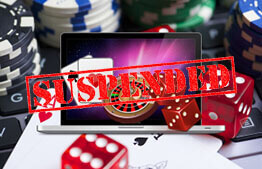 Voluntary Account Closure
If you are a current member at a casino and find that the site is no longer meeting your needs, you have the ability to close that account. At most sites, this can simply be done by contacting the support team. The best NZ casinos will offer 24-hour support through email, phone, and live chat, so you have many ways to make contact and close the account.
Voluntary account closures will allow you to withdraw any remaining funds that are in the account. You will lose bonus funds if there are any remaining. When you choose to close an account, you also have the ability to reopen that account at a later date (If you didn't exclude yourself because of gambling problems).
At some online casinos, reopening an account will require you to contact the support team again. Other sites will simply allow you to complete the registration process again. In most cases, you will have to choose a new username and password to create a new member account.
Termination by the Casino
When you open an account with any New Zealand online casino, you agree to adhere to all terms that are in place. The terms and conditions state the rules of the casino and will provide details on account management and bonus redemption. All members are required to follow set rules at all times. Any breach of any term at the casino may result in immediate termination by the site.
Online casinos will state the terms for account closure clearly and you should review these when you signup. Sites have the right to cancel an account at any time. In most cases, this is due to one of the following reasons:
- The player has engaged in illegal activities or has been found to be cheating or abusing bonuses
- Players have multiple accounts at the same site
- Wrongful use of the site or any contents of the site
- Underage players will immediately be terminated
- Incorrect or false information has been provided when registering
- Multiple accounts within the same household may be terminated
There are many other reasons in which a casino can close your account, which is why you should always read the complete terms and conditions. As long as you follow rules and adhere to casino policies, your account will not be terminated.
One thing to be aware of is that if the casino does choose to close your account, you may not be notified. Not every site is required to contact the player before termination. When an account is terminated, all funds will be lost and cannot be reclaimed. This includes any balance of winnings or any amount that has been deposited into the account.
Should a casino close an account for any breach of terms or any other reason listed, you will usually not have the ability to open another account. At some sites, a new account, of the closed account, may be reopened at the discretion of the site.
Alternatives to Closing an Account
If you are considering voluntarily closing an account, you have other options. Some players just want to take a break from gambling and may not know that they do not always have to permanently close the account. Most NZ casinos will offer some other options that can be useful if you do plan to return to the site at a later date.
Many sites will have a Self-Suspension option. With this, an account can be disabled for a certain period of time. Some sites will refer to this as a cooling off period as well. You can choose how long you wish the account to be inactive. During this time, no deposits or withdrawals can be conducted and you will not be able to engage in real money play.
This option is great for players who have a gambling problem or are having trouble managing an account. Instead of leaving the casino completely, you can take this time to get things in order. You can remove the suspension by contacting the support team if you wish to resume playing sooner.
These options are in place to help players remain safe when they are playing for real money. They are a way to help to prevent gambling problems and addictions. You will also find that sites will allow you to set deposit limits, loss limits, or even limits in the amount of time that you can play games. All of these are great alternatives to closing an account.