menu
Get Your Magic Points at Voodoo Dreams Casino!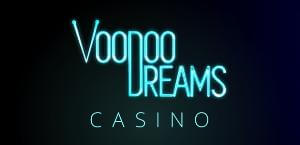 Voodoo Dreams Casino has a promotion of all promotions available for players once they sign up, with the ability to collect XP (Experience Points) and SP (Spirit Points), which can then provide them with multiple, enhanced benefits for their casino experience!
This highly unique and creative offer can be found in the promotions tab of the online casino and it is a quick and easy process to sign up.
There are many benefits to what is a particularly innovative promotion and it could well make your time at Voodoo Dreams all the more exciting.
How does this work?
So, when you sign up to this offer, it means that you have subscribed to receiving both Experience Points and Spirit Points, which are awarded for certain things that happen while you are playing online slots.
For example, winning from a spin, will provide you with these points, in addition to ending a game session. Every player can find how many of the points that they have in their account at the top of the home page.
Experience Points essentially reflect the level that you are at, which determines how valuable your Spirit Points are, which can be used to 'cast spells', based on how many Spirit Points it costs to do so. When you cast a spell, you will then be given a reward, often real cash, that does not have to be wagered or met with a deposit.
The higher the level you are, the more powerful spells you are able to cast, because your points will be worth more.
What is great about this promotion, is that it can be applied to any type of casino game Voodoo Dreams. The promotion will track your progress on everything that you do, because it knows that you have signed up and you could rise through the levels accordingly, redeeming some fantastic awards, alongside any jackpot wins that you gain as well!
What are you waiting for?!
This is definitely one of the most exciting promotions that any casino has come up with in quite a long time and as a result, it should be considered, if you are an avid player. The best bit, is that it is no extra cost to sign up to this - simply 'opt in' and then it will track your progress, allocating you points along the way!
Obviously, points make prizes, so you could also, very quickly be in line for some free cash rewards within just days or weeks of playing, so you could well reap the benefits very quickly!
Author: Amelia Smith
This news article was published on 03-08-2023