menu
Win yourself a bounty with the Pirates Pub slot!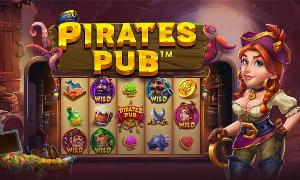 Fresh from notable software provider Pragmatic Play, comes the all-action Pirates Pub online slot game, where there are many opportunities to snatch the ultimate treasure trove. Arr matey, you just know that sounds good!
Set on a grid that features five reels and three rows, this is really easy on the eye, with the soft and colourful aesthetics really contributing towards your overall enjoyment.
Also boasting nine paylines, these come to fruition when you land between three or five of a kind horizontally. However, the high volatility levels of the slot are something to be cautious about, especially if you are new to playing online slot games, though, with the demo mode, you can practise until you feel comfortable with how the slot works. The slot's RTP rate of 96.03 per cent is reasonably respectable.
What you can find with Pirates Pub
Although the standard base level of the game is perhaps slightly on the unadventurous side, it gets a lot more exciting when you get to the bonus rounds. As a result, upon landing three, four or five wild symbols in the base game, this will then trigger free spins for you. Subsequently, this is when the game really hots up.
Regarding landing the wilds, when you line up three, it means that you will get between five and eight free spins, four wilds returns between eight and 11 free spins and if you line up five wilds, you will be awarded between 11 and 15 free spins. These are all randomly decided.
In the initial phase of the free spins round, you will see that the wilds which triggered these, are highlighted in their position on the grid. And, as a result, every time you land a new wild, their position is also then marked, with the mark then being upgraded, with this possible for a maximum of five upgrades.
If three, four or five free wilds land simultaneously, the resulting action is seeing a random amount of free spins assigned to you, based on the original values of the principal game.
The next phase of the free spins round once the first finishes and all of those allocated free spins have been utilised. As a result, between two and five free spins are then given to you at random, with all the positions being marked with sticky wilds. Every one of these has a value assigned up to five times (5x), however, you will find that these are not a replacement for normal wilds.
What do we think about Pirates Pub?
Overall, this is a very friendly slot which is easy to navigate and understand. Even if you are new to playing online slots, there is nothing too complicated about it, though we advise using the demo mode in order to get used to it, due to the high volatility levels. The minimum stake amount is essentially industry-standard at 0.20, with this rising to a maximum level of 100.00.
Experienced, more seasoned slot players may find the slot a bit bland, at least until you unlock the bonus rounds, at which point it gets more exciting. Also, the maximum win level of 5,000x your original stake can make it worth you while.
Author: Amelia Smith
This news article was published on 27-07-2023