menu
Royal Jackpot now available at Royal Panda Casino!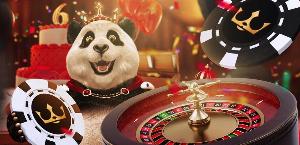 Looking to win that life-changing sum of cash? Well, at Royal Panda Casino, you really can do it when you sign up and opt in to the Royal Jackpot.
Within 30 seconds of opting in to this promotion, you will receive a notification to say this has been successful and then you can choose from a wide range of fascinating slot games to play that the Royal Jackpot applies to!
So, if this interests you (we really cannot think of a reason why it should not), keep reading and learn more about this brilliant bonus.
Need to Know
Once you have signed up for this promotion, it is time to start playing from a wonderful array of slots that apply to the Royal Jackpot.
For just 0.10 minimum stake per spin, you could automatically win the mini jackpot of $5, while the minor jackpot seeds at $100, the major jackpot amount seeds, at a cool $10,000, and the mega jackpot seeds at a life-changing $5,000,000. Yes, you did read that correctly - that's MILLION!
The good bit? Any of the jackpots can trigger at any time, meaning that even if you have staked just 0.10, you could be in with a chance of winning the mega jackpot. Upon winning, you will receive a notification within 30 seconds confirming your good luck, with the total then transferred into your account.
If the jackpot is won by someone else, you will again receive a notification after 30 seconds informing you, before the jackpot amount is then reset, meanwhile, on the very rare occasion that two are won within seconds of each other these are then reseeded simultaneously.
The even better bit? There is no upper limit on any of the jackpots, so if many people are playing, it means that you could win more than the actual seed amounts for each of the jackpots, until they reset at their seed amounts.
When you have opted in to the Royal Jackpot and are playing an associated slot, you will see a totaliser for this, showing you the new value of each respective jackpot in as close to real time as possible.
What is not to love?
For just 0.10 you could change your life as it currently is - imagine that. And even if you haven't signed up to Royal Panda casino, this takes just a couple of minutes and you even benefit from a great welcome bonus on top as well!
However, we do encourage you to skip straight to the Royal Jackpot and try your luck - afterall, this could well be worth a lot more, for a lot less, considering the welcome bonus has wagering requirements attached to it!
So, now you know what you could win and what you need to do, take a look at Royal Panda now! It just may turn out to be the best thing you have ever done!
Author: Amelia Smith
This news article was published on 18-07-2023