menu
Brew up a storm with Stormforged slot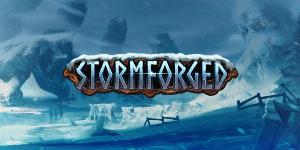 Hacksaw Gaming brings you what is certainly a fitting title, with this highly innovative slot game title, Stormforged which is enough to really ensnare the appropriate senses.
Almost proactively enticing, if you are a fan of the Vikings television series, then this should be right up your alley, set in Midgard and the depths of the cold north where the most fractious battles of the Norse Gods took place.
Its background is enough on its own to tempt you, with it being fittingly encapsulating for those who are fans of Norse-based slot titles.
Enter the lair
If you know Norse mythology, then you are likely to recognise some of the characters and symbols that are prevalent throughout the slot as the journey progresses, with the likes of Surtur and Muspelheim appearing regularly.
Enticingly, the minimum wagering amount is a very modest 0.10 which goes up to 100.00 per spin, while it boasts a very respectable RTP (Return-to-Player) rate of 96.41 per cent, in addition to 14 paylines on a gaming grid of five reels and four rows.
When you get five of a kind symbols, you will be the subject of a possible payout of between four and 50 times your initial wagering amount, while wilds appear in various forms throughout the slot.
The symbols that you really want though is the Hand of Surtur and the Ice Brand which are also payable of up to 100 times your principal stake should you line five of them up. If you get a Viking Warrior wild, this will provide with it a multiplier of between 2x and 200x.
What is the verdict of Stormforged?
If you really like Norse mythology, are familiar with and/or have played similar types of slot game titles, then this will really appeal to you.
One of the best bits about it, is that it has a modest medium to high volatility level, with most new slots recently, having a high volatility mode, which is not ideal if you are new to playing online slots.
However, Hacksaw Gaming really seems to have done a good job with this slot title and the rewards are certainly appealing, should you land the jackpot!
Author: Amelia Smith
This news article was published on 14-04-2023