menu
New York set to introduce new bill to regulate advertising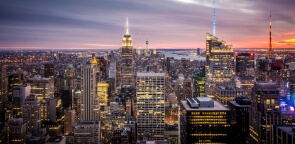 It is understood that the increasingly thriving online sports betting market of New York, could soon see a new bill introduced that would mean operators are required to place warnings on their advertisements.
This news comes as the NYGC (New York Gaming Commission), revealed that many in the state were potentially at risk of becoming problem gamblers.
The new bill would mean that a hotline number would need to be included in any sports betting advertisements, such as promotions.
What effect would this have on the NY market?
While there is perhaps an argument that the bill may mean less people participate in online sports betting, it is unlikely to have much effect on the wider market.
The state is currently the leader in the union when it comes to revenue figures and betting handle, having recorded some incredible figures over the last year, having only just become regulated 12 months ago.
Also, what has to be considered, is that it is one state that plays home to some of the biggest earners in the country, with the financial epicentre of the world - Wall Street, that has an array of investment banks, hedge funds and top-tier law firms.
It is likely that many sports bettors in the state are such professionals with significantly higher disposable levels of income and as a result, could well be considered to be 'VIPs' as far as operators are concerned due to how much they wager on a weekly basis.
On only three occasions last year, did the state's revenue fall under $1 billion - a staggering amount and even then it did not go below $800 million.
How necessary is this bill for New York?
While betting figures might be at an all-time high for New York, it is understood that 'problem gambling' is becoming more widespread in the state, which has led to the gaming commission to prompt the drafting of this bill.
Although there is a significant proportion of high earners in the state, there is also an underlying poverty level and the availability of sports betting may have been a major factor in this, as people chase losses.
For sports operators, including warnings on their advertisements, is unlikely to have too much of an effect on those who wager on a weekly basis (who can afford to lose), though it will help to raise awareness and provide support to those people who need it the most.
The toll-free number will see callers put through to specialists who can provide them with advice and support and help them with their problem.
Author: Amelia Smith
This news article was published on 29-01-2023