menu
Gates of Troy captures Imagination with Latest Release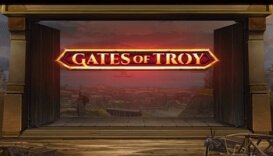 This slick slot experience brings the Gates of Troy to your home in a stunning online gambling format. Exploding with colour and fantastic graphics, this is a fine illustration of the Trojan War.
From the renowned software provider Play n'Go, this certainly captures the imagination of the player, with all of the related features in symbol format and there really is no major Achiles heel.
Action-packed from the first minute, there is a substantial amount of interaction throughout the player journey and this really brings the fascinating time period to life.
With medium volatility, this five reel slot which has four symbols on each line, there are also 30 paylines, making this a comprehensive experience for even those who are new to playing online slots.
A minimum stake of 0.30 to 30.00 per spin, it offers a great amount of flexibility that is appealing for everyone. There are also wild symbols featured on each reel, which is an attractive selling point and as a result, it means that it increases your chances of winning by a significant amount.
What makes Gates of Troy good?
There is quite a lot to like about this slot; above all, it encapsulates one of the most fascinating periods in history and effectively brings it to life. One highly appealing factor is that if the guaranteed scatters are triggered, two scatters are randomly placed on the reels, with the goal of landing a third which then reveals a free spin round.
When you get 10 free spins, this gives you the opportunity to be paid out either one, 10 or 100 times the principal stake if you land a winning combination. Multiplier wilds are also a nice feature, with these adding even more potential to win.
The soundtrack certainly goes with the theme of the slot and complements the visual nicely providing a nice juxtaposition, regardless of the device that you are enjoying it on.
Our verdict of Gates of Troy
If you are familiar with the history of Troy and the main protagonists that were involved then this is certainly a slot that could be worth giving a try.
Although there are other slots that offer a higher payout, you have to factor in that the minimum stake per spin is 0.10 when some slots are higher. The bonus rounds are enough to keep you interested, while the graphics are also reasonable.
Author: Amelia Smith
This news article was published on 17-10-2022