menu
ESPN targets Sports Betting diversification as part of Growth Strategy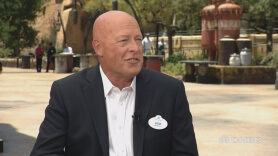 Bob Chapek, CEO of Walt Disney, has given the firmest indication yet that online betting is critical to his long-term plans for ESPN; this subsequently being one of the major reasons why he has fought so hard to fend off any interest from other companies to acquire the brand.
It is understood that Chapek is keen to develop stronger and more direct connections with consumers, and, as a result, introducing sports betting possibilities via the ESPN brand is believed to be a critical part of his strategy.
With the US online sports betting industry continuing to grow, as more and more states pass legislation, the potential in terms of revenue is explosive. As such, Chapek revealed at a recent conference in California that sports betting is what the younger demographic of their customers (under 35) have indicated they want from part of their sporting eco-system.
Significant potential for ESPN to dominate
Due to the major presence of ESPN as a global brand and a key media outlet, it means that it already has a substantial potential customer base should, as is seemingly likely, it launches a sports betting product.
It would see the brand go toe-to-toe in the country with some of the biggest operator brands in the US, including DraftKings, FanDuel and BetMGM and could essentially form a 'big 4' of sports betting companies.
In addition to this, such is the branding recognition of ESPN; this could see the media outlet steal market share in key states from some of the industry's main operators and really disrupt the status quo.
Only in the last couple of years has the US online gambling industry really started to have an impact, with the global pandemic prompting many states to legalise this activity as a way of making up for lost revenue. States such as Michigan and Colorado have started to reap the benefits of passing legislation, while other recent states which are new to the industry such as Illinois and New York, have witnessed a significant impact.
Room for another in a crowded marketplace?
What has become obvious over the last couple of years is that the US market likes choice when it comes to online gambling and more often than not, most people usually join multiple operators, especially to make the most of the welcome offers and various promotions.
The sheer size of the market is also a positive indicator that more variety and choice can be a good thing for the online gambling industry in the US, especially when it comes to sponsorship and branding possibilities.
It could also see ESPN break into other countries where it is globally recognised, such as the potent LATAM market, which has shown to have just as much potential as the US.
This latest ambition from Chapek could well be a firm indicator that he is potentially gearing up to sell ESPN but much further down the line when it has become established as a major gambling operator. What will be interesting to see is how quickly the brand can launch a product and the reception that it gets from potential customers. For Chapek, the race is on.
Author: Amelia Smith
This news article was published on 04-10-2022