menu
BetMGM enters state of Louisiana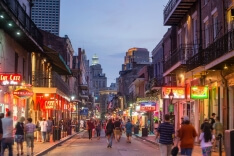 Online gambling and sports betting firm, BetMGM has been granted access to its 20th state in the US, after Louisana approved its entry.
A joint-partnership between UK-owned online gambling conglomerate, Entain (which has over 25 brands under its umbrella) and MGM Resorts International, BetMGM was launched in 2018, with Entain recognising an opportunity to capitalise on the US market with a native partner.
Having launched early, they have been able to position themselves perfectly for market growth, having initially only been present in a handful of states. However, following the passing of legislation in multiple markets across the US, they have been quick to gain a strong a foothold in the US, with a significant share of the market.
BetMGM already a US heavyweight?
With a number of rival operators in the US including DraftKings, FanDuel and Golden Nugget Online, to say nothing of a number of international firms, the race is on to gain the lion's share of what is arguably going to be the biggest online gambling market in the world over the next few years.
Since 2020, more and more states have begun passing online gambling legislation and BetMGM is one operator that has always been quick to seize the initiative. It has, in fact, enjoyed somewhat of a record year - indicated by the state of Michigan which only passed legislation in January 2021.
A state though, that seemingly, repeatedly set monthly records in terms of gross gaming revenue, it emerged that BetMGM was the number one operator in the state, while it is also showing promising signs in the state of Illinois.
Perfect timing for Louisana residents?
The timing of the news of the entry into the state for the operator, could perhaps, not be any better, something that BetMGM CEO Adam Greenblatt picked up on, paying tribute that it was one of the first mobile apps to launch in the state and that it was just in time for the NFL playoffs.
It means that there is an ideal opportunity for state residents to really get to know the app, gambling on arguably the country's most-watched sporting event.
In addition, though the entry comes in affiliation with its parent company MGM Resort International's presence in the state, where it currently has a property that customers can frequent.
Author: Amelia Smith
This news article was published on 03-02-2022