menu
Connecticut scoops $1.7 million in wagers during first month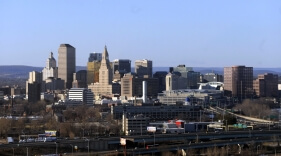 After only launching on 12 October, the state of Connecticut posted impressive figures for its first month of legalised online gambling and sports betting, amounting to $1.7 million for wagers collected.
Of this, approximately $1.2 million was from online casino wagers and just over $500,000 from sports betting, which represents a positive response from the Connecticut market, indicating significant potential for the next few months.
Rodney Butler, chairman of the Mashantucket Pequot tribe, which is a partner of online operator DraftKings, spoke positively about the response, indicating that there is a clear interest in sports betting and online casino participation and that these initial figures are a good benchmark for the next few months, referencing the NFL season as a potential major contributor in terms of bets.
The state of Connecticut has a tax levy of 13.75 per cent for sports betting and 18 per cent for online casino wagering, with this set to increase to 20 per cent by 2026.
Data to provide further insight for companies?
What is interesting is that Connecticut neighbours the state of New York and while mobile sports betting has recently been approved there, this has not yet gone live, with February being earmarked for the official launch.
Currently, New Yorkers cross state lines so that they can place bets on their mobile handsets, mainly to New Jersey, however, it will be interesting to see how much of the revenue from Connecticut for October and the months that follow is courtesy of New York commuters - especially those in the north of the state.
This then will provide those companies with some potential insight into how much of a success that the opening of the New York market will be and allow them to align appropriately, putting plans in place.
What online operators are available in Connecticut?
Currently, compared to other states, there is not a lot of choice for residents of the state, wishing to participate in online gambling and sports betting, however, they have two of the biggest players in the US market.
DraftKings and FanDuel, who are both direct competitors were quick to gain licensing approval for the Connecticut market, with these very similar in terms of what they offer to customers.
Originally, they started off as daily fantasy sports betting companies as a way to get around the strict regulations and, as a result, they were quick to diversify into complete operators once legislation was passed, originally launching in New Jersey.
It is expected that more operators will follow in the coming months, which will give residents more choice, especially in terms of welcome bonuses, though initial figures represent a decent amount of potential for the market.
Author: Amelia Smith
This news article was published on 11-12-2021