menu
Saskatchewan set for Online Gambling launch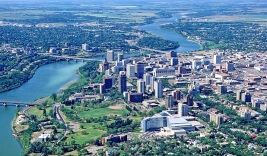 The Canadian province of Saskatchewan is set to allow online gambling, following approval from the Saskatchewan Indian Gaming Authority. A number of provinces have been linked with the acceptance of online gambling legislation, with Ontario also understood to be opening up an online gambling market.
For Saskatchewan though, this is being viewed as a natural step, by a body that has a long and respectable history in the land-based casino niche. This deal though is in collaboration with the Federation of Sovereign Indigenous Nations (FSIN), as well as the local government.
As a result, all profits that come from their own online gambling site that will include both casino and sports betting will be divided 50/50 between the two entities.
The minister for SaskGaming as it is being branded as, Don Morgan has promoted the site's commitment to responsible gambling, indicating that the site will have measures and procedures in place in order to support players with the tools and resources that they need so that they feel safe.
What does this mean for Canadian online gambling?
Over the past couple of years, the Canadian online gambling market has been gradually growing, however, only certain provinces have the requisite licenses for operators and it is often the case that the official sites are part-owned by the authorities.
As a result, for Canadian players wishing to play online casino the choice can be limited if they do not know where to look. Most operators are actually available to Canadian players, that have a license from the Malta Gaming Authority (MGA) and which are offshore.
While there are some provinces in Canada that still do not allow online gambling whatsoever, for the majority that do, this is how players are able to find the majority of operators, despite this not being widely advertised.
Indian tribal casinos are another popular authoritative body when it comes to the regulation side; these are effectively their own country and as a result, own the land and have their own rules, separate from Canadian authority.
Indian casinos are popular, both in the US and Canada and it is often the case that they started as small, saloon-esque buildings, quite unlike the traditional ones that you see today. This move online for Saskatchewan can bring much-needed revenue to the province, generated by players who will have more options than in a land-based casino and from the comfort of their own surroundings.
Author: Amelia Smith
This news article was published on 18-10-2021