menu
888 Holdings showing substantial pandemic growth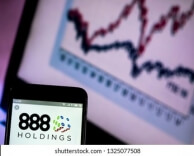 Already one of the world's largest online gambling groups, 888 Holdings has been quietly going about its business over the last couple of years and certainly has a good amount of credibility among its customers.
This has certainly been reflected in the latest figures that it posted for the first quarter of 2021; a strong indicator that the company continues to go from strength to strength. This has been driven by a 56 percent revenue growth, influenced by product innovation and customer acquisition that has thrived in regulated markets.
B2C (Business to Consumer) growth has increased to 57 percent which translates to $262.8 million (68 percent casino and 53 percent for sport), while poker (10 percent) and bingo (eight percent) continue to post positively encouraging figures.
Group CEO Itai Pazner has been upbeat about the company's growth over the last year citing that the unprecedented momentum that was witnessed during 2020 (a staggering feat when taking into account the COVID-19 pandemic), plus a strong start to 2021 contributed by an increase in demand for digital assets has helped considerably.
He went on to indicate that, despite the suspension and interruption of sporting events, due to the pandemic, how the company has performed in other areas has been a significant contributory factor of this.
What has also helped 888 is that they have led the way in the industry, with regards to digital innovation, especially across the company's new proprietary sports platform which was been worked on during the enforced break in sports coverage.
New markets and partnerships mean exciting times
While the last year has provided plenty to be encouraged about, it is believed that this is just the tip of the iceberg, as far as future growth is concerned is for the company. Thanks to legislation opening up in a number of US states in recent months for the potentially highly lucrative American online gambling sector, 888 have been able to put themselves in a prime position to really take advantage here.
Their sports platform in particular will be used in partnership with Caerer's Entertainment who will provide them an entry into a market whereby their infrastructure will bring with it a number of benefits.
Aided by their highly productive and well regarded B2B division; Dragonfish technologies, 888 is almost uniquely positioned to not only build on the momentum, but also help to establish themselves as one of the leading innovative operator brands in the industry. And certainly, the US.
The number of customers that await 888 in the US; particularly from the sports betting side can help them to challenge for the number one position in America where this is growing substantially in popularity.
Can anyone challenge?
With the future of William Hill's European assets thrown into uncertainty, there is the view that 888 (in terms of size and scale), is somewhat of a standalone currently in the industry, rivalled only by the likes of Entain, which has more of a diverse portfolio, though with assets that have their own individual obstacles - especially in the UK market.
Because of 888's larger pan-European presence and also its reach, it presents better options on more of a wider scale, as highlighted by the company growth figures over the last 12 months.
Author: Amelia Smith
This news article was published on 05-05-2021