menu
Catch the Red-Hot €7,000 Prize at the Live Roulette of Rizk Casino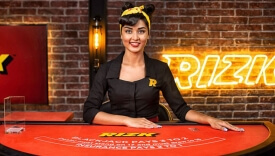 It seems that the summer months in most online casinos are off to a blistering start. If you're paying attention to the latest releases and campaigns, you will notice that the majority of the casinos are unveiling their best and most lucrative campaigns. A perfect example of this is Rizk Casino which is currently hosting its red-hot €7,000 prize pool for its live roulette production. The casino campaign started last July 19 and will run until August 4. So, if you have the skills to dominate the game of live roulette and you have the guts to take the risk, then play the game and dominate the live roulette leaderboard!
The Race is On to Dominate the Tournament
This exciting live roulette campaign is a tournament that's available to all registered players based in New Zealand. If you're ready to take on the challenge, just follow the steps below :
-Log in to your account or if you're not yet a customer, register an account with Rizk Casino today.
-Proceed to the live casino section of Rizk and play the Evolution Roulette tables
-You get 1 leaderboard point for every €20 wagered on the game.
-Get 20 leaderboard points for a minimum wager of €1 straight-up 'RED' number win.
At the end of the promotion, the leaderboard will be finalized to find out the Top 30 players based on the points collected. There are 30 real money prizes to be given to players with €2,000 as the top prize. Don't worry if you land in the 26th to 30th places. As part of the Rizk promotion, you can still enjoy a cash prize of €50. For a complete explanation of the real money prizes in every rank, you can visit Rizk Casino today. And since points are collected for every wager made on the game, players can collect points at any time and there will be a lot of movement on the leaderboard. We highly recommend that you check out the board regularly if you're planning to rise above the situation.
So What Happens If You Win?
In case you land in the Top 30 of this campaign, you will receive your reward by 17:00 CEST the next day. Keep in mind that the prizes should be claimed in the Rewards section within the next 7 days. Once you claim your reward, this will be reflected in your account and you can use the cash bonus freely. This reward is free from the usual playthrough requirement. You can use it to play your favorite slots or you can request a withdrawal provided you satisfy the withdrawal policy of Rizk Casino.
Author: Amelia Smith
This news article was published on 01-08-2020