menu
Are You Ready to Beat the Dealer at Casino.com?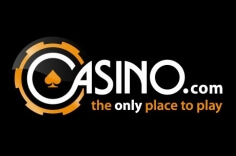 If you're playing from New Zealand, one gaming platform that's available to play is Casino.com. Owned and operated by ONISAC Ltd of Gibraltar offers a one-stop-shop for all things related to online gambling. As the branding suggests, it covers the most important casino games in the business. Whether you're looking for slot machines, colorful table games, and live dealer games, Casino.com offers this securely and reliably.
But there's one more important reason why it's worth a check: its quality of casino promotions available. With your account at Casino.com, you can access all lucrative offers, from standard new customer offers to contests and tournaments. Here's one promotion that can keep you focused, motivated, and entertained- the 'Beat the Dealer' promotion. As the campaign suggests, this Casino.com promotion is open to table games enthusiasts and those willing to accept the challenge to beat the dealer. So are you ready to take on the challenge, win a game, and collect up to $1,000 in cash prize?
Follow these steps to collect your prize
This exciting promotion is available on the blackjack table. To join this promotion, just follow the general steps indicated below
1. Opt-in using the promotional button to join the game.
2. If you're not yet registered, you will be notified to sign up for an account.
3. Once in the game, your objective is to collect successive jackpots.
4. If you collect 3 consecutive blackjacks, you earn $500.
5. If you collect 4 consecutive blackjacks, you earn $1,000.
If you're a blackjack enthusiast, then this is the right casino promotion for you. Here, you can test your skills and strategies so that you can win the round and collect cash prizes along the way. Keep in mind that you should opt-in to join the promotion. Also, the minimum bet requirement is $5 to play for the cash prize.
Important promotional rules to remember
Aside from the covered game and the available prizes, there are other promotional rules that you should consider. For a start, this campaign is only available for players who are at least 18 years of age and registered members of Casino.com. It's understood that when you sign up, you have completed the first deposit. If not, make sure you claim first your welcome bonus offer before you can take part in the promotion. If you participate today and meet the qualifying number of blackjacks, your cash prize shall be awarded to your account within the day. Also, the prize is automatically redeemable and not subject to the standard playthrough requirement.
The availability of this promotion and a comprehensive game portfolio helps push the brand of Casino.com as one of the leading destinations for SA players. If you're a card enthusiast and looking for a lucrative bonus, then it's time to take the challenge and beat the casino's dealer.
Author: Amelia Smith
This news article was published on 30-06-2020