menu
Race to Win 500 Credits at Kaboo Casino This March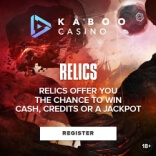 March is a busy month for many online casinos. Aside from new releases and announcements from top software vendors, casinos are pushing their marketing efforts by offering exciting bonuses and campaigns.
One popular promotion that's available for customers based in New Zealand is the campaign to collect up to '500 Credits' at Kaboo Casino. The race for points tales place every Mondays, Wednesdays, Fridays, and Sundays of March. It's a classic wagering race presented at Kaboo and interested players can win a Carbon Relic or up to 500 credits. Are you ready to join the fun and make a choice?
How the Race Works
In this Kaboo campaign, interested players can join the race by wagering on selected slot games. To participate in the race, you need to wager at least €10 on the identified days. For this minimum wager, you can earn 1 point for the leaderboard. If you can wager bigger amounts, then the system can reward you with more points that can help you dominate the leaderboard. Keep in mind that there are selected games to play for each participating day. Before you play, make sure you check out the schedule of qualifying games, as described below:
March 22, Doom of Egypt, Ocean's Treasure, and Mustang Gold
March 24, Moon Princess, Ozzy Osbourne, and Aladdin
March 26, King of 3 Kingdoms, Goldilocks, and 9K Yeti
March 28, Fortunes of Ali Baba, Vikings, and Greek Gods
March 30, Honey Honey Honey, Ankh of Anubis, and Bonanza
Each qualifying day, a classic race is hosted from 00:00 to 23:59 CET. A customer earns points based on the wager made. The leaderboard is updated in real-time and you can check it in your Missions section. You can play and submit the points until 23:59 during an applicable day. At the end of the classic race for the day, the final leaderboard is updated. If you are one of the winners, you can expect your Carbon Relic or credits by 17:00 the next day.
What are the Prizes You Can Collect?
The main objective here is to wager on selected games and earn points. Make sure you collect the most points at the end of the qualifying day to earn the reward. If during a qualifying day you end up as the first place, you earn 500 credits. The second and third place players earn 300 and 200 credits respectively. And if you land on 8th to 10th, you can own the Carbon Relic.
To claim and enjoy your credits, players should check out the Vault. All Relics must be claimed within 3 days and credits can be claimed with 390 days upon awarding. These bonuses will expire if not claimed within the recommended time.
There are only a few days left before the end of this promotion. We highly recommend that you check out this offer from Kaboo, now!
Author: Amelia Smith
This news article was published on 21-03-2020