menu
Sign Up at Casino.com for Daily Drop of Instant Wins This February 2020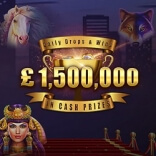 If you're looking for some of the best and exciting campaigns and promotions, then don't skip the offers of February. This month, several top online casinos have announced their promotions and campaigns to keep the hearts of casino players happy and satisfied.
Casino.com, a leading destination for players from New Zealand is one of those platforms that promises the best offers this month. When you visit the casino this month, you will be treated to its Daily Drops, tournaments and massive wins worth $1,500,000. This is the biggest giveaway from Casino.com and something that you should not miss. If you're looking for top wins, check out how this ongoing promotion work.
Here's How You Can Participate in the Daily Drops
This is an ongoing promotion of Casino.com and it's available for several weeks. And each week, you need to follow these steps for you to qualify:
1. Opt-in by choosing one of the participating games for the week.
2. Once accepted you need to wager at least $0.50.
3. Play and collect points along the way.
The objective of this promotion is to collect as many points as possible. The points can serve as your basis to move up the tournament ladder. Aside from the collection of points, this promotion also allows you to join the daily prize drops. When you play one of the participating games, there's a chance that you also receive one of the daily prizes. This week, the promotion February 6, Thursday, and will run until February 12, Wednesday.
Know the Participating Games of the Promotion
As a player, you should also pay attention to the qualifying slot games. For this week, Casino.com includes Wolf Gold, John Hunter Scarab Queen, Buffalo King, and Mustang Gold as the primary slot games to play. Also, the list includes Hercules and the Pegasus, Great Rhino, Magic Journey, Money Mouse, and the Greek Gods. We highly recommend that you check out the promotions page to view the full list of participating games and titles.
How the Network Promotion and Leaderboard Works
This week is just one of the many participating weeks in the promotion. There are twenty-four weeks in all and the promised daily drop of prizes will run from January to July. In short, this will become one of the longest-running promotions of Casino.com.
To maximize the potential of this promotion, you need to move up the latter. Each spin is your opportunity to get points and move up the leaderboard. For example, if you bet $1 and earn $50, you instantly get 50,000 points. Every week, the leaderboard will be updated to show who is leading and will take the prize. Each week, the leaders will partake in prizes worth $30,000. For the daily prizes, you will compete for a share of $4,640. So are you ready for wondrous times online only at Casino.com?
Author: Amelia Smith
This news article was published on 08-02-2020