menu
Royal Panda Ends UK Run But Continues its Services for NZ Players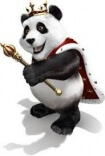 For the longest time, Royal Panda Casino has been one of the favored destinations for many casino players from different countries including the United Kingdom and New Zealand. Licensed by the UK Gambling Commission and the Malta Gaming Authority (MGA), the platform offers a variety of casino games and services from casino games, live dealer, to sports betting. Its success is also attributed to quality support as players get a 'royal' treatment when playing games.
However, a slight change in operations will definitely impact the long-time players of the casino. Royal Panda Casino has officially announced that it's ending its gaming services for players based in the United Kingdom. Starting January 31, 2020, the website will no longer accept players or bets from players based in the United Kingdom. If you have a GBP account with the website, then consider the following timeline:
January 8 at 10 am GMT. New players based in the United Kingdom are no longer allowed to create new player accounts with the platform.
January 20 at 9 am GMT. Players from the UK can no longer place a sports bet or complete a deposit using its cashier services.
January 31 at 9 am GMT. Players based in the UK are no longer authorized to access their accounts and complete any form of gambling services.
These changes are in response to the end of its UK license effective January 31.
What To Do If You Have a GBP Account?
If you still have an account with Royal Panda, then we highly recommend that you immediately withdraw your funds. Your account will be inaccessible starting January 31. You can also get the help of the Support Services team in case you want assistance in withdrawing your funds.
If you fail to withdraw your balance before the time set, Royal Panda will still proactively manage your accounts and will release funds based on your payment records. If this payment facility is no longer applicable, the management will contact you to inform you about the procedures. In case the casino fails to contact a player within the 12-month period, it reserves the right to donate these funds to a chosen charity.
Based on the published notices on its website, Royal Panda is committed to serving its customers in the best way possible. And even if players have outstanding bets or requests, the management promises to honor these requests.
Don't Worry If You're Based in New Zealand
Keep in mind that the license also covers players from the UK. If you're from other regions like New Zealand, you can still enjoy the casino games and sports betting services of Royal Panda. It's business as usual for NZ players looking for a great casino experience backed by superb offers.
Also, Royal Panda is also proud to announce a great gambling destination alternative which can be considered by both the UK and NZ players. For the same brand of casino entertainment, players can also check out LeoVegas, aa gaming platform from the LeoVegas Group. This website is a cool alternative to Royal Panda and comes with hundreds of slots and exciting offers.
Author: Amelia Smith
This news article was published on 22-01-2020