menu
Play Ojo Announces its Winners for Spin a Mini Campaign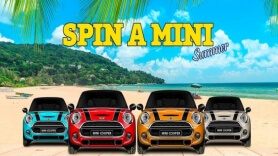 Summer months are never boring with Play Ojo. And this is exactly what happened this year for registered players of Play Ojo Casino. As part of its commitment to provide the best promotions and services to its players, this Skill on Net Ltd-owned casino ran a campaign called the 'Spin a Mini Summer' promotion last August 2019.
In this promotion, the casino managed to raise the temperature by a few degrees by announcing a prize of not just one but four (4) brand new Mini Coopers! Every week for August, the registered players of Play Ojo can take part in the promotion and compete to earn the right to drive home a brand-new Mini Cooper. Fast-forward end of September. In celebration of the success of this campaign, the management has announced and revealed the winners.
Richer by £10k!
A player that goes by the user name 'jostro65365' was the lucky player for Week 3 of the promotion. During this time, he managed to top the leader board and became eligible to drive home the new Mini Cooper. Instead of driving the Cooper in style, he selected the cash alternative worth £10k. Not bad considering that the amount is won by playing his favorite games on Play Ojo! In an interview made by Play Ojo, the player expressed his surprise that he won in the promotion. He shared that he played with just £1 and ended up ruling the leaderboard and taking home the prize. Furthermore, he shared that this is the biggest prize that he won in an online casino.
Month-long Winners
On week 2 of the promotion, user 'Parocle0112' was declared the winner of the race. For his part, the game that delivered the prize is The Sword and the Grail. Through several spins on the game, he managed to top the board and declared the winner of one Mini Cooper. On the same week, user 'Andiwoo' took home the second prize of 2 tickets to cover the expenses for a dream vacation. Another lucky player of the week also won the ASUS Flip Touch 2.5 and another customer collected the Sony System Home Cinema. It was a great second week for the players of Play Ojo.
Week 3 also produced some winners who enjoyed their prizes. During this week, a player managed to win the same Asus phone and this was made possible by playing the Midas Golden Touch. Also, other players managed to collect another Sony Home Cinema and an Xbox One.
There are too many to mention and this promotion from Play Ojo made several players happy! The completion of the promotion and the actual release of prizes fully validate the standing of Play Ojo Casino as a reliable and trustworthy casino destination for players from New Zealand. And with several upcoming promotions, it's never too late to join the fun and become one of the next winners of the platform!
Author: Amelia Smith
This news article was published on 29-09-2019