menu
Woolworths Says Goodbye to Pubs, Pokies, and Alcohol Combo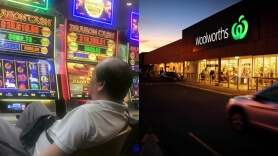 There was a time when Woolworths was the go-to place for players in Australia and New Zealand looking for pokies entertainment. Operating since 2004, the gaming arm of Woolworths owns more than 12,000 casino gaming machine licenses. This makes the company the third biggest pokies operator in New Zealand and Australia. At Woolworths, players enjoy pokies action in an exciting manner. In its pubs, players can play pokies and order alcoholic drinks, creating a fun yet controversial gaming experience. Now, the fun is about to end as Woolworths announces its plan to pull the plug on pokies, clubs, and alcohol.
In a statement, the company shared that it will package its hospitality, drinks, and gaming interests in a separate company. The 'break-up' of the company is seen to deliver benefits thanks to a simplified organizational structure with a strong focus on retail and food. If the plan pushes through, the company will merge Endeavour Drinks and ALH to come with Australia's largest integrated hospitality and alcohol business.
An Attempt to Repair Damage to Reputation
This move by the company is seen by many as an attempt to rebuild its 'damaged reputation' in the business. Last month, the company received a complaint from the Liquor and Gaming New South Wales relating to practices dating back to 2017 at two of its taverns in Australia. According to the complaint sheet, the two hotels were reported to be supplying free alcohol to players to motivate them to play poker machines for a long time. However, the company disagrees with this assessment from observers. According to a company representative, the demerger is designed to allow its various businesses to realize their full potential.
A Significant Development in the Gambling Industry
The gaming industry of Australia and New Zealand is one of the biggest in the world. And this planned move by Woolworths can have an impact on the industry. According to the Alliance for Gambling Reform, this move is evidence that the company has bowed down to pressure. The organization added that Woolworths can no longer risk the damage to its brand's reputation, thus there is a need to separate the companies. This move by Woolworths also has a significant impact on the gaming industry. Australians are the biggest players in the world today, losing $24 billion a year. And Woolworths is part of this since it operates more than 12,000 gaming machines in Australia. This means that the biggest operators are trying to implement changes that can help address the requirements of the industry.
Also, the planned corporate change is beneficial from the corporate point of view. This move opens up the company, allowing other players to have a say in running the business. Before the changes, Mr. Bruce Mathison owns 25 percent and has management control. But if the plan pushes through, his share will become 14.6 percent and will have one board seat.
Author: Amelia Smith
This news article was published on 23-07-2019