Lightning Roulette
Lightning Roulette is another top class live dealer game from Evolution Gaming. As one of the top providers for live dealer games it's not a surprise that this title has been so well made. It has some fantastic features in place that really helps it to stand out from standard Roulette games.
Reading time: 4 minutes.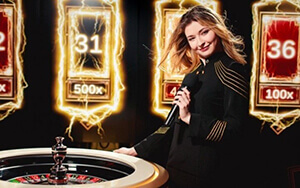 Choose a great NZ casino
What is Lightning Roulette?
Lightning Roulette is a fantastic variation of the classic Roulette game. Evolution Gaming has created a live dealer version of this game in order to provide players with an immersive experience that has additional excitement involved. If you're a fan of Roulette then this will definitely help to take things to the next level.
Where can you play Lightning Roulette?
Lightning Roulette is available at any site that offers Evolution Gaming titles. So, if you want to find this game then all you need to do is look over the different casino reviews that are out there. This will make it easy for you to find the best site to play Lightning Roulette.
How do you play Lightning Roulette?
Lightning Roulette is exactly the same as standard Live Roulette at first glance. However, it does have a few additional extras that help it to stand out. The first thing to note is that the game uses a European Roulette wheel. This is a positive to players from the start as it means that there is just a single zero slot on the wheel. As such, the chance to evens bets is increased.
The first difference that you will notice when playing this game is that a bet on a single number pays out just 30/1 instead of the standard 35/1. This might seem like a big negative at first, however there is a reason for this that makes more sense once you start playing the game.
In terms of betting options everything that you would expect from a standard Roulette game is available here. So, if you want to bet on odds/evens or red/black, that opportunity is there for you. What makes the game stand out is the lightning lucky number multiplier. This is put into place before the wheel starts spinning on every game.
It lights up between 1 and 5 spaces on the wheel and applies a multiplier to it. If you have placed a wager on that number and it lands then this will award the payout to you with the multiplier applied. This is why the single number payout has been decreased in Lightning Roulette, because the payouts can be increased significantly on every spin. This does change the overall RTP of the game as well as increasing the overall payout significantly.
Players are able to win up to 500 times their stake with the lucky number multiplier. This makes Lightning Roulette a much more lucrative version of the game than standard editions. This bonus feature is where the game gets its name from and is what provides a lot of the fun. The host for every round also adds to the excitement making some funny comments and generally helping to move the game forwards.
Lightning Roulette Features
The main bonus that's included in Lightning Roulette is the lucky number multiplier. As already mentioned, this will award players quite a significant payout if they manage to land a winner. With payouts of up to 500 times the player stake on offer, it is well above what standard Roulette games have to offer. In fact, the only Roulette game that can compete with this is progressive jackpot Roulette. And the chances of that paying out are significantly lower than in Lightning Roulette.
While the bonus in Lightning Roulette is definitely a positive one, there's not much in terms of variety for players. However, what players are able to do is add to their bonuses by choosing a promotion from the online casino that they are playing at. The bonus will need to be specific to live dealer games, so it's important to check the terms and conditions before accepting it. However, there are sites out there that offer promotions for live dealer titles, so you should be able to add to your bankroll.
What's the Maximum Payout for Lightning Roulette?
The maximum payout for Lightning Roulette is set at 500 times your stake. This is a relatively solid payout for a Roulette game, with almost every other one on the market offering a maximum of 35/1. It does limit the standard payouts for betting on a single number, but this is worth the drop when taking the potential maximum prize into account.
It should also be noted that if you bet on a range of different numbers and they all get turned into lucky number multipliers then they will all pay out together. This means that you potential payout on a single spin could be above 500 times your stake if you manage this.