Lightning Baccarat
Lightning Baccarat is a top class live dealer title from Evolution Gaming. It's another in the series of Lightning games that the developer has been putting out recently. There is a lot here to grab the attention of players and it's certainly very enjoyable. We have looked closely to see what makes up the game.
Reading time: 4 minutes.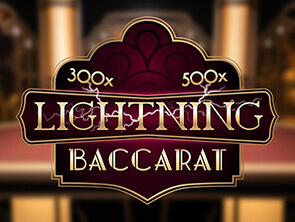 Choose a great NZ casino
What is Lightning Baccarat?
Put very simply, Lightning Baccarat is standard Baccarat but taken to the next level. It uses the rules of baccarat to create a highly enjoyable live dealer experience. Evolution Gaming understands that there is a lot of competition on the market when it comes to live dealer games. As such, it's made sure that Lightning Baccarat is a title that instantly grabs the attention of players. It has more than enough going on here to make it stand out from other live versions of Baccarat.
Where can you play Lightning Baccarat?
Lightning Baccarat is available at plenty of different online casinos. All you need to do in order to find the game is look through quality casino reviews and you'll be able to find the right site for you to play at.
How do you play Lightning Baccarat?
Playing Lightning Baccarat is really easy to get started with. Your first step is to place your wagers when the game starts. There are three main betting options as well as two side bet options available. The main betting options are a player win, a banker win and a tie. The side bets are a player pair or a banker pair. This is basically placing a bet on the player or banker drawing a pair when their first two cards are dealt out to them. When placing your bet it's important to note that the game adds 20% on top of standard Baccarat bets. This is due to the Lightning round which begins as soon as the bets have been placed. We'll explain that in more detail shortly.
When the Lightning round has been completed the dealer will play through the game to see who wins. As already mentioned either the banker or player can win or a tie can take place. The standard bets pay out the same as standard Baccarat and the two side bets both pay out 9/1.
The Lightning round is where the fun really gets started in this game. After the betting has taken place there is a Lightning round which will draw between 1 and 5 cards. These cards will then have multipliers attached to them. These can be between 2 and 8. Then during the game if any of these cards are included in the winning hand then they will apply the multiplier to your win. It means that the payouts that are available to players can be significantly increased due to the Lightning round. What makes it doubly impressive is that if the winning hand has more than one Lightning card in it then the multipliers will be stacked. This makes for some seriously impressive wins.
What should be noted is that even though the maximum number of cards in a hand is 3 it is possible for all 5 of the Lightning cards to be included in a hand if they are replicated when they are drawn. This is especially the case with a tie as both hands will be taken into account when calculating which Lightning cards to use.
Lightning Baccarat Features
The only bonus that's featured in Lightning Baccarat is the Lightning round. It's definitely a positive bonus, especially as it can increase the size of the payouts by a significant amount. It also makes the game a lot more exciting than standard Baccarat games.
Of course, if you want to grab a promotion or bonus from the online casino that you're playing at then this is also possible. Players have the ability to choose from a range of different promotions, so it's important to look over the terms and conditions to see what's available to you at the site you have chosen to play at.
What's the Maximum Payout for Lightning Baccarat?
The maximum payout in Lightning Baccarat all depends on the bet that you have placed. When betting on the side bets the maximum payout is set at 9/1. However, if you have chosen to bet on the player or banker then 512 times the player stake can be won depending on how many Lightning cards appear.
The tie bet is where the biggest wins are possible though. When a tie takes place it can award players more than 200,000 times their stake if enough Lightning cards are included in the win. While it's the least likely bet to land, it also provides the biggest payouts in the game. This does make it a very tempting choice.