Dream Catcher
Dream Catcher is without a doubt the most well known game show style live dealer title to come from Evolution Gaming. It's very popular with players and has some great features included. Here is our guide to what Dream Catcher has in place to excite players.
Reading time: 4 minutes.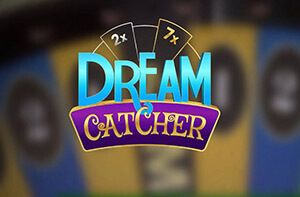 Choose a great NZ casino
What is Dream Catcher?
Dream Catcher is a wheel of fortune style live dealer game show. It's the first in the new style of live dealer games that Evolution Gaming has put onto the market. It allows players to enjoy a game show experience in the comfort of their own home. It's extremely immersive and provides a lot of fun to players. Even though it's the first of these styles of games, it's widely regarded as the best of the bunch.
Where can you play Dream Catcher?
If you want to try out Dream Catcher then there are a lot of different online casinos that have it available to play. All you need to do is look over casino reviews in order to find the best site for your needs.
How do you play Dream Catcher?
Playing Dream Catcher is a relatively simple process. When the game first loads up it will show the wheel and the host. From here you have the opportunity to place a wager on the different numbers that can land on the reels. Players have the ability to wager on 1, 2, 5, 10, 20 or 40. These can be wagered on as a single wager or multiple numbers at a time.
The different numbers all have different RTP values and each one pays out different amounts to players. It's relatively simple to work out what each one pays out, it is essentially the number itself as a multiplier of the player stake. So, a wager on 10 would pay out 10/1, a wager on 20 would pay out 20/1 and so on. What makes the number have different RTP values is that there are different amounts of each number on the reels. There are more 1s than 2s and there are more 2s than 5s and so on.
There are also multiplier spaces in place on the wheel. There is a 2x multiplier and a 7x multiplier available to players. When these spaces land they don't actually create a win for players, they actually impact on the next spin of the wheel.
So, if a 7x multiplier lands it keeps your initial wager in place for the next spin. Then, if that wager wins then it will be multiplied by 7 and make it much larger than it would normally be. What's so impressive about the multipliers is that they can be stacked. So if you got a 2 and a 7 directly after each other it would apply a 14 times multiplier on the next spin.
While it's unlikely that multipliers will land directly after each other, the possibility is there which can create some fantastic wins for players. For example a 7x7x7 multiplier would provide a huge win, especially if it landed on a 10 or higher winning bet.
Live Dream Catcher
The bonuses that are offered to players are the multiplier feature. These can land at any time during the game and as previously mentioned can also be stacked to make for some huge wins. In terms of what is available to players during the game, the multipliers are the only bonus feature.
While the in game features are limited to the multipliers, players also have the ability to add extra bonuses. These are offered by the online casino that the game is being played at. Depending on the casino you have chosen the promotions will vary, but most online casinos offer players the ability to enjoy promotions that can be applied to live dealer titles. Take a look and see if you can boost your bankroll with a promotion.
What's the Maximum Payout for Dream Catcher?
The maximum payout for Dream Catcher is capped at $500,000. Obviously, in terms of multiples of the stake this all depends on the wager level that you are playing at. When playing at a lower stake players have the ability to win more than 13,000 times the stake if enough multipliers land in a row.
An example of this would be three 7 multipliers landing and then a win on the number 40. This would pay out 13,720 to players. Obviously this is unlikely to take place as landing this many multipliers in a row is not something that will happen very often. However, it is possible.
Just remember if you are playing on a maximum stake then your total win will be capped at a much lower level as a multiple of your bet. So if you were playing with a stake of $500 then your maximum win would be set at 1,000 times your stake.