menu
Dream Catcher
One of the ways that online casinos are able to reduce the need for players to be at brick-and-mortar casinos is by providing live casino games. These include table games and games that are based on gameshows such as Dream Catcher. Dream Catcher is undoubtedly a well-known show-style live casino game from Evolution Gaming. It's very popular with players and has some great features included. In this guide, you will learn everything that Dream Catcher has in place to excite players. You will also find the best casinos where you can play Dream Catcher.
Estimated reading time: 7 minutes.
Table of contents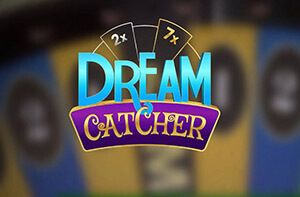 Best Live Casinos
Casino Games

Amount of casino games offered

2050

Jackpot Pokies

Amount of slots with jackpot option

25

18+. New customers only. Minimum deposit NZ$10. T&C apply.

Casino Games

Amount of casino games offered

3200

Jackpot Pokies

Amount of slots with jackpot option

165

18+. New customers only. Minimum deposit NZ$10. T&C apply.

Casino Games

Amount of casino games offered

2000

Jackpot Pokies

Amount of slots with jackpot option

49

18+. New customers only. Minimum deposit NZ$10. T&C apply.

Casino Games

Amount of casino games offered

1450

Jackpot Pokies

Amount of slots with jackpot option

6

18+. New customers only. Minimum deposit NZ$10. T&C apply.

Casino Games

Amount of casino games offered

1600

Jackpot Pokies

Amount of slots with jackpot option

25

18+. New customers only. Minimum deposit NZ$10. T&C apply.

What is Dream Catcher?
Dream Catcher is awheel of fortune style live dealer game show. It's the first in the new style of live dealer games that Evolution Gaming has put onto the market. It allows players to enjoy a game show experience in the comfort of their own home. It's extremely immersive and provides a lot of fun to players. Even though it's the first of these styles of games, it's widely regarded as the best of the bunch.
Main Elements of Dream Catcher Casino Game
Before we discuss how to play Dream Catcher, it is necessary to get you up to speed with the main elements that you encounter when playing this live casino game from Evolution Gaming.
The Money Wheel - Being a money game, it is not strange that the main element is the super-sized vertically mounted wheel. The wheel is divided into 54 segments which have either numbers or multipliers.
Number Segment - The number segment of the wheel has the numbers 1, 2, 5, 10, 20, and 40. All numbers have their respective odds.
Multiplier Segment - The Multiplier segment of the money wheel of this live casino game have multipliers of 2x and 7x. When the wheel stops in the multiplier segment, you will be paid your winnings multiplied by 2x or 7x.

Where can you play Dream Catcher?
If you want to try out Dream Catcher, there are many different online casinos that have it available to play. All you need to do is look over our casino reviews in order to find the best site for your needs.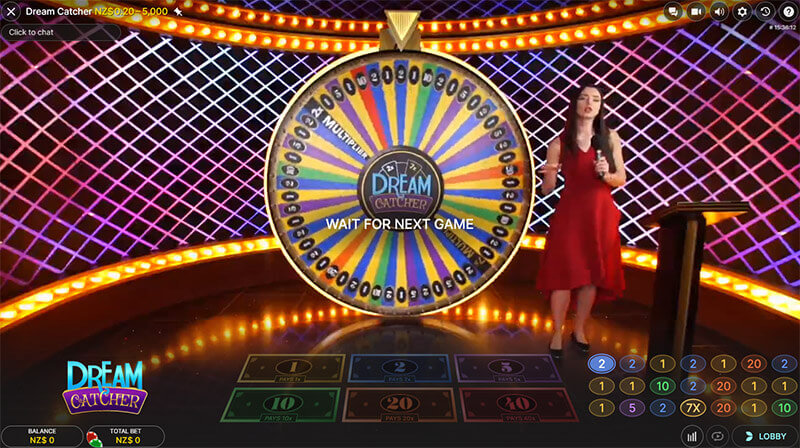 Playing Dream Catcher live at LeoVegas casino.

How do you play Dream Catcher?
Playing Dream Catcher is a relatively simple process. When the game loads up it will show the wheel and the host. From here you canplace bets on the different numbers, and if the wheel stops where you predict, then you a payout that is equivalent to the odds of the bets that you have placed. Players have the ability to wager on 1, 2, 5, 10, 20 or 40. You can also bet on the wheel stopping at the correct number or multiplier that you choose.
After bets have been placed, the live dealer spins the super-sized wheel. In the course of the spinning of the wheel, players have the chance to interact with one another. After a few seconds, the wheel stops and the live dealer will determine who the winner of the last spin is. As a player, you might want to pay attention to the winning number in the previous spin.
The different numbers all have different RTP values and each one pays out different amounts to players. It's relatively simple to work out what each payout is, it is essentially the number itself as a multiplier of the player stake. So, a wager on 10 would pay out 10/1, a wager on 20 would pay out 20/1 and so on. The number has different RTP values because there are different amounts of each number on the reels. There are more 1s than 2s and there are more 2s than 5s and so on.
There are also multiplier spaces in place on the wheel. There is a 2x multiplier and a 7x multiplier available to players. When these spaces appear, they don't actually create a win for players, they actually impact the next spin of the wheel.
So, if a 7x multiplier lands it keeps your initial wager in place for the next spin. Then, if that wager wins then it will be multiplied by 7 and make it much larger than it would normally be. What's so impressive about the multipliers is that they can be stacked. So if you got a 2 and a 7 directly after each other it would apply a 14 times multiplier on the next spin.
While it's unlikely that multipliers will land directly after each other, the possibility is there which can create some fantastic wins for players. For example, a 7x7x7 multiplier would provide a huge win, especially if it landed on a 10 or higher winning bet.

Live Dream Catcher
The bonuses that are offered to players in the Dream Catcher game are the multiplier feature. These can land at any time during the game and as previously mentioned can also be stacked to make for some huge wins. In terms of what is available to players during the game, the multipliers are the only bonus feature.
While the in-game features are limited to the multipliers, players also have the ability to add extra bonuses. These are offered by the online casino where the Dream Catcher game is being played. Depending on the casino you have chosen, the promotions will vary, but most online casinos offer players the ability to enjoy high-quality promotions that can be applied to live dealer titles. Take a look and see if you can boost your bankroll with a promotion.

What's the maximum payout for Dream Catcher?
The maximum payout for Dream Catcher is capped at $500,000. Obviously, in terms of multiples of the bets, this all depends on the wager level you are playing at. When playing at a lower stake, players have the ability to win more than 13,000 times the bet if enough multipliers land in a row.
An example of this would be three 7 multipliers landing and then a win on the number 40. This would pay out 13,720 to players. Obviously, this is unlikely to take place as landing this many multipliers in a winning segment is not something that will happen very often. However,it is possible for this to happen when you play this money wheel game.
Just remember if you place your bets with the maximum chip size then your total win will be capped at a much lower level as a multiple of your bet. So if you were playing with a stake of $500, your maximum win would be 1,000 times your bet.

Playing Dream Catcher on Mobile
Evolution Gaming developed Dream Catcher in such a way that it can be played both with desktop and mobile devices. The game uses HTML5 technology and this allows smooth gameplay on phones and tablets. However, because Dream Catcher is a live casino game, you will need to stream. So, you need to use a phone to ensure that your internet connection is secure and that you use a device with good qualities for video streaming.
For more excitement and a better gameplay experience, you can play in landscape mode when using your phone to play Dream Catcher. The main point is that players who prefer to play games with their mobile phones will be able to get the same quality of entertainment value as players who would rather play on a desktop.

Frequently asked questions about Dream Catcher
Which software provider designed Dream Catcher?
Dream Catcher is designed and produced by Evolution Gaming. This provider is one of the best providers of live casino games.
What is the objective of the Dream Catcher game?
The objective of Dream Catcher is to guess where the money wheel will stop. As long as you are able to predict the right location where the wheel stops, you will get the payout associated with it.
What are the numbers on the money wheel used in playing Dream Catcher?
The numbers of the Dream Catcher money wheel are 1, 2, 5, 10, 20, and 40. Correct-number bets remain one of the highest-paying bet options in the game.
Where can I play the Dream Catcher game?
You can place bets on the Dream Catcher game at all the casinos that we have listed on this page. Dream Catcher game can be found in the Live Casino section.
Are the casinos properly licensed?
Yes, all the casinos on this list have legal licences from top gaming authorities. Some of the authorities include the UK Gambling Commission, the Malta Gaming Authority and the Alderney Gambling Control Commission.
Author: Amelia Smith
Last updated 16/10/2023 - Article published 15/09/2021