menu
Live Craps
Although Craps is certainly a casino game that many people don't fully understand, it is definitely one of the most exciting games casinos and gambling venues have to offer. Nowadays, online casinos and gambling sites even offer a variant of the game that is live streamed in HD-quality from top-notch casino studios straight to your home - Live Craps.
In this guide on the live Craps game and live dealer Craps casinos, we are going to take a close look at this fabulous dice game. We will cover the game rules, the different variants of the game available at online casinos, and some strategies that you can use to increase your chances of winning in the long run when playing live dealer craps and other dice games.
Additionally, we will provide you with some tips on what to do each dice roll and our recommended list of best Live Craps casinos, where you can get the highest bonuses with the lowest wagering requirements.
Estimated reading time: 14 minutes.
Table of contents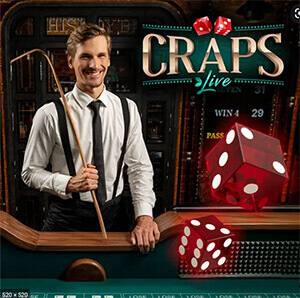 Best Live Craps casinos
Casino Games

Amount of casino games offered

2050

Jackpot Pokies

Amount of slots with jackpot option

25

18+. New customers only. Minimum deposit NZ$10. T&C apply.

Casino Games

Amount of casino games offered

3200

Jackpot Pokies

Amount of slots with jackpot option

165

18+. New customers only. Minimum deposit NZ$10. T&C apply.

Casino Games

Amount of casino games offered

2000

Jackpot Pokies

Amount of slots with jackpot option

49

18+. New customers only. Minimum deposit NZ$10. T&C apply.

Casino Games

Amount of casino games offered

1450

Jackpot Pokies

Amount of slots with jackpot option

6

18+. New customers only. Minimum deposit NZ$10. T&C apply.

Casino Games

Amount of casino games offered

1600

Jackpot Pokies

Amount of slots with jackpot option

25

18+. New customers only. Minimum deposit NZ$10. T&C apply.
Our list of best Live Craps casinos above is compiled with just Live Craps in mind and nothing else (so we don't include free spins winnings, for instance). We don't copy paste the same casino top 5 on all of our pages, and our casino experts truly do their due diligence when it comes to casino top rankings.
For this reason, you can expect the best Live Craps experience at the sites mentioned above, which are all licensed and regulated casinos, where Kiwi players can play craps, pokies, and other casino games legally.

Playing Live Online Craps - Types of Live Dealer Craps Games
Craps is not as popular as let's say Blackjack, Baccarat, or Roulette. For this reason you often find only one, two, or in the best case, a handful of Craps games at an online casino. However, there are still quite a few different types of Craps games and in this section of our Live Craps guide, we will cover these different Craps variants.
Open Craps
In Open Craps, players bet against another player who takes bets instead of versus the dealer or house. Open Craps is often illegal, as one of the players has to finance the game. Players often meet somewhere to play the game, which can even be a street corner. In most cases, a lot more is wagered than usual at casinos. The Craps table with this type of Craps often has a loss line, a win line, and boxes with 4, 5, 6, 8, 9, and 10 in the middle. Needless to say, you won't find this Craps variant at licensed online casinos.
High Point Craps
The Craps rules of High Point are the same as with traditional Craps. However, there is one significant exception: when a total of 2 or 3 eyes is thrown on the first roll, this result doesn't count. If a total of 11 or 12 eyes is thrown by a player, the game round is instantly won by that player. This online Craps game isn't played as much as traditional Craps and you won't find it that often in land-based casinos either because the house edge is very low on this particular Craps game.
New York Craps
The main difference between traditional Craps and New York Craps is that there are no 'come' or 'don't come' bets allowed. You simply bet on the numbers 4, 5, 6, 8, 9, or 10. If the number you bet on is thrown, you win. If the dice land on a different total score, you lose - plain and simple. The Craps table in New York Craps is often designed in a slightly different way because it requires two dealers: a stickman and a lookman.
Simplified Craps
This type of Craps game is designed especially for players new to the game. The rules are simplified and there are no side bets to be placed. You win simplified Craps by throwing 2, 3, 4, 10, 11, or 12. If you roll 5, 6, 7, 8, or 9, you lose. The house edge on this Craps variant is 2,8%.
Die Rich Craps
This Craps game has a lot of special rules. The table even looks a bit like a Blackjack table and only a single dice is being used. In Die Rich Craps, you win instantly whenever 6 is thrown and you lose instantly when 1 is thrown. Each new game round there are come bets, field bets, pass line bets, and don't pass line bets.
Diceless Craps
Like it says on the tin, this type of Craps is played without any dice. Instead, two decks of 44 cards are used, including the ace to 6. All other numerical and face cards are discarded. One card of each deck is dealt and the cards depict the results of dice rolls. Casinos don't like this type of Craps game too much as players can count cards.
Live Craps (by Evolution Gaming)
Although this entire guide is about Live Craps, we wanted to highlight this Craps variant by Evolution Gaming in particular. This much-loved casino favorite is attractive for both experienced and beginner Craps players and often available both in live dealer and first person format.
The Evolution live Craps game is played in a speakeasy-themed studio, where a professional dealer will host the game. You can enjoy multiple camera angles and watch the real table action.
The goal of this Craps variant is to predict the outcome of the roll of two dice. Unique features include ''My Numbers'', which represents a potential outcome of the next throw of the dice. The ''Easy Mode'' feature removes a few side bets and more complex bets from the Craps Table and its betting grid.
If you've never played Live Craps before, you can even watch a short interactive built-in tutorial on the game. For experienced players, Evolution Gaming has added dynamic statistics, which updates players on where other players are betting on in real time.
As far as our casino experts know, there are no other live casino software providers that have developed live Craps games yet. This means that you won't be able to play Live Craps from let's say Pragmatic Play Live, Ezugi, Atmosfera, or Stakelogic Live.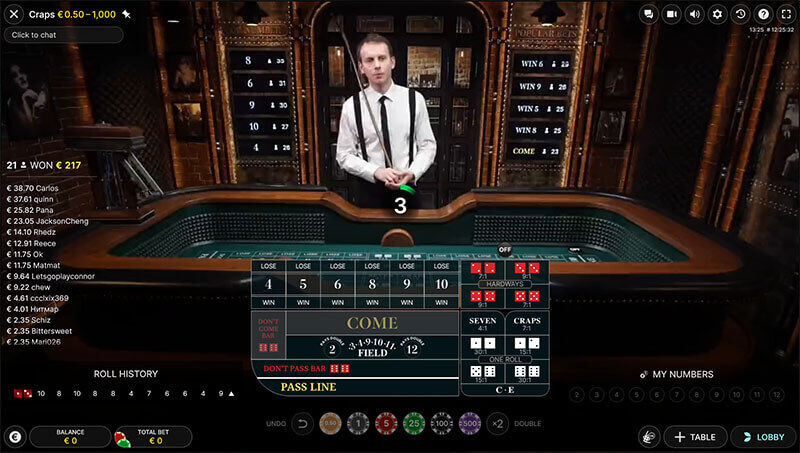 Live craps from Evolution gaming.

Online Craps Game Rules
Although they may slightly vary from casino to casino, the general online Craps rules are pretty much the same everywhere. With rules to play the dice game, such as pass, don't pass, come out roll, don't come and alike, it can be quite confusing to play Craps Live the first time. For this reason, it is important to know the rules.
In essence, live dealer Craps is a game where the shooter throws two dice to establish a Point. The first roll is worth the total number of eyes from both dice combined. After the first roll, players bet on the outcome of the next roll. Will the shooter be able to roll the same point total before he or she throws a 7?
A Point cannot have 2, 3, 7, 11, or 12 as value. 2, 3, and 12 are called Craps and 7 and 11 are called Naturals. If the shooter throws one of these values, the game round is over immediately and all players lose their active bets. If the shooter succeeds in making a Point ( by throwing any of the other outcomes), the game continues.
Now it is up to the shooter to throw the same value as the Point again before a total of 7 is thrown with two dice. The rest of the players bet on whether the Shooter will succeed in this or not. Some bets are only active for a single roll, whilst others stay active for the entire duration of the game round.
These are basically the Craps rules for the online variant offered by Evolution Gaming in a nutshell. However, playing the game yourself will probably teach you better. For this reason, our experts recommend trying the game out with some low bets at one of our top-rated Live Craps casinos. Note that you cannot play the game for free as it's a live dealer game and not a single live dealer game is available in free demo mode.
Live Craps Rules Overview
The Shooter starts each game round with a Come Out Roll.
When the Shooter throws a total of 7 or 11, he or she wins instantly and the game round is over.
When a Point is established (when the Shooter throws a total of 4, 5, 6, 8, 9, or 10), the Shooter must throw this number again.
If the Shooter succeeds before throwing a total of 7, the Shooter wins the game round.
All players bet on what they think the Shooter will do.
The 2, 3, and 12 are craps, and if these totals are thrown, the Shooter instantly loses.

Play Live Dealer Craps - Live Craps Strategies
Now that you know exactly how the game works, it's time to take a look at the best Craps bets. The Craps table might look quite complex and there are a decent number of Craps strategies, so let's start easy.
The Shooter's aim is to establish a Point, also called the Come Out Roll. The rest of the players can decide before the Come Out Roll is thrown whether the SHooter will succeed in establishing a Point (Don't pass the Line). A Pass the Line bet is profitable when the Shooter throws a 7 or 11 in the first round or establishes a Point and throws the same number before throwing a total of 7.
If you place a Don't pass the line bet, for instance, you predict the exact opposite will happen. Betting on the Come Field is just like betting on the Pass the Line, but then after the Shooter has established his or her first point. Your bet will automatically move to the number that the Shooter needs to roll (in Evolution's Live Craps). If you place a Don't Come bet, you hope the exact opposite happens and that the Shooter fails in doing so.
In Live Craps, you also have the so-called Odds. These are side bets you can place, such as the Odds pass Line, Don't Pass Line Odds and the Come Odds and Don't Come Odds bets. With a Field bet, you lose whenever a total of 5, 6, 7, or 8 is rolled. You win when the dice land on any other total. If the dice land on double ones or sixes, you win double the amount of money that you wagered on the Field Bet.
Other special side bets include Big 6 and Big 8. With these bets, you are predicting a total of 6 or 8 will be thrown before a total of 7 is rolled. We speak of a Buy Bet when betting on a total of 4, 5, 6, 8, 9, or 10, whilst we speak of a Lay Bet when you think a 7 will be rolled before these other numbers.
With a so-called Place Bet, you bet on each of the possible numerical outcomes: 4, 5, 6, 8, 9, and 10. The payout on Place Bet is lower compared to Buy Bets because the chances those numbers will be rolled are significantly bigger.
It is also possible to bet on doubles, like 2+2, 3+3, 4+4, etc. These are called ''Hardway'' bets. Last but not least, there's the Any 7 bet, where you bet on that the next dice throw will end up a 7.
Use the table below to find out more about about the different Live Craps bets and corresponding payouts.
| Betting Type | Payout |
| --- | --- |
| Pass Line Bet or Come Bet | 1:1 |
| Don't Pass or Don't Come Bet | 1:1 |
| Buy 4 or 10 | 2:1 |
| Buy 5 or 9 | 3:2 |
| Buy 6 or 8 | 5:6 |
| Lay 4 or 10 | 1:2 |
| Lay 5 or 9 | 2:3 |
| Lay 6 or 8 | 5:6 |
| Field 3, 4, 9, 10, or 11 | 1:1 |
| Field 2 or 12 | 2:1 |
| Place 4 or 10 | 9:5 |
| Place 5 or 9 | 7:5 |
| Place 6 or 8 | 7:6 |
| Hardway 6 or 8 | 9:1 |
| Hardway 4 or 10 | 7:1 |
| Any 7 | 4:1 |
| Any Craps | 7:1 |
| Big 6 or 8 | 1:1 |

Play Live Craps Online - Live Craps Casino Bonuses
Although live Craps casino bonuses are quite difficult to find, this doesn't mean there are none. For instance, some casino welcome bonuses and live casino bonuses can be used on the game, just as they can be used on Live Blackjack, Baccarat, or Roulette games.
In most cases, you can use an online casino's welcome bonus to play Live Craps. However, the wagering contributions of the game are often only 10% to 25%, meaning that you would have to wager 4 to 10 times as much on Live Craps compared to online pokies to play through a certain welcome bonus.
This is exactly the reason why you should be searching for a live casino bonus instead. Live casino bonuses are often tailored for players that prefer live dealer games. Although their wagering requirements can be high, at least bets on live casino games like Live Craps count in full for their playthrough requirements.

Reasons to Play Live Craps Instead of Other Casino Games
Now, why would you like to play Live Craps or another live Craps game instead of First Person or software-based Craps? Our casino experts have a few reasons for this:
More Betting Options
Live dealer Craps is very different from RNG Craps and Craps in land-based casinos because all international rules are applied. There is always a pass line and don't pass line in Live Craps, and come roll and don't come roll bets are also present.
Interaction With other Players in Live Casino Craps
Due to the live chat feature, you can chat and interact with other players at the same Craps table. This makes Live Craps a whole lot more interesting to play. Prefer not to talk with others? Then you can just lurk or not use the chat feature at all and still enjoy the little chit chat and banter going on between the other players and the dealer(s).
Side Bets
Live Craps allows players to place a wide range of side bets. You can even bet on other players as well, which is always fun.
See the Shooter Throw the Dice in Real Time
Another key reason to play Live Craps is because you can see the Shooter throw the dice in real time, which adds an extra element of casino experience to the game compared to RNG or First Person Craps.

The Pros and Cons of Live Online Craps
Craps is a fun and exciting game on its own. However, Live online Craps has both advantages and disadvantages. Below we will highlight the pros and cons of playing the live variant of this highly anticipated dice game.
| Live Craps Advantages | Live Craps Disadvantages |
| --- | --- |
| More exciting because you can follow everything and watch the action unfold right in front of your eyes | Not a lot of time to think about your next move (18 seconds per game round in case of Evolution Gaming's Live Craps) |
| The option to chat with both other players and the Shooter(s) | More chaotic than RNG craps due to more betting options and other players playing along |
| More side bet options | More game rules to learn |

Live Craps: FAQ
What is live craps?
Live craps is a version of the traditional dice game craps, played online with a real dealer and streamed in real-time. Players can place bets virtually while interacting with the dealer and watching the live action.
How does live craps differ from regular online craps?
While both versions are played online, regular online craps is a computer-simulated game, whereas live craps features a real dealer, real dice, and is played in real-time, offering a more immersive and authentic casino experience.
Can I interact with the dealer and other players in live craps?
Yes, many live craps platforms offer a chat feature that allows players to communicate with the dealer and sometimes even other players, enhancing the social aspect of the game.
Is live craps fair and how do I know the game isn't rigged?
Reputable online casinos use advanced technology and equipment to ensure the integrity of live craps. Additionally, they are often regulated by gaming authorities that mandate fair play. Players can usually see the dealer's every move and the rolling of the dice in real-time, providing transparency.
Do I need any special equipment or software to play live craps online?
Typically, all you need is a stable internet connection and a device such as a computer, tablet, or smartphone. Most live craps games run directly in the browser, so there's no need for special software. However, ensure your device's hardware and internet speed can handle live streaming for the best experience.
Author: Amelia Smith
Last updated 24/10/2023 - Article published 25/06/2018