menu
SkyCity Wharf
New Zealand is home to a number of top rated casinos and at SkyCity Wharf Casino, you can enjoy a small, yet exciting casino. This location is often referred to as a boutique casino due to its smaller size, but it does not lack the thrills and payouts you are seeking. The location of the casino is what makes it a popular choice among Kiwi gamblers and it is located along a lake that offers glistening views and amazing sunsets.This is one of the smallest casinos in all of New Zealand and it is owned by SkyCity Entertainment Group. SkyCity took over full ownership of the casino in 2012, and even though it is small in size, it offers a great experience. The views and hospitality you will experience will make this one of your favourite gambling spots.While there may be larger and more active casinos in the area, this location is a great choice if you are looking for something a bit more low-key and laid back. There is a good number of games offered and it provides a leisurely experience over the glitz and glamour you would find at the larger casinos in New Zealand.
SkyCity Wharf is currently closed until further notice. We are not sure if it will ever open again.
Estimated reading time: 4 minutes.
Table of contents


Enjoy the Action on the Casino Floor
When you visit SkyCity Wharf Casino, you will be impressed with the offering of games and the wide selection. Despite the small size of the casino and the gaming floor, you can be sure all of your needs will be met. The casino is home to more than 75 gaming machines and there are also a number of table and card games that can be played. With a great variety, you will be able to find a game that will provide you with an exciting and rewarding gambling experience.
The majority of games you will find here are gaming machines that include an array of slots and video poker. Slot selections are appealing if you are looking for a casual gaming experience with many betting options. Here, you will find some of the newest game releases and the most popular titles. Most of the games offered at video slots, featuring multiple paylines and fantastic bonus rounds. As for video poker, you will find many great variations including Jacks or Better, Deuces Wild, Joker Poker, and more.
When it comes to table and card games, there are not too many options. In fact, the SkyCity Wharf Casino only offers 7 tables on the gaming floor. The games are all casino classics, so if you are a fan of roulette, poker, or blackjack, you will find these games to provide endless action. The games that can be found here include American Roulette, Classic Blackjack Caribbean Stud Poker Mini-Barracat, and Poker.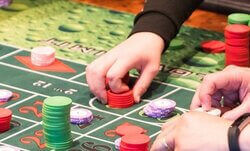 Even with the small selection of game titles and tables, you will be able to enjoy a great experience when you visit this casino Since it is one of the smaller casinos in New Zealand, it does not attract large crowds, so the atmosphere is pretty laid back, offering a casual experience. If you are looking for a quieter environment while still being able to play games that can offer amazing payouts, be sure to check out what SkyCity Wharf Casino has to offer.
There is a special section of the casino reserved for VIP guests. In the Horizon Room, you will enjoy games like Mini-Baccarat, Roulette, and Blackjack. There is also beverage and food service for players at the tables and you will enjoy the best possible treatment from the casino staff as a VIP member.
There are also Learn To Play packages that are available, and these provide you with a great way to learn the rules and some tips for table and card games. If you are new to gambling, this is a great place to start as you will learn everything you need to know to start winning when you hit the tables on the casino floor.

SkyCity Wharf Casino Amenities
If you want a break from the action on the gaming floor, you can relax and enjoy a great menu at the only restaurant at the casino. The Wild Thyme Restaurant is a great place to enjoy light meals at affordable prices. With special plates starting at just $12, you can't go wrong if you are looking for a bite to eat. You will also enjoy live entertainment every night. While this is the only restaurant at the casino, there are many eating establishments within walking distance, so you do have a variety of choices.
It may seem like SkyCity Wharf Casino has little to offer, but you will see it can meet all your gambling needs. It does not offer the bells and whistles of some of the larger and newer casinos in New Zealand, but the games are enjoyable and there are some amazing payouts to be won. This casino is a great place if you are a casual gambler looking to spend a few hours playing slots or table games. However, if you are seeking a resort experience, this smaller location may not make it to your list of preferred choices.
Overall, SkyCity Wharf Casino can offer a fun night of gambling with friends and family, but it lacks in bar and restaurant choices and has limited table game options.
Author: Amelia Smith
Last updated 05/12/2022 - Article published 14/05/2019