SkyCity Queenstown
Queenstown is one of the more popular destinations in New Zealand and it is also the home of the amazing SkyCity Queenstown casino. Here, you can enjoy an exciting level of action and will find hundreds of games that can result in great payouts. This stunning casino is located along Lake Wakatipu and offers some stunning views. The landscaping that surrounds the casino is breathtaking and you will enjoy the interior décor just as much.As one of two casinos in Queenstown, SkyCity Queenstown offers you an exceptional gambling experience as well as some great forms of entertainment. The casino opened in 2000 and at the time, was the fourth largest casino to begin operating in New Zealand. Initially, the casino was owned in partnership and was shared between SkyCity and Queenstown Casinos Limited IN 2012, SkyCity purchased the entire casino and it is now one of the thriving gambling locations in the area.In addition to offering some amazing games, the casino is also known for being a major sponsor for a local hockey team as well as many local events. Unlike other casinos in New Zealand, SkyCity Queenstown is strictly a gambling location. It is not part of a resort, so if you are looking for accommodations, you will have to check out some of the hotels located within walking distance to the casino.Even though this location is not as large as others and may not offer all the amenities of a casino resort, it has remained a popular choice for anyone that is seeing a thrilling gambling experience during their stay in New Zealand.
Reading time: 4 minutes.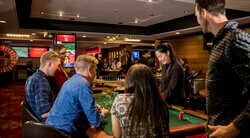 Queenstown Gaming Floor
If you are seeking some gambling action, the SkyCity Queenstown Casino is open from noon until 4 am each and every day. Here, you will find some of the most popular casino games in the industry and no matter what type of game you seek, you will be sure to find something here that will meet your needs and provide excellent chances of generating payouts.
One of the great things about playing at SkyCity Queenstown casino is the Learn-to-Play brochures that are available These can be quite beneficial if you are a new gambler as these will explain the rules of each of the games that can be found on the gaming floor. This can be especially useful if you plan to hit the tables and card games that are offered. You can also ask members of the casino team for tips and some strategy advice for certain games.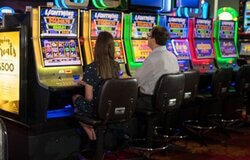 Gaming machines take up the majority of the gaming floor and you will find nearly 90 game selections on hand. These can include the latest and greatest video slot selections, standard three-reel games, and even some video poker and video roulette options. These games have become the leading choice for casual players and you will find they all offer affordable betting options and some great payouts opportunities.
There is also a great mix of table games that can be played, including classic Blackjack, Baccarat and Roulette. You will also find a number of poker variations being featured. These games all provide a great experience and endless thrills, so get ready to enjoy a night on the town while at the tables! SkyCity Queenstown may only offer 12 gaming tables, but you will be sure to find all the casino classics.
Casino Promotions and Rewards
SkyCity Queenstown Casino wants to make sure you have a rewarding and enjoyable experience, so there are some great promotions that are always being offered. You can find daily deals when you visit the casino and you will be able to grab some free casino cash and even free spins on leading gaming machines.
You can also become a member of the Premier Rewards program, where you can earn comp points with each and every wager you place at the casino. Every 100 points you earn while playing can be converted into $1 and points will be valid for 6 months from the time they are earned. Points collected can also be redeemed for food and beverage at the casino and can also be used to play on machine games. You will also benefit from exclusive drawings and competitions.
Grab a Bite
SkyCity Queenstown Casino is one of the smaller gambling establishments in New Zealand, so you will not find the huge array of restaurants and bars as you would at larger venues. However, the casino does offer the great Wild Thyme Restaurant. Here, you can enjoy lunch and dinner options and meals start at just $10. The restaurant is well known for special lunch deals and there is an eclectic menu in hand to satisfy any taste buds. Some of the unique menu items you will see include croquet monsieur, Thai beef salad, lamb shank, mince and toast apps, and char grilled Angus rump.
Lunch is served from noon until 4 pm and dinner is available from 6 pm until 10 pm. After those times, you can enjoy bar snacks from midnight until the venue closes. The snack menu offers the perfect sized selections for late night gamblers and you will find the prices to be reasonable. Some of the snacks you can enjoy include Calamari, smoked chicken, paninis, chicken wings, fries, onion rings, and a variety of flatbread pizza selections.