menu
The Venetian Las Vegas
The Venetian has an amazing reputation in Vegas and it is one of the luxury Hotel Casino resorts in Nevada. Built in the site of the prior Sands Hotel, The Venetian offers 36 stories containing amazing hotel rooms and suites, convention centers, a full casino, sportsbook, restaurants, and so much more. The resort first opened in 1999 and became one of the leading destinations in all of Vegas. With more than 4,000 rooms and over 120,000 square feet of gaming space, you will find this resort to offer a memorable Vegas experience.
The Venetian can be found at 3355 S Las Vegas Blvd, Las Vegas, NV 89109, United States.
Estimated reading time: 5 minutes.
Table of contents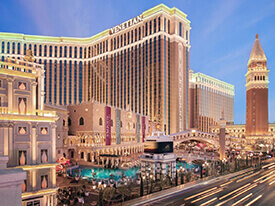 The Venetian Las Vegas
Staying at the Venetian will come with many benefits and you will quickly learn why this resort has become one of the most popular in all of Vegas. When you plan a stay here, you will enjoy the following amenities and advantages:
- Huge offering of bars and restaurants
- Shopping environment with more than 160 stores
- Endless entertainment and nightlife
- Relaxing pools and spas
- Latest casino slots and table games
- Four-star spa and fitness center
- Gondola rides
- Largest suites in Vegas

Here, we provide you with some more details on the gambling experience you will enjoy, the forms of entertainment that are offered and an overview of the many bars, clubs, and restaurants to satisfy any craving.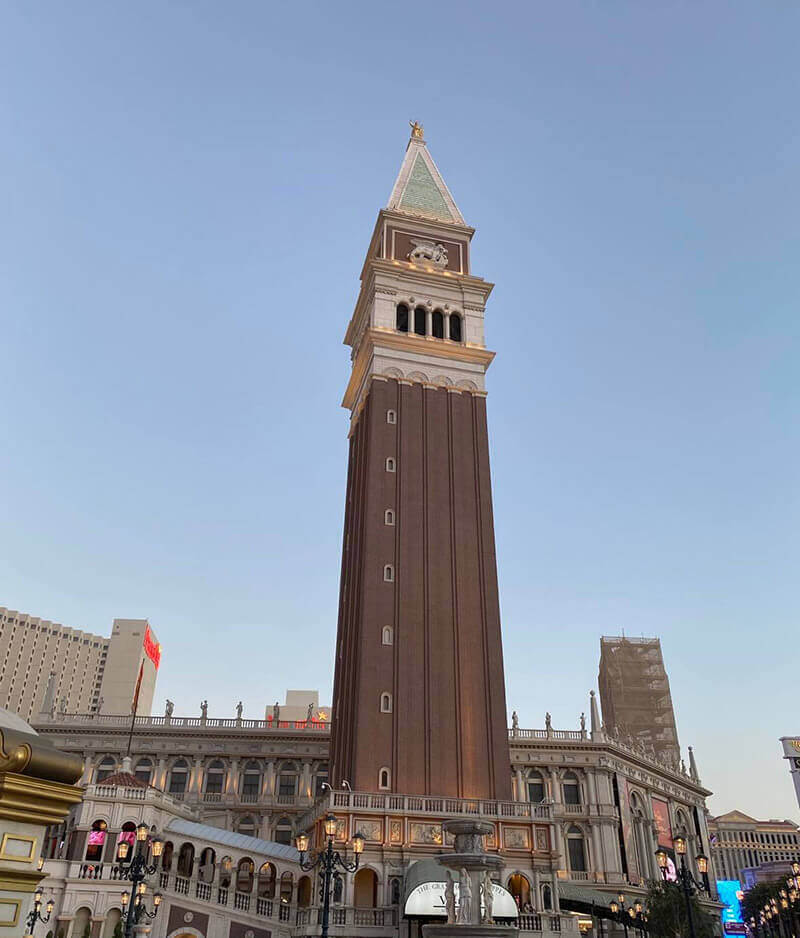 View on the Tower of the Venetian.

Venetian Gambling
At The Venetian, you will find one of the largest collections of casino games in all of Vegas. There are thousands of games that can be played for various bet amounts, so you will surely find a game that fits right into your budget. With slots, table games, poker, sports betting, and more, there is always gambling excitement at this top-rated casino resort.
The Venetian is known for having an extensive offering of slots and video poker machines and you will find all types of games being offered. If you enjoy slots. You will find a mix of there and five-reel games as well as some amazing progressive jackpot slots that can award millions in payouts. There are more than 900 slot games on the casino floor and you will find the latest game releases and hottest titles like Game of Thrones: Fire & Blood, Ghost Busters 4D, and Lord of the Rings. There are also high limit slot selections where you can bet as much as $5,000 per spin!
There is no shortage of selections when it comes to table games as there are more than 225 games offered. There is also a high limit area where over 60 games of blackjack, baccarat, and roulette are offered. One of the hot games at The Venetian is The Millionaire Progressive which is the largest progressive jackpot in Vegas. For a $5 bet and a $5 side bet, you can play Ultimate Texas Hold Em, Three Card Poker, Let It Ride, Crazy 4 Poker, Mississippi Stud, or Caribbean Stud.
Speaking of poker, The Venetian Poker Room offers elegance and comfort as you engage in exciting poker variations. There are also many tournaments that are held here and you will find five major events each year along with daily and weekly tourneys.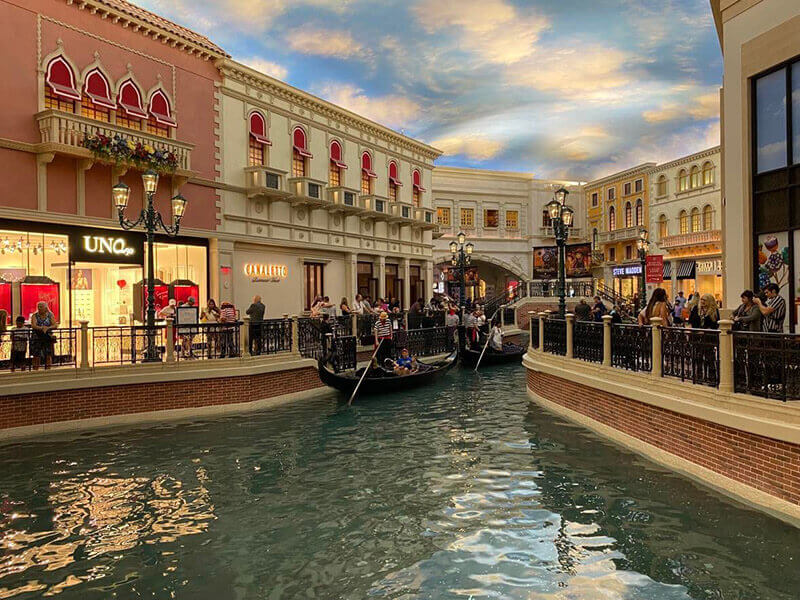 View the canal shops inside the Venetian.

Dining Options at The Venetian
After you have spent some time on the casino floor, you will surely have worked up an appetite. At this resort, you will have many great options for fine dining as well as casual dining. The restaurants offer breakfast, lunch, and dinner options and you will also benefit from In-Suite dining if you prefer a quiet night in your room.
No matter what type of cuisine you like or what time of day you have cravings, there are always options available. Check out some of the great restaurants that can be enjoyed with a stay at this resort:
- Mott 32
- The Factory Kitchen
- Mojodorma Meat & Fish
- Bouchon
- Chica
- Yardbird Southern Table & Bar
- Cut
- Buddy V's Ristorante
- LAVO Italian Restaurant
- Morels Steakhouse
- SUGARCANE Raw Bar
- SUSHIAMBA
- Tao Asian Bistro
- Lagasse's Stadium
- Solaro
- Delmonico Steakhouse

These are just a sampling of the venues that offer amazing dishes from world-class chefs. You will always find something open that will offer affordable dining options. If you want a quick bite, you can enjoy sandwiches, appetizers, and small portioned plates at many of the great establishments at The Venetian.
Have a sweet tooth? Be sure to check out Carlo's Bakery, offering daily confections, specials, and some of the greatest mouth-watering dessert dishes. You can also enjoy a light breakfast of pastries as well as some lunch and dinner options.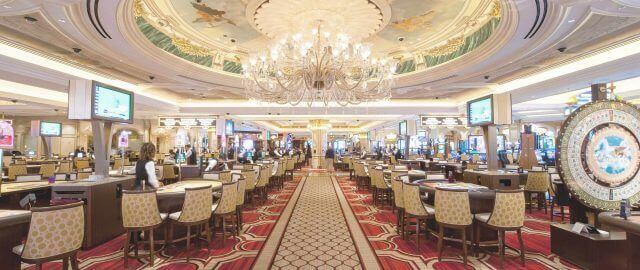 View on the casino floor at the Venetian.

Entertainment and Nightlife
There are some amazing venues at the resort that offer live entertainment if you are looking for a thrilling night out. With shows like the Human Nature Jukebox, Steeley Dan, and the Sands Cares Inspire Charity Concert, you will always find live concerts and shows being performed.
Looking for a taste of Vegas nightlife? Check out some of the great bars and clubs at The Venetian. These include TAO Nightclub, The Dorsey, Electra Cocktail Club, Rosina, and The Cocktail Collective. Just about every bar or club that is open at night will offer live music and dancing and you can always enjoy menu selections and some of the greatest cocktails in the city.
The Venetian may be well-known for gambling, but with so many other things to do and see, you will find this resort to offer a great variety of entertainment and dining options that will enhance your stay and make for a memorable visit to Vegas.
Author: Amelia Smith
Last updated 15/12/2022 - Article published 02/12/2019