MGM Grand Casino
The MGM Grand Las Vegas is the largest hotel in the entire United States and it is one of the most popular casino resorts in Las Vegas. Here, you will enjoy access to more than 6,800 rooms, making this the second largest hotel resort in the country. The MGM Grand opened in 1993 and has been a major destination for anyone visiting Las Vegas.
Reading time: 4 minutes.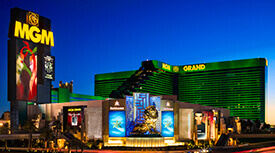 MGM Grand Casino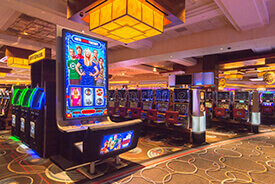 The casino hotel is owned by MGM Resorts International and offers 30 floors in the main building. With many great amenities, you will not only enjoy your stay in luxury accommodations but will also benefit from access to the amazing gaming floor, where you can engage in some of the hottest games in all of Vegas.
The resort is located on the Tropicana – Las Vegas Boulevard intersection. At this particular location, pedestrians are not allowed to cross the street, so the venue offers an overhead walking bridge that connects to neighboring casinos.
When the MGM Grand first opened in 1993, it offered a Wizard of Oz theme and was adorned with movie memorabilia. Once you entered the main lobby, you would be greeted with a yellow brick road and views of the Emerald City. This theme remained in place until renovations were done between 1996 and 2003. During this time, the OZ Casino was removed along with The Emerald City.
After final renovations, the MGM Grand became the leading destination hotel in Vegas and included the Adventures Theme Park, however, the overall results were poor and the park was removed shortly after, making way for a hotel complex called The Signature at MGM Grand.
Endless Gambling Action
If you are seeing incredible gambling thrills and some chances to generate massive rewards from wagers placed, the MGM Grand casino is the pace to be in Las Vegas. It is one of the largest gaming floors in the city and offers over 10,000 square feet of space. With over 2,500 slot machines and close to 150 table and card games, you will find every type of casino game being offered at this top-rated casino resort.
The slot machines on the floor will accept wagers that range from just $0.01 all the way to $1,000 per spin and there are some amazing progressive slot games that can offer millions in payouts. There is also a special section on the gaming floor for High Limit slots, where payouts of up to $500,000 can be won.
The gaming floor also offers a great sportsbook and race book where you can enjoy watching games on 30 different plasma televisions. Here, you can place bets on all types of sports and games that are being played all over the world.
If you want to enjoy the best games of poker, be sure to check out the MGM Grand Poker Room. This is the number 1 spot for Texas Hold'Em games in Vegas. The poker room is open 24 hours a day and offers a non-smoking environment. You can engage in single games as well as high paying tournaments, all complemented by a full-service bar.
Fans of table and card games will find everything they need to have a thrilling and rewarding experience at the casino. The gaming floor offers multiple tables for classic card games as well as some lesser known games. Some of the exciting gaming options found here will include Blackjack, Baccarat, Craps, Roulette, High Card Flush, Pai Gow Poker, Three Card Poker, Single Zero Roulette, and many other poker variations.
MGM Grand Hotel Amenities
Not only will you be able to take advantage of great casino game and luxury accommodations at MGM Grand, but you will find many other great amenities being offered. The venue is home to 10 world class restaurants, many bars, and a number of lounges so you can relax with fine dining and cocktails after a day of gambling. In the dining establishments, you will enjoy meals created by the most popular chefs in the world, such as Joel Robuchon, Michael Mina, Wolfgang Puck, and Emeril. You will find a restaurant to satisfy any of your taste buds and the venues include:
- Craftsteak
- Hecho En Mexico
- Pub 1842
- Fiamma Trattoria
- Emeril's
- L'Ateier de Joel Robuchon
- Crush
- TAP Vegas
- Wolfgang Puck's Bar and Grill
- Grand Wok and Sushi Bar
- Studio Café
- Stage Deli
- Grand Buffet
- Food Court

You will also be able to enjoy a night of entertainment at The Hollywood Theater or KA Cirque du Soleil. You will also find many of the bars and lounges to offer live entertainment n a nightly basis. If you are looking for some time to relax and unwind, be sure to check out the amazing spa services as well as the four swimming pools, three whirlpools, and various cascading waterfalls all set on a 6.5 acre area.
Shopping can also be enjoyed with a stay at MGM Grand and there are some great shops and boutiques within the resort. You will find a variety of stores that offer the chance to purchase apparel, collectibles, jewelry, perfume, and special gifts. There are over 15 stores within the resort, so you will surely find everything you need right in a single location when you pay a visit to MGM Grand Las Vegas.