menu
Luxor Las Vegas
TheLuxor in Las Vegas is another land-based casino and resort that MGM Resorts operate.Construction works for the casino then known as Project X, kicked off in 1991, with the Luxor opening its doors to gamblers 10,000 gamblers on an early morning in October 1993.
Donning an Egyptian theme, the resort is like no other available in Vegas set across a colossal pyramid that cost $375 million to erect and a Pharaoh looking across the Vegas Strip. Whilst many restorations occurred within the Luxor to keep up with the market demand, the resort currently hosts a 120,000 square feet casino, with over 2,000 slot games and 87 table games for punters to binge on.
Apart from the gambling paradise that Luxor offers, the resorts also assist in helping you make memories away from the gaming tables.Pool and cabanas are available for you during the day lounging, whilst the evenings at the Luxos are packed with endless entertainment, shows and even LGBTIQ-friendly events.
You can find the Luxor at 3900 S Las Vegas Blvd, Las Vegas, NV 89119, United States.
Estimated reading time: 8 minutes.
Table of contents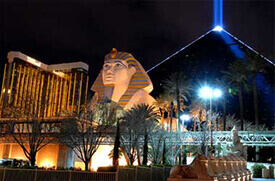 Staying at the Luxor
Booking your start at the Luxor is convenient, with options including staying at the Luxor towers, or experiencing one of the pyramids. To get the best Luxor experience, we suggest the latter.
Rooms variety is also available with options available to suit different pockets.Suites might turn out a bit costly, with even 450 sqm rooms available to book for your stay.From time to time the Luxor also offers special packages to compliment your visit, like including attendance to a sporting event or a massive show.Head over to the site regularly to check if any promotions or offers are available to snag.

MGM Resorts Mobile Application
Many benefits await when you download the MGM Resorts Mobile application.The app comes along with many perks, which we talk about in our Bellagio review.
View on the Luxor Las Vegas pyramid.

What games are available at the Luxor?
Being one of the founding casinos in Vegas, Luxor brings the heat when it comes to the extensive games on offer. Slots are the biggest hit at the land-based casino, with table games also available for players looking to sit at a table and experience a true Las Vegas Table game.
You can plan your stay at the Luxor at any given time, however, you would need to be of legal age of 21+ to be able to hit gamble. Most of the time, you will be asked to provide photo identification.
Once you are ready to hit the gambling tables, here is what awaits you at the Luxor casino.
Slots & Video Poker
The Luxor has a vast selection of slot and video poker games.Visiting Luxor punters can enjoy slot games such as Wheel of Fortune Duo, Wizard of Oz - Emerald City, Buffalo Cash Express Gold Class, Temple of Luxor slot, Powershot and many other land-based slot game options. Whilst the Luxor is a paradise for gambling lovers, the slot game floor is always a fan favourite and will see the slot floor packed at both peak and off-peak times. Games for you to binge on include traditional classical games, progressive slot machines, and video slots. Video poker slots, keno slots and electronic table game options.
Slot games are found at the very end of the Luxor with the back part of the resort giving you access to both Exalibur and the Mandalay Bay Resorts. This area also hosts video poker games that punters can wager on.
Just to give you a sneak peek of the types of winnings that await slot gamblers at the Luxor, during June the resort paid out over 1,200 jackpot wins, totalling a whopping $3,100,000.Ready, steady, let's spin!
Table Games
While slot reel spinning is the sound you will hear the most at the Luxor, the Vegas gambling location is also a pillar for your favourite table games.The Luxor table game availability includes Craps, Roulette, Blackjack, 3 Car Poker, Roulette, Baccarat, Free Bet Blackjack and also Ultimate Texas Hold Em. The good news is that you will find a table to sit in and play even on a small budget with wagers starting at $5.High roller players will also enjoy the thrills that the Lusxor offers, with a dedicated section for high stake players to visit, wager and hope to win big.
High Roller Area
Just like any other MGM resort and possibly every gambling site in Las Vegas, the Luxor hosts a dedicated high-limit area for players looking to defy the odds and live the full gaming experience. The high limit area is very discrete, secluded from the rest of the gambling floor and offers a unique setting for your high stake games.A charming cocktail area is available to enjoy a lavish Luxor drink whilst you play, whilst the casino management team is always at hand, available to high-limit players sitting at tables. In a nutshell, at the Luxor high stake area, you get the royalty treatment.
The high-limit games on offer include the traditional table games that we all grew to love, along with Double Deck Blackjack, Six Deck Blackjack, Mini Baccarat and High denomination slot machine games.
High-limit games are also available to suit a vast majority of pockets and Luxor visitors.Blackjack stakes start off at a $100 minimum up to a max bet of $5,000.Baccarat also offers the same high limit stakes of $100 minimum and max bet set at $5,000.Reel slots offer a $1 up to a $100 bet, video reels from $0.25 up to a max bet of $1 and video poker offers $0.25 up to a $10 max bet.
Due to the fact that high-limit tables are targeted at seasoned and established players, we always suggest that you brush up on your game strategy before hitting the live tables. You will find many strategy guides on our site to boost your game and enhance your winning chances.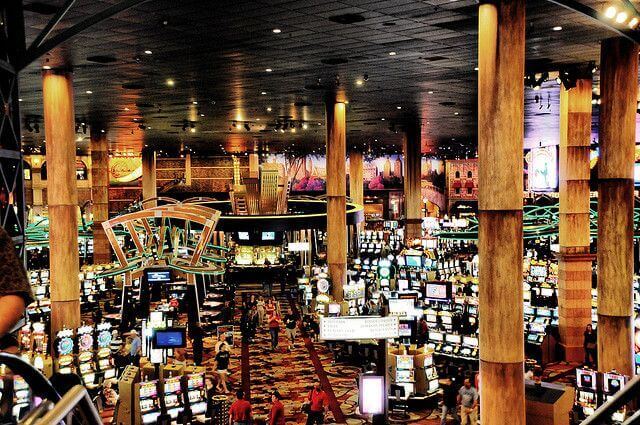 View on the Luxor Las Vegas casino floor.

Dining at the Luxor
With the Luxor being an international resort, part of the MGM and also very well known within the gambling community, the site aims to please all visitors during their Luxor stay.With this in mind, the Luxor offers an elaborate selection of world cuisines to choose from at their various eateries.
If you either have the MGM Resorts mobile application downloaded to your mobile phone, or you are skimming through the Luxor website, you can filter restaurants by both cuisines, open now status and also your budget ($, $$, $$$, $$$$).Some of the available cuisines include Mexican, Steakhouse, American, Italian, Spanish, French, Desserts and Coffee locations.
Just a small tip, the Buffet at the Luxor is affordable and offers some of the best food.It is open between 8 am - 3 pm and is open daily with the exception of Wednesdays.Since no booking is needed, the place is normally crowded, but if you get to the Buffet stations early, avoid disappointment.
The Luxor is the destination that keeps on giving, with a $30 daily food credit available to visitors staying at the hotel.Terms and conditions apply, and we also suggest you check out other offers available via the MGM dedicated mobile application.
Things to do at the Luxor
Although the Luxor is a premier land-based destination, the resort is jampacked with things you can do when you are not gambling.Hosting one of the biggest pool areas in Vegas, the Lucor boasts a whopping 19,000 square feet of pool areas.You can book a cabana or just lounge around between 9 am and 7 pm, whilst also ordering your food and drinks poolside.
Art lovers can head over to the Titanic Artifact exhibition, however, be warned that the entrance fee will set you back $32. Other events that are around the same price range include Bodies - The Exhibition priced at $32, Blue Man Group Show costing $49, America's Got Talent Superstars $49, and Striptease - The Strip Sexiest Tease priced at $39, Carrot Top (Stand Up Comedy) costing $40 and other top events.
All across the Luxor and also via the mobile application, you will find advertisements for the various shows happening, you can book online or even via the concierge.
Transportation
Getting to and from the Luxor is also something that the MGM team have thought about.The hassle of travelling weighs on everyone when on vacation, but the Luxor has many options for your Vegas transportation.You can make a grand entrance with one of the various Limousines available to book, you could rent an Avis Car, with a private Luxor parking space available to visiting guests. Alternatively, you could book a taxi or an Uber, with all these options available for online booking via the MGM mobile application.
The Mandalay Bay Tram is also available to use by Luxor visitors.Since the resort is also part of the MGM Resorts family, you can make use of the service which is available daily between 10 am and 12am.

Conclusion
It is not everyday that you get the chance to book and stay at a hotel room located in a pyramid.The Luxor offers just that, along with an elite gaming experience that only MGM resorts can offer.
A good place to start your Luxor experience is downloading the MGM mobile application, even before booking your stay.Special discounts are available to returing visitors, people staying over 3 days and also senior citizens visiting the Egyptian themed land based casino and resort.
Gambling at the Luxor is luxurious, with ample game options for you to choose from.You can grab a delicious cocktail whilst you play your favourite tables games, or you could just take a small break from 'what happens in Vegas, stays in Vegas' to enjoy the pools, a Luxor show, or simply discover all the secrets that the Strip holds.
If you are looking for that special stay in Vegas, whilst making the best memories, the Luxor is worth a try.
Author: Amelia Smith
Last updated 10/07/2023 - Article published 22/03/2019