Luxor Las Vegas
Located on the southern end of the Las Vegas Strip, the Luxor provides luxury accommodations, stellar dining options, live entertainment, and some of the best gambling action in all of Vegas. This 30-story resort is home to more than 4,400 rooms and you will find 442 suites available. Owned and operated by MGM Resorts International, the Luxor is one of the top-rated resorts and has become a leading destination for gambling.In 2008, the hotel underwent major renovations and added many modern amenities to the rooms while enhancing the design and décor. The rooms all line the interior walls of a tower that has been constructed in a pyramid shape, giving the Luxor a unique appearance. In 2010, this resort received a 4 Key rating from the Green Key Eco-Rating Program, indicating is it one of the most sustainable hotel operations in Vegas. With unique inclined elevators, a stunning lobby, and while a renovation removed much of the ancient Egyptian theme, the resort is still known for its Pyramid shape and Egyptian décor. Now, you can enjoy added modern lounges and adult-oriented clubs and restaurants.
Reading time: 4 minutes.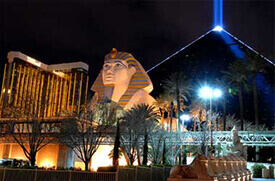 Luxor Gambling Excitement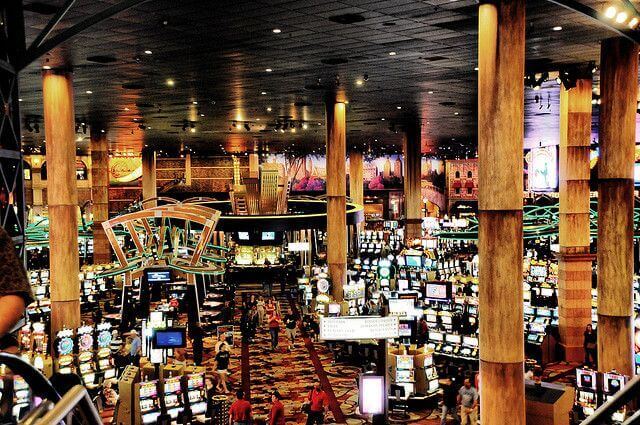 Gambling is the most popular form of entertainment in Vegas at Luxor offers all the glitz and glamour you would expect from a top-rated resort. The casino takes up more than 120,000 square feet and there are more than 2,00 slot games and about 90 tables that are always available.
Slots always offer a fun and thrilling experience and you will find all types of themed games being offered. This casino has some of the latest and greatest titles and you can play for as low as $0.01 per spin. You can also have a chance to become an instant millionaire with one of the progressive jackpot games on the floor.
Table and card games draw much attention at the casino and you will find al the casino classics being offered. Games like Blackjack and Roulette often attract many spectators and these games can offer great payouts. The $5 Blackjack tables are quite popular and these are available at all times. Luxor is also home to impressive Craps tables, Baccarat, Poker options and more.
Enjoy the action of sports betting? There is a race and sportsbook in the casino as well, so you always have your opportunity to place sporting wagers and enjoy watching games on the large screen televisions in the comfortable lounge area.
Live Entertainment
There is always something fun and exciting to enjoy at the Luxor and there are two great shows that include a topless revue called Fantasy and a leading comedian known as Carrot Top. There was also a great educational display that was hosted in 2009, known as Bodies: The Exhibition. If you are traveling with the family and have kids, be sure to check out the three-story arcade that is available.
Another educational exhibit isTitanic: The Artifact Exhibition. Here, you will see more than 250 artifacts that have been recovered from the site of the Titanic sinking. The Blue Man Group regularly performs at the Luxor as well, offering yet another family-friendly form of entertainment.
After a day of gambling, you can enjoy the nightlife at the resort with a number of clubs and bars that offer live music and amazing cocktails. You can choose from Aurora, Flight, Playbar, and Centra, all presenting a great atmosphere, dancing, and dining.
In May, the 10th season of Temptation Sundays will kick off. This is the largest gay pool party in Vegas and not only offers time in the sun by a spectacular pool, but you can also benefit from weekly drink specials. The event is hosted by a DJ and there are go go boys that offer additional poolside entertainment. Hotel guests can attend for just $15 and all other guests will have to pay $25 to attend.
Top Notch Dining
During your stay at the Luxor, you will have access to the finest dining on the Strip. One of the great venues on site is Diablo's Cantina, offering south-of-the-border dining and drinking. Here, you can enjoy a full lunch and dinner menu offering great entrees like Grilled Shrimp Burritos and Vixen Chicken.
If you enjoy steak, be sure to check out the menu at TENDER Steakhouse. Here, you will find t eh best cuts of meat in Vegas as well as some other choices. With offerings like Shrimp Cocktail, Lump Crab and Lobster Cake, Butcher Block meats, Farmhouse Cheeses, Salads, Soups, and mire, you will find all of your tastes being satisfied.
Some of the other great dining options at the Luxor include:
- Public House
- Rice and Company
- The Buffet at Luxor
- Pyramid Café
- Luxor Food Court
- Ri Ra Irish Pub
- Burger Bar
- Slice of Vegas
- Hussong's Cantina

There is also a Starbucks offered as well as Blizz, where you can get an amazing array of frozen yogurt flavors with every imaginable topping to satisfy your sweet tooth.Looking for late night options? Backstage Deli is open 24 hours a day and you can get deli-style food perfect for a quick bite. Starbucks is also open 24 hours.
If you are staying at the hotel, you can enjoy delivery from Pyramid Café. You can order at any time and enjoy amazing meals right in the comforts of your room.