menu
Cosmopolitan Casino
The Cosmopolitan in Vegas opened its doors in 2010, and Currency boasts a 100,000 sqm land-based casino, complemented with 3033 rooms for visitors to stay.Located on the famous Las Vegas Strip, the Cosmopolitan is owned by The Blackstone Group, yet operated by gaming giants MGM Resorts International.
Alluding elegance and style, punters staying at the Cosmopolitan can indulge in the most cherished table games, whilst enjoying cocktail hour, the best entertainment shows in Vegas, and also ample cuisines to choose from.
Whilst all MGM resorts are top Vegas destinations, there is something magical about the Cosmo.The glam at the slot floor, the casino tournaments, the immaculate table games area, and even a digital concierge to support your stay.Staying and playing at the Cosmopolitan in Las Vegas is an experience, once we all ought to enjoy in our lifetime.
Cosmopolitan casino can be found at 3708 Las Vegas Blvd S, Las Vegas, NV 89109, United States.
Estimated reading time: 9 minutes.
Table of contents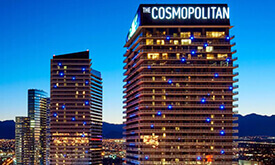 Staying at the Cosmopolitan
The Cosmo offers visitors a modern feel with rooms spread across two connected towers. Needless to say, the rooms are majestic, with choices including urban feel City Rooms, 80s feel City Studios and Terrance Studios.Fountain view suites, exclusive suites and a reception suite to host any private events within your lavish Cosmopolitan enclosure. Alternatively, visitors looking for a superior stay at a resort can book a Bungalow or even a Penthouse.
You might pay some extra $$$ to upgrade your room at the Cosmopolitan, but nothing compares to the elegance and luxury that the resort offers. Your stay could set you back about $800 per night for two guests, and that is just the starting price.Still, for visitors looking to enjoy mountain views and a flamboyant yet luxurious resort, the Cosmo is just the place that ticks all the boxes.

MGM Resorts Mobile Application
Guests visiting the Cosmopolitan can also download the MGM Resorts mobile application via mobile device to manage their stay virtually.Book your resort stay, book a gastronomical experience at the MGM restaurants, book a poolside cabana and reserve your nightlife entertainment tickets.
The MGM application is all about personalizing your stay at the Cosmo and beyond.You can read all about it in our Bellagio casino review.
Cosmopolitan Identity Membership
If you are a frequent visitor at the Cosmo in Vegas, we suggest you register as an Identity Player to get the best out of your stay. Once registered, you can unlock exclusive Cosmopolitan offers, dining perks and other benefits.Spending real money at Cosmo Spas, hotel, shopping and casino games, will see you accumulate Identity Points.The more points you accumulate, you continue unlocking new benefits including complimentary stays at the Cosmo, valet parking, slot multipliers, room upgrades, free food tokens, personal parking spots, airport transportation and more.
Think of it as a VIP Loyalty Program we are accustomed to at online casino sites, but the perks you get them land based.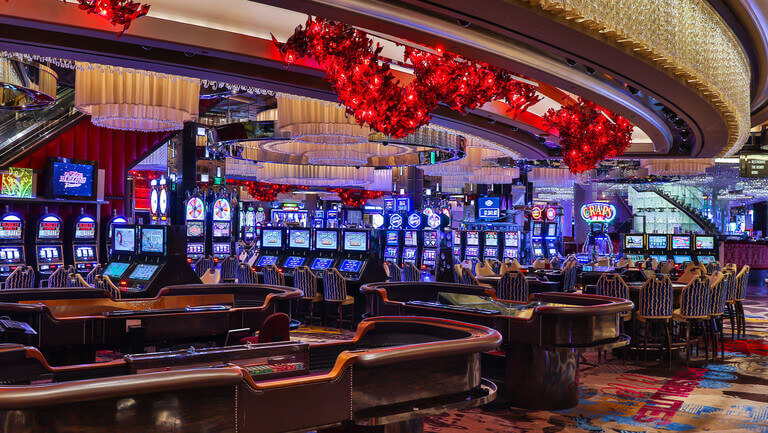 View of the Cosmopolitan casino floor.

What games are available at the Cosmopolitan?
The Cosmo offers many amenities, events and splendor, but the best attributes and main feature is indeed the casino. Whilst other MGM resorts such as the Wynn and the Bellagio enjoy bigger gaming spaces, the Cosmo has a smaller casino space, yet offers a unique elevated gambling experience.
As you make your way past the famous palm trees at the Cosmo (Vegas Strip side), the first area to welcome you is the table game section.True magic happens here with tables to fit high-roller players and even the punters on a budget.Next to the reception area, you will find the slots and the video poker area, where the sounds of slot reels spinning will hit your ears as soon as you walk in.
If you are looking to indulge in some serious Vegas when staying at the Cosmo, here are the real money Vegas pokies games that you can wager on.
Slots
The slot area is jam-packed with people looking to get their hands on the next big win.Slot machines at MGM's Cosmopolitan.High stake players can also enjoy the High Limit Slot Lounge that the Cosmo hosts.Here, you will find around 65 slot machines, surrounded by glamorous chandeliers, sofas, TVs, private rooms and also an ATM to cater for your withdrawal needs. Nibbles and beverages are flowing, with the Cosmo offering some of the best drinks on the Vegas Strip.
All of the slot games at the Cosmo are integrated with a Fastpay system, that allows you to walk away with massive wins, with no hassle and with no extra need of involving any Cosmo casino staff members.Still, the Cosmo CoStar is always at hand to assist you with anything you need when playing.
Some of the slot games to look out for, include Mega Boost Wheel Charred, Wheel of Fortune High Roller, Fortune Mint, Dancing Drums Prosperity and many more slot games to binge on.
Table Games
Table games at the Cosmo are available at mass, with games on offer including Roulette, Blackjack, Baccarat, Craps, Single Zero Roulette, High Card Flush, Fortune Pai Gow Poker, Ultimate Texas Hold' Em, Casino Wars and Three Card Poker.
Since the Cosmo offers a VIP experience to players looking to go grand with them playing, a High Limit Table Games Lounge is also available.This Cosmo section offers 17 table games including Blackjack, Singe Zero Blackjack, Baccarat and Mini Baccarat with all games minimum bets starting at $100. Just like the Slot VIP Lounge, here you are treated like royalty, with food and drink available, and extra care given to patrons enjoying the high limit table games.
Tournament and Events
If you are a lucky Cosmo Identity Member, you might be able to sign up and play at one of the casino tournaments and events that the Cosmo hosts.Visiting both the MGM resorts mobile app, or even the Identity Cosmo app, you will find all the details about upcoming events.Events that were hosted or are still to be held at the Cosmopolitan include:
April 13 - 15 | $1,500,000 Freeroll Slot Tournament
May 5 - 6 | $300,000 Slot Tournament
June 9 - 10 | $100,000 Blackjack Invitational
July 14 - 15 | $2,000,000 Invitational only Slot Tournament
August 25 - 26 l $750, 000 Invitation only Slot Tournament
Bet MGM Sportsbook Lounge
Sports betting is also available at the Bet MGM Sportsbook Lounge. You would need to make your way to the southeast corner of the Boulevard Tower to get there, but when you do, expect to be amazed as it is literally a sports betting paradise.
The sports bar is ready to serve you your favorite great food and drinks, as you sit at one of the betting counters and kiosks to place your bets on football, basketball, or hockey, with some of the most sought-after betting markets and international sports tournaments to wager on.
You might need to make a reservation to secure your Lounge spot, you can conveniently manage this through your MGM Resorts app.

Dining at the Cosmopolitan
Dining at the Cosmo is a gastronomical experience that offers world-renowned cuisines, to foodies visiting.Hoping to cater for the masses, the Cosmo offers Spanish cuisine, Italian, and Mexican food, Chinese restaurants, cafe establishments, chicken joints, coffee areas, lounges, cocktail bars, all-day breakfast areas, gourmet burgers, Tapas, juice bars, milk bars and many more dining establishments to discover. The "Wicked Spoon" buffet is voted one of the best buffets in Vegas.
Restaurants, bars and cafes have different opening and closing times, which you can easily keep track of via the mobile app, along with your reservations and bookings.

Things to do when you are not gambling
Whilst many visit Vegas to gamble and play table games, others just want to have a really good time.The Cosmopolitan remains one of our top sports to unwind and enjoy some of the best entertainment happening in Vegas.
The Chelsea
Visitors can watch a show at The Chelsea, a 40,000-foot space hosting music and sports events, all decked up with a vintage lobby bar and a VIP Lounge. Gallery boxes are also available to book at an extra cost, allowing you a cozy atmosphere as you witness the action happening just beneath you. Your entry here is expedited and a private mixologist is also at hand.
The Barbershop
The Barbershop offers fresh cuts, the perfect vintage whiskey and also a unique setting for lounging around with your pals.Live entertainment and cocktails will accompany your stay at the Barbershop, with also live entertainment offered all throughout the week. Professional barbers are there to make you look sleek and Vegas-ready, but just to be on the safe side, we recommend that you pencil in a booking.
Other Events
The Cosmo is not just a 21+ or a gambler paradise, younger visitors can also enjoy some of the most elaborate and fun amenities available.You could book a 45min Build your own pizza experience. If you are 21+ but not looking to gamble you could plan a private all-you-can-drink Champagne party or you could enjoy a whiskey-tasting experience with your Vegas party.In reality, there is something for everyone to sink their teeth in at the Cosmo, just keep in mind that the prices could be a bit higher than any other MGM resort, but the experiences that the Cosmo offers are indeed unique.
Transportation
The Cosmo does not offer a private shuttle service; however, the Concierge team is always at hand to help you with your transportation needs.

Conclusion
After taking a closer look at the Cosmopolitan, it is very evident that the MGM resort embodies both luxury and charm.From the very first minute, you step into the reception and you are greeted with glitz and glamour, and the sounds of slot reel combos being landed.The table games section is also a gaming paradise with your favored table games such as Baccarat, Poker, Blackjack, Roulette and other table games also available.
High Limit tables are available for players looking to land massive wins, with the Cosmo staff looking to lend a helping hand when needed.Finally, frequent visitors at the Cosmopolitan in Vegas can benefit from a VIP Loyalty Program that will award you for every transaction made during your stay, with some great perks awaiting returning patrons.
Luxury, style, glamour, vintage feels and the epitome of a gambling paradise awaits you at the Cosmopolitan.One of the best MGM resorts on the Vegas Strip hands down.
Author: Amelia Smith
Last updated 13/07/2023 - Article published 08/02/2019