Cosmopolitan Casino
The Cosmopolitan in Vegas is one of the great luxury resorts in the city and it is located right on the Strip. Opening in 2010, it is one of the newer casino resorts to be offered and has quickly become a top destination for gamblers. The resort consists of two amazing towers known as the Chelsea and Boulevard. With over 3,000 rooms, a thrilling gaming floor, and various forms of entertainment and dining options, you will find the Cosmopolitan to meet all your needs during a stay in Las Vegas.This fantastic hotel was named the Best Hotel in the World in 2013 and in 2015, it was added to the Conde Nast Traveller Gold List, being noted as one of the top hotels in the world. The hotel-casino resort is owned by The Blackstone Group and provides you with all the modern amenities you could ask for. Get ready to enjoy an exciting stay in Vegas and learn all about what this top-rated casino resort has to offer.
Reading time: 5 minutes.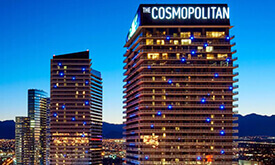 The Thrills of Gambling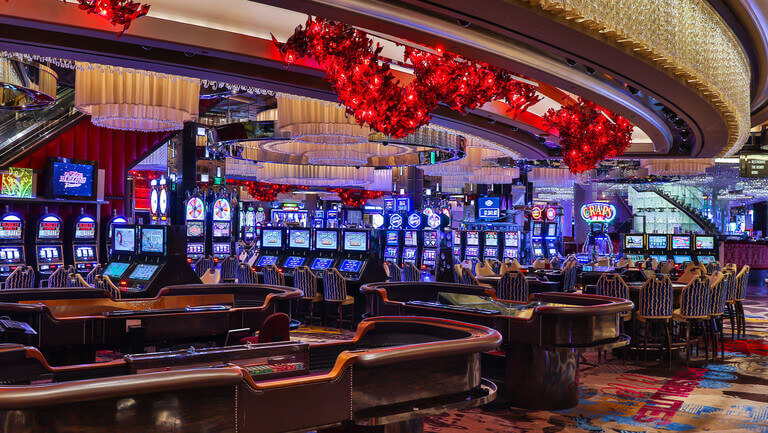 If you are seeking some of the best forms of gambling in all of Vegas, the gaming floor at the Cosmopolitan is the pace to be. Here, you will enjoy the latest gaming technology and many of the most played classic casino games. From slots to leading table games, the casino offers you hundreds of ways to win huge payouts and enjoy the modern luxuries of great table games.
Slots take up a large portion of t eh gaming floor and you will find over 1,300 machines available. These include a mix of three and five-reel games as well as some of the highest paying progressive slots in Vegas. With bets starting as low as $0.01 per spin, anyone can enjoy these games regardless of the budget in place. The casino also hosts regular slot tournaments, so be sure to enter these for more chances to win!
The table games are quite impressive and you will find all the casino classics like blackjack, roulette, craps, and baccarat. There are also some great poker variations that can be enjoyed, such as Pai Gow Poker, Three Card Poker, and Ultimate Texas Hold'em.
Not only does the casino offer great game selections, but you can also relax and enjoy some sports betting at the Race & Sports Book. This offers the latest in betting technology and provides you with thousands of betting options on sporting events from around the world. The sportsbook by CG Technology will meet all your betting needs and you can watch live events in the high-definition televisions that are located throughout the venue.
Top Notch Dining Options
When The Cosmopolitan first opened, it advertised there would be celebrity restaurants and chefs on t eh premises, including David Myers, Eric Bromberg, and Scott Contant. Originally, only four restaurants were offered, but the resort quickly added additional dining options, including Jaleo, a tapas restaurant created by Jose Andres.
Today, you can find many great establishments that can offer everything from a casual and quick bite to a luxurious dining experience. Be sure to check out any of these fine dining locations at the Cosmo and get ready to enjoy some amazing culinary creations. At the resort, you will find the following places to dine and drink:
- Beauty & Essex
- Blue Ribbon
- China Poblano
- District: Donuts, Sliders, Brew
- E by Jose Andres
- Eggslut
- Estiatorio Milos
- Ghost Donkey: Mezcal & Tequila Bar
- Hattie B's Hot Chicken
- The Henry
- Holsteins
- Jaleo
- The Juice Standard
- Lardo
- Milk Bar
- Momofuko
- Overlook Grill
- Pok Pok Wing
- Red Pate
- Rose. Rabbit. Lie
- Scarpetta
- Starbucks
- STK
- Tekka Bar
- Va Bene Caffe
- Wicked Spoon
- Zuma

As you can see, you will have endless choices no matter what tastes need satisfying. With so many amazing choices for dining and quick bites, the establishments at the Cosmo always aim to please and you will also be able to find affordable lunch options. Many of these establishments offer daily specials and menu items created by the finest chefs in the world.
Entertainment Offerings
While you will most likely be spending your time on the exciting gaming floor, there are many other things to do when visiting the Cosmopolitan. There are four great entertainment venues, each offering a packed schedule of shows, concerts, comedy nights, and more.
The Chelsea is the main concert venue at the resort and offers 40,000 square feet of performance space. This venue is known for offering a stunning visual appeal and you can also enjoy a vintage lobby bar as well as VIP gallery boxes.
The Marquee Nightclub and Dayclub is another great entertainment venue and here, you can enjoy dancing the night away with some of the best DJs in Vegas. The nightclub also offers The Library, which is a VIP hideaway. Get ready to enjoy an experience unavailable at any other venue in Vegas. Enjoy the glass walls that offer a stunning view of the Strip while being entertained by the top DJs in the business.
Looking to combine dinner with a show? Be sure to check out Rose. Rabbit. Lie. This is a modern club that offers live music and performances on a regular basis along with some amazing dishes and cocktails. If you want a unique entertainment experience, check out the new OPIUM. This adult-only show will take you on a thrilling journey to new dimensions while you enjoy a fight on a spaceship with in-flight entertainment and complete bar service.