Caesars Palace
Caesars Palace is perhaps one of the best-known resorts in all of Las Vegas and it is a luxury hotel that features an amazing casino. The resort is located between The Mirage and Bellagio on the Strip and is a landmark in the city. Established back in 1966, the resort contains a variety of statues and iconic structures from the Roman period, offering a great visual appeal. Caesars is now owned by Vici Properties and has seen many renovations over the years, with the last being completed in 2015.The hotel offers almost 4,000 rooms that are located in six various towers, each offering all the modern amenities. There are also many top-rated restaurants as well as shopping venues that can be visited. Some of the signature attractions at Caesars Palace include the Colosseum, The Forum Shops and many pieces of Renaissance and Greek art throughout the resort. While the hotel and the venues within make for a perfect vacation getaway, Caesars Palace is best known for the casino. It is a leading location for high rollers and you will enjoy all of the latest casino facilities and the newest games.Here, we take a look at the many options you will have when you say at Caesars Palace and you will quickly see why this resort has become the top choice for thousands who visit Vegas each and every year.
Reading time: 4 minutes.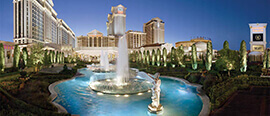 Caesars Palace Gambling Action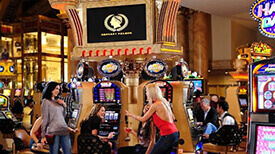 There is no better place to play than at Caesars Palace! Here, you will find all the casino classic games you love as well as the newest and greatest releases. The casino offers an appealing Roman setting and you will enjoy the lavish surroundings as you engage in some of the most thrilling casino games in Vegas. The casino at Caesars Palace offers more than 130,000 square feet of gambling excitement and here, you will find the greatest slots, thrilling table and card games, video poker games, and so much more.
You will definitely want to check out the slot selection at this casino as it is known to offer more $1 million jackpots than any other casino in Vegas. You will find the hottest titles being offered along with with some traditional three-reel slots. Games can be played for bets as low as $0.01 and there are also high roller slot titles that can be found.
This casino also has a great race and sports book where you can place bets on horse and greyhound races and a variety of sporting events from all over the world. You can even place wagers using your mobile device if you download the Caesars Palace app.
Caesars Dining
You may want to take a break from gambling to grab a bite to eat. There are a few venues that are perfect for a quick eating break, such as The Food Court, Brioche by Guy Savoy, and Pronto by Giada. If you are looking for a full meal but want a casual environment, you will have a number of great options. Check out places like Beijing Noodle No. 9, Gordon Ramsey's Pub & Grill, Searsucker Las Vegas, Café Americano, and Starbucks.
You may wish to prefer top-notch dining and with five-star restaurants offering dishes from some of the best chefs in the country, you will find everything to satisfy your cravings. Some of the upscale restaurants that can be found at Caesars Palace include:

- Nobu Restaurant Las Vegas
- Mr Chow
- Rao's Las Vegas
- Old Homestead Steakhouse Las Vegas
- Mesa Grill
- Restaurant Guy Savoy
- Gordon Ramsey's Hell's Kitchen

If you can't make a decision on the type of cuisine or dining style you would like, you can always eat at the Bacchanal Buffet. Here, you will find a sampling of all types of food and will enjoy great presentations at live cooking stations. Voted as the Best Buffet in Las Vegas by USA Today, you will surely find everything you want right here.
Caesars Palace Entertainment
While gambling may be your choice for entertainment, there are many other things to do and see while at Caesars Palace. There are some great Arena and Headliner shows that are scheduled throughout the year and you can also enjoy the night with some comedy at one of the great clubs. Popular headliners that are often scheduled here include Celine Dion, James Taylor, Reba, Brooks & Dunn, and Rod Stewart.
There are also a number of amazing bars and nightclubs where you can catch live performances and enjoy an evening of dancing. Check out the list of hit spots for nightly excitement:

- Vanderpump Cocktail Garden
- Omnia Nightclub
- Vista Cocktail Lounge
- Montecristo Cigar Bar
- Alto Bar
- Spanish Steps
- Numb Bar & Frozen Cocktails

These are just a few of the great things you can do while at Caesars Palace and there are always new events, concerts, performances and shows being scheduled!