menu
Caesars Palace
Caesars Palace is one of the best-known resorts in Las Vegas, a luxury hotel with a fantastic casino. It is the place to be for the true Las Vegas hotel and resort casino experience. 
This high-roller hospitality and gaming service has many things going for it. From being on the famous Las Vegas Strip to the casino and sports betting facilities, Caesars Palace is a punter's dream. Furthermore, the resort has pools, spas, and shopping facilities for the perfect day and nightlife in Las Vegas NV.
We'll explore everything in Caesars Palace, including the restaurants, accommodations, and entertainment options. Is it an option for average gamers on the Las Vegas Strip, or is it exclusively for high-roller visits and stays? Read on as we explore each section of Caesars Palace and what they have for guests.
Caesars Palace can be found at 3570 S Las Vegas Blvd, Las Vegas, NV 89109, United States.
Estimated reading time: 11 minutes.
Table of contents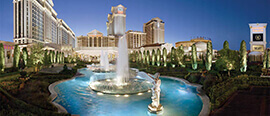 Overview
Caesars Palace is located between the Mirage and Bellagio on the Las Vegas Strip and is a landmark in the city. Established in 1966, the resort contains various statues and iconic structures from the Roman period, offering a great visual appeal. Vici Properties currently owns Caesars, which has undergone numerous renovations.
The hotel offers almost 4,000 rooms for guests in six towers, each offering all the modern amenities. There are also many top-rated restaurants for fine dining and shopping venues to visit. Some of the signature attractions at Caesars Palace include:
The Colosseum
The Forum Shops
Many pieces of Renaissance and Greek art throughout the resort
Despite the spectacular Colosseum at Caesars Palace and other attractions, this hotel is best known for its casino. It is a leading location for high rollers, and you will enjoy all of the latest casino facilities and the newest games.
Jay Sarno holds the singular honor of being the founder of Caesars Palace Hotel. The convention facility is massive, covering a large land mass and sitting 1.39 km from the city centre. Caesars Palace Las Vegas is hard to miss once you get on the Las Vegas Strip.
You'll soon see the many options you will have when you arrive at Caesars Palace. The magnitude of property amenities proves this resort has become the top choice for thousands who visit the Las Vegas Strip.
The Six towers and accommodation
If you're going over to Caesars Palace Las Vegas, you'll likely stay in one of the following towers:
Octavius Tower: This tower gives you access to the Octavius Lounge. Its marble accents and plush bedding make the elegant rooms as comfy as possible. For views, you have the Garden of the Gods Pool area (oasis).
Julius Tower: This is the original tower and an excellent property for contemporary but luxurious rooms. It was renovated in 2016, breathing new life into the hotel. Don't miss the Julius Deluxe room.
Palace Tower: If you need that plush, opulent appeal, the Palace Tower is the spot in the hotel. This section offers queen and king bed settings.
Augustus Tower: For something more modern than the Julius Deluxe room, the Augustus Tower is more than enough. This is the most luxurious and modern of all the Caesars Palace towers. If you appreciate the views of the Bellagio fountains or the Las Vegas Strip, this is the section to be.
Nobu Tower: The Nobu Hotel brings Japanese touches to the Las Vegas Strip. It is also known as the boutique hotel, a property that covers 10,300 square feet.
Forum Tower: This tower returns to the classics and is close to the Colosseum at Caesars Palace and the Forum Shops.
This entertainment empire has a massive car park to accommodate your car if you plan to drive there. Of course, the parking rates vary depending on the day and duration. Hotel guests have a flat fee.
You can use the Caesars Palace monorail station to bypass the congestion that often takes over the Las Vegas Strip. It is located on the east side of the Las Vegas BLVD. However, you must book your room before heading to this Las Vegas empire.
Booking a room at Caesars Palace Las Vegas
Unless you are in for a quick visit, like a meeting, rooms are available. Caesars Palace Las Vegas offers flight and hotel packages where you can bundle your plane tickets with the hotel rooms. It is most suitable for those outside Las Vegas and the country, and it also offers Caesars Rewards.
Flights will come in through the Las Harry Reid Intl Airport. That leaves a 5.6-kilometer drive from the hotel.
Booking a room at Caesars Palace Las Vegas NV, is easy. You can quickly do that on the hotel's website. Select date for check-in and input the check-out time.
The hotel offers free 48-hour cancellations. Notwithstanding, watch out for other fees that may increase total costs before you pay for your reservation or booking. You can look for deals that offer discounts.
The rooms at Caesars Palace Las Vegas include the following:
Octavius Premium room
Palace Premium Room
Julius Deluxe room
These rooms come with a queen or king bed setting. Also, there is great room service throughout your stay.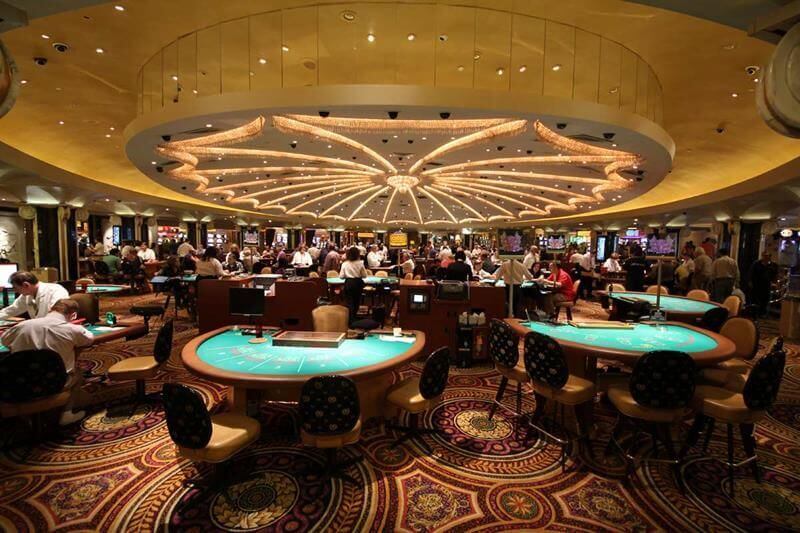 View on the Caesars Palace casino floor.

Amenities and entertainment facilities
The Colosseum is already established as a theatre for shows and performances. It can seat 4,100 guests with a stage size of 22,450 square feet. This is just the tip of the iceberg of amenities and entertainment facilities at the Caesars Palace Las Vegas Hotel.
You can take a short walk to the Miracle Mile Shops along the Las Vegas Strip. Alternatively, you can ditch the short walk and head to the Forum Shops. The latter has many luxury brands in 160 specialty stores and fine restaurants for day or night shopping.
The Caesars Palace Hotel has a fitness centre to balance the luxurious king bed lodging for guests. You'll find treadmills, a rock climbing wall, free weights, stationary bikes, etc., at the fitness centre, including spa services.
Sports and recreational activities, like volleyball tournaments and boxing matches, are available at the mall down the Strip. For attractions, you will find the following:
The high roller observation wheel
The LINQ Promenade accessed from the LINQ station
The Eiffel Tower viewing deck
Besides the casino and sports book, Caesars Palace Hotel in Las Vegas has enough adrenaline-pumping activities. Salon services are available.

Caesars Palace gambling action
There is no better place to play than Caesars Palace Casino, located on the ground floor. You will find all the classic casino games and the newest and greatest releases. The casino offers an appealing Roman setting with lavish surroundings as you engage in some of the most thrilling casino games.
Ensure you play responsibly on this gaming floor. Set a budget before heading to the tables or machines.
The casino at Caesars Palace offers more than 130,000 square feet of gaming excitement. It carries 185 table games, 1,324 slot machines, and 18 screens. Besides the facilities, the social aspect roars to life as guests cheer on during horse races and other sports.
You will want to check out the slot selection at this casino. The mega-price potential has increased the Caesars Palace Hotel's popularity on the Vegas Strip. As a new feature, you can put your jackpot back into the game instead of getting a payout.
The slot machines are easy to use for any experienced punter. There is no need to call the front desk or attendant for clarification. However, ensure you have a guide if this is your first time visiting the iconic landmark along the Vegas Strip.
You can bet up to $500 on the slot machines, but table games and poker are where most VIP players will be. Games in this casino lobby include blackjack, roulette, baccarat, Craps, Texas Hold'em Bonus Poker, Let it Ride Poker, etc.
This casino also has a race and sports book to bet on horse and greyhound races and various sporting events. The casino service is available through the Caesars Palace app.

Caesars dining
You may want to take a break from gaming to grab a bite. There are a few restaurant services that are perfect for a quick eating break, such as The Food Court, Brioche by Guy Savoy, and Pronto by Giada.
If you are looking for a full meal but want a casual environment, you will have many great options. Check out Beijing Noodle No. 9, Gordon Ramsey's Pub & Grill, Searsucker Las Vegas, Café Americano, and Starbucks.
You may prefer top-notch dining with five-star restaurant lounges offering dishes from some of the best chefs in the country. The Caesars Palace Las Vegas Hotel has it all to satisfy your cravings. Some of the upscale restaurant lounges that can be found at Caesars Palace include:
Nobu Restaurant Las Vegas
Mr Chow
Rao's Las Vegas
Old Homestead Steakhouse Las Vegas NV
Mesa Grill
Restaurant Guy Savoy
Gordon Ramsey's Hell's Kitchen
If you can't decide on the type of cuisine or dining style you would like, you can always eat at the Bacchanal Buffet. This has a sampling of many kinds of food with great presentations at live cooking stations. For a restaurant that received a USA Today award for the Best Buffet in Las Vegas, there is much to enjoy during your stay.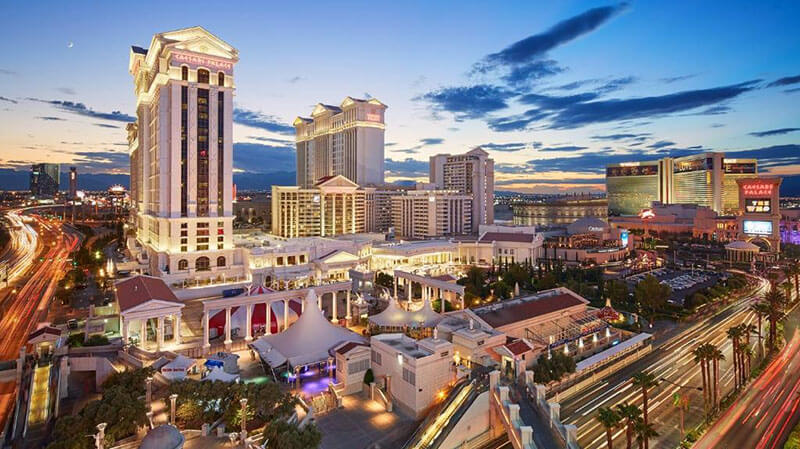 View from outside on the Caesars Palace casino and hotel.

Caesars entertainment
We mentioned a few sections under Caesars Entertainment: the Colosseum for shows and others along the Vegas Strip. You don't have to stay in your room all day while warming up for the casino at night. Caesar Entertainment has other activities to keep the day as adventurous as the night.
There are some great arena and headliner shows that are scheduled throughout the year. You can also enjoy the night with some comedy at one of the great clubs. Famous headliners often scheduled here include Celine Dion, James Taylor, Reba, Brooks & Dunn, and Rod Stewart.
There are also several amazing bars and nightclubs to catch live performances and enjoy an evening of dancing. Check out the list of hit spots for nightly excitement below:
Vanderpump Cocktail Garden
Omnia Nightclub
Vista Cocktail Lounge
Montecristo Cigar Bar
Alto Bar
Spanish Steps
Numb Bar & Frozen Cocktails
These are just a few great things you can do through Caesars Entertainment. New events, concerts, performances, and shows are being scheduled! However, ensure you have your resort fee to enjoy these amenities.

Caesars Rewards
Guests at the Caesars Palace Hotel can enjoy the Caesars Rewards and redeem points in over 50 destinations. Caesars Rewards is the casino loyalty club, but there is more. You can earn from playing, staying, dining at a restaurant, relaxing at the resort, and shopping.
The Caesars Rewards Visa credit card and the Caesars Rewards Gift card are other ways to enjoy the hotel's financial benefits. You can only use the Caesars Rewards gift card within the approved destinations. Conversely, the Caesars Rewards Visa credit card can be used anywhere.
You can earn 2,500 tier credits and 10,000 rewards credits for spending $1,000 within 90 days. This offer applies only to Caesars Rewards Visa credit card users.

Conclusion
Does Caesars Palace have enough for an epic weekend gaming getaway on the Vegas Strip? There are enough luxury rooms on the property, from the second floor. The casino offers fast-paced and high-stakes action with table games as you step out of the hotel lobby.
If you just want fun, we recommend the slot machines on the ground floor. They accept small bets that won't break the bank.
With celebrity chef restaurants, famous fountains, luxury suites, and a pool view, Caesars Palace is excellent for unwinding.

Frequently asked questions about Caesars Palace
What are some of the iconic attractions and features at Caesars Palace Las Vegas?
Caesars Palace Las Vegas boasts several iconic attractions and features, including:
The Colosseum
The Forum Shops
Many pieces of Renaissance and Greek art throughout the resort
These attractions contribute to the resort's visual appeal and offer a unique experience to visitors.
Who is the founder of Caesars Palace Hotel, and when was it established?
Caesars Palace Hotel was founded by Jay Sarno. It was established in 1966 and has since become a landmark on the Las Vegas Strip.
How many rooms does Caesars Palace offer to its guests, and what amenities are available in these rooms?
Caesars Palace offers almost 4,000 rooms for its guests, spread across six towers. These rooms are equipped with modern amenities to ensure a comfortable stay for visitors.
The amenities include features like comfortable furnishings, modern technology, and more to enhance the guest experience.
Is Caesars Palace known for its casino, and what makes its casino stand out?
Yes, Caesars Palace is renowned for its casino. The casino at Caesars Palace is a favorite destination for high rollers and offers the latest casino facilities and games.
It stands out for providing a top-notch gaming experience to its patrons, making it a leading choice for those looking to enjoy casino games in Las Vegas.
What are some of the top-rated restaurants and shopping venues located within Caesars Palace?
Caesars Palace features a variety of top-rated restaurants for fine dining and offers excellent shopping venues for visitors.
Guests can explore a diverse range of culinary options and enjoy shopping at renowned stores within the resort, making it a complete destination for dining and retail therapy.
Author: Amelia Smith
Last updated 15/11/2023 - Article published 30/05/2020