menu
SkyCity Hamilton Casino
If you are planning a gambling holiday to Auckland New Zealand, the SkyCity Hamilton should be a venue on your list. Based in the city of Hamilton, this casino is known for offering pristine views of the Waikato River banks. The casino is one of the most popular destinations for gamblers and offers a large assortment of games and a huge gaming floor.
The Hamilton Central Casino opened back in 2002 and is owned by SkyCity Entertainment Group. When the SkyCity Hamilton casino was first built, it was built in partnership, but in 2005, SkyCity bought the site outright and now has complete control over the resort. This amazing casino location is part of the Hamilton Central Riverside Hotel, which offers several bars and restaurants, so you will have everything right at your fingertips when you visit this location.
SkyCity Hamilton can be found at 346 Victoria Street, Hamilton Central, Hamilton 3204.
Estimated reading time: 8 minutes.
Table of contents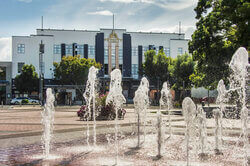 Gaming
When it comes to quality and elegance, there are very few casinos that can compare to SkyCity Hamilton. While this is not the largest operating casino in Auckland, New Zealand, it surely offers a massive array of games that will meet all of your gambling needs. With around 400 game titles being presented on the floor, you will find many ways to appreciate a night out and have the chance to win some great rewards.
Gaming and Slot Machines
Many of the games found at this casino are gaming machines, and you will find over 280 video slots scattered around the gaming floor. These games have become the leading choice for casual players as they offer endless entertainment, are affordable options, and give some decent payouts. There are also several Vegas-style traditional slots to search through and play.
Table Games: Casino Games
If you are looking for the action of table and card games, SkyCity Hamilton will not disappoint. Even though this casino has a smaller gaming area, it offers all of the casino classics you would expect to find at a high-end casino resort. You can enjoy the action of Blackjack, Roulette, Craps, Baccarat, Poker when you gamble at the tables. Enter a world of smooth gambling that will change your life when you gamble at SkyCity Hamilton.
Table Games: Jackpots
SkyCity has jackpots on its Ultimate Texas Hold'em and Caribbean Stud Poker game. It is a progressive jackpot, which means it increases with each hand dealt until a winning hand is dealt. A new jackpot is entered each time it is won by a lucky winner, and this keeps the stakes high. Games are moderated by our well-trained poker dealer staff, who are among the best in the state.

VIP Gaming Service at SkyCity Hamilton
If you are a frequent visitor to SkyCity Hamilton, you may find yourself receiving red-carpet treatment as a VIP player. This casino caters to high rollers and frequent gamblers, and some amazing VIP benefits can be enjoyed. VIP members will have fun playing table games at Salon 8, which is a member-only area of the casino that is located near the Number 8 Bar.
There is also the Diamond Lounge, which is home to the Platinum and VIP Black Gaming machine players. Not only will you have access to exclusive areas of the casino, but you will also benefit from an executive team that will make sure you always have a positive experience with every visit to the casino.

Premier Rewards
Visitors must be aged 20 and above to enter the SkyCity rewards program. Members of the rewards program will access the best quality food and drinks at SkyCity at great discounts. In addition, they will also get admission into special draws and exclusive competitions while stacking up points they can redeem for rewards.
As an added advantage, members of the rewards program can check the state of their account at any time using the online portal. The SkyCity app makes navigation easier by allowing members to seamlessly access and connect with the rest of the casino. With your phone, you can access all the information on your status and perks.
The rewards program has three regular levels and two invitation levels, which are:
Ruby
Sapphire
Gold
Platinum (invitation only)
VIP Black (invitation only)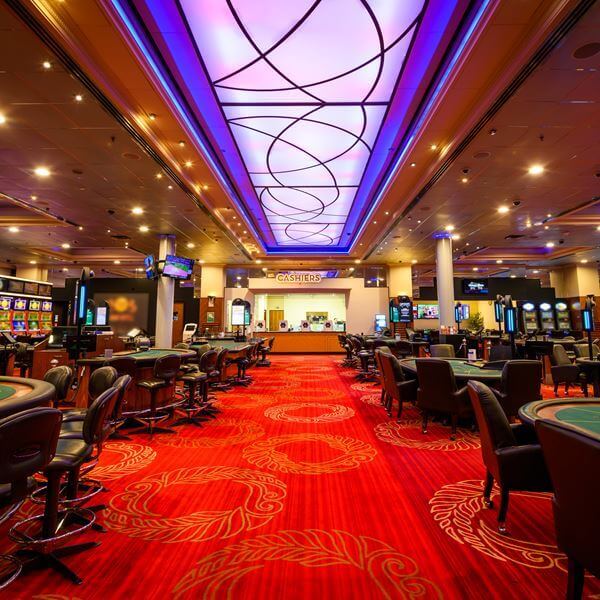 View of the gaming floor at SkyCity Hamilton.

Age Restriction
All visitors under the age of 20 are not allowed to enter the casino grounds. Children under the age of 14 must be supervised at all times while they are at SkyCity. The Hamilton SkyCity is dedicated to providing safe and responsible gambling spaces. All underage visitors are restricted from gambling of any kind.
Business Hours
The business hours of the Hamilton Casino are between the hours of 10:00 a.m. to 4:00 a.m. from Monday to Thursday. It is open between the hours of 10:00 a.m. and 12:00 a.m. on Friday and 12:00 a.m. and 12:00 a.m. on Saturday and Sunday. For the Bowlevard, the business hours are 9:00 a.m. to 10:00 p.m. from Sunday to Thursday, while it is open from 9:00 a.m. to 11:00 p.m. on Friday and Saturday.
You can schedule a date at the casino using the times allotted to the activities. If you like late-night bowling, you will enjoy staying behind to learn the next trick you'll use to dazzle your friends at your next competition. Learn more about business hours from the casino's website.
You can contact the SkyCity gaming help desk using your phone at 0800 654 655 for more details. When you contact the help desk, you can get all the answers to your inquiries.

Restaurants and Dining
Everyone needs a break from gambling, and what better way to do that than through food and drink? SkyCity Hamilton provides great restaurants with expansive feeding options.
Some decent bars, such as the Marble Room offer the best cocktails, whisky, and champagne money can buy. The watering hole is a decent spot at night because of its perfect atmosphere for relaxation and socialising.
The Local Taphouse is one of the popular locations at the heart of Hamilton, and it offers many different beer choices on tap. There is also a decent menu offered, and you can enjoy your meals and drinks with live entertainment.
If you want a quick bite during the afternoon, check out the Coffee Post Café. Here, you will find convenient food and a brunch menu that will surely satisfy your appetite. Want burgers instead? Eat Burgers offers a great selection of value burgers.
Hamilton prides itself on having excellent staff that can provide quality service delivery. In addition, the prices are affordable, and the environment is clean and decent.
You may want a more elegant night dining experience, so the Marble Room is the way to go. Here, you can sip cocktails, relish some champagne, or choose from the remarkable selection of whisky. With sophisticated and clean surroundings, you will find you are sitting in the heart of luxury when you choose to kick back and relax in the Marble Room. The staff also ensure that you are served in English and they learn your tastes so that they can serve you better.
As for bars, you will find the Vue Bar and Number 8 Bar located on the main gaming floor. These are great places to meet with friends for a few drinks before hitting the tables. The Zone Sports Bar is a popular location at SkyCity Hamilton, and it offers endless sports action. With large-screen televisions all around, you will never miss out on any of the current games being played. You will also notice a great menu of drinks, appetisers, and smaller meals that you will savour.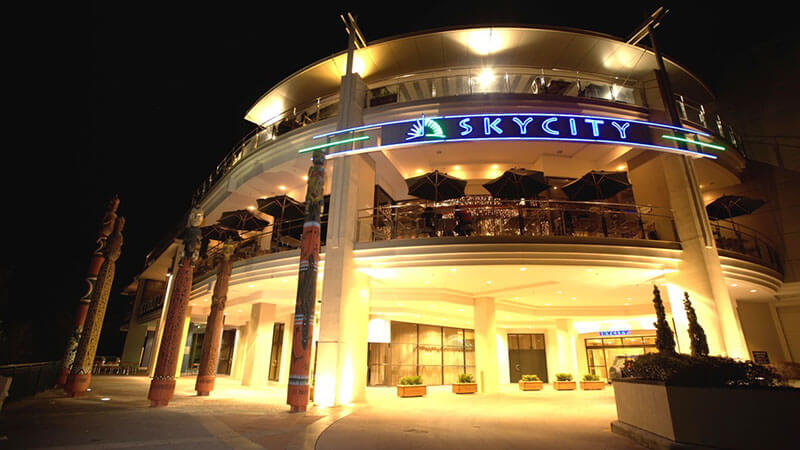 View of the SkyCity Hamilton entrance
Other Things to Do
There are so many other exciting things you can do at SkyCity Hamilton. There are many fun activities that a family can enjoy, including the entertainment outlets and the riverside walk. There is so much excitement in discovering the various offerings available to visitors at the Hamilton.
Another source of excitement and entertainment is the atmosphere at Hamilton's Local Taphouse. The Hamilton resort is home to one of the most amazing bowling alleys in New Zealand. With tenpin action, you can get in on some great games and appreciate a social evening with friends and family.
SkyCity Hamilton, New Zealand, makes use of the latest bowling technology and can even share scores online with your friends on Facebook!
Prefer some time on the golf course? Be sure to check out X-Golf, one of the best golf simulators in all of New Zealand. Here, you can play at one of 50 courses from all over the world. The simulator offers an accurate and realistic experience. The Hamilton provides an enjoyable golfing experience that rivals that of Pro golfers using a simulated environment.
You can find X-Golf at the Zone Sports Bar which also has other activities for visitors at the Hamilton to enjoy. The Hamilton is a prime destination that provides fun for all ages, groups, and individuals. Catch the cool air by the river banks or get down to some gambling fun, the choice is yours!
ANTI-MONEY LAUNDERING
The Hamilton follows strict and up-to-date laws guiding the movement of money within its casino. Whales and small players present valid means of identification, which they use in verifying their identities. When certain transaction thresholds are reached, they activate a source of fund verification, which serves to validate all funds.
Cash transactions of over $6000 require players to verify their identity using methods of identification like a driver's license. They may also have to verify their date of birth to ensure they are eligible for gambling.

Frequently asked questions about SkyCity Hamilton
Does SkyCity Hamilton have an age restriction?
Yes, only visitors of 20 years and above are allowed to gamble.
How do I sign up for SkyCity Hamilton Premier Rewards?
Sign up for the program by visiting the casino.
Does SkyCity Hamilton have a responsible gambling policy?
Is there a dress code for the SkyCity Hamilton?
How do I contact SkyCity Hamilton support?
You can contact the support at 0800 654 655.
Author: Amelia Smith
Last updated 15/11/2023 - Article published 22/04/2022