menu
SkyCity Auckland Casino
When it comes to successful casinos in New Zealand, few have an incredible reputation and success as SkyCity Casino. This casino is well known in New Zealand for offering an elegant design and endless forms of entertainment. The exceptional casino floor is complemented by hotels, amazing restaurants, and an incredible nightclub. If you are looking for something to do when taking a break from the slots and the tables, you will always find something fun and exciting at SkyCity Auckland. The casino is conveniently located on the corner of Victoria and Federal Streets and it has become a major attraction for tourists.
The SkyCity Hotel and Casino was built in the 1990s and is the second casino to open in the country. Since its construction, SkyCity Hotel and Casino has provided world-class facilities for its guests. The resort is also the home of a great convention centre that was added in 2013. Its Victoria and Federal Streets location makes the iconic Sky Tower a big attraction for visitors and admirers alike. Its Auckland's CBD location is the prime spot at the centre of the city where families, guests, and other persons can enjoy.
The casino resort is owned by SkyCity Entertainment Group and this Auckland location remains one of the premier casino destinations in all of New Zealand. With a 5-star hotel addition that was completed in 2005, SkyCity Auckland gained even more recognition, and today, you cannot find a better experience or service anywhere in Auckland, New Zealand. Learn more about the SkyCity Hotel and Casino in this review, including the age restriction policy, hotels, iconic Sky Tower, Sky Cafe, and much more.
Skycity Auckland can be found at Corner Victoria and, Federal Street, Auckland CBD, Auckland 1010
Estimated reading time: 10 minutes.
Table of contents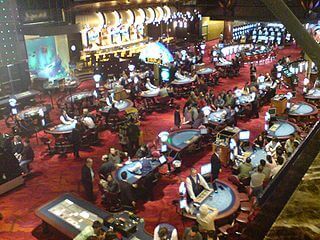 Skycity casino gambling
At SkyCity Auckland, you will find everything you want to enjoy a thrilling and rewarding gambling experience. There are over 2,100 slot machines, along with 150 table and card games. These games can provide every level of entertainment, whether you are a casual gambler or a high roller. With 24-hour access, you will find a game that will meet all of your needs and offer you amazing chances at winning amazing rewards.
Slot Machines
The slot machines make up the largest portion of the casino and with over 2,100 options, there are endless games to enjoy. These machines include top-rated slots as well as poker machines. If you like the simplicity of a traditional slot, you will be in luck, as there are several three-reel games located on the casino floor. Video slots are also popular, and with these, you can enjoy playing multiple paylines and innovative bonus rounds for huge payouts.
Table Games
Table games are also very popular at SkyCity Auckland, and you will find all types of games being presented. There are multiple tables of blackjack, roulette, craps, poker, and more. All of these provide various betting options and you will benefit from friendly dealers who can even explain the rules of the game if you are a new player. The dealers manage each game with professionalism, as they are well-trained with years of experience.
Table Games: Jackpots
Progressive jackpots are available for some table games. In this jackpot system, the value increases with each hand until a win occurs. The game resets after the winner is paid and the pot begins to build again until another winner emerges. Caribbean Stud Poker and Ultimate Texas Hold'em are the two table games with progressive jackpots at the hotel.
Baccarat Rooms
Baccarat is a very popular game in New Zealand, so this casino offers a Baccarat Room, where you can find more than 20 tables available. The room presents a vibrant environment and you will enjoy a dedicated bar, a smoking balcony, and even some exclusive promotional deals that can be redeemed.
If you are new to gambling and this is one of your first times at SkyCity Auckland, you may want to take advantage of the Learn to Play packages. These offer a great gambling experience where you can learn the rules of a new table game or develop better skills and strategies if you have already played these games in the past. Using this package, you save money and develop the skills you need to best your friends or other visitors. Two packages can be purchased and they each offer exclusive use of tables, complimentary beverages, and some other great incentives.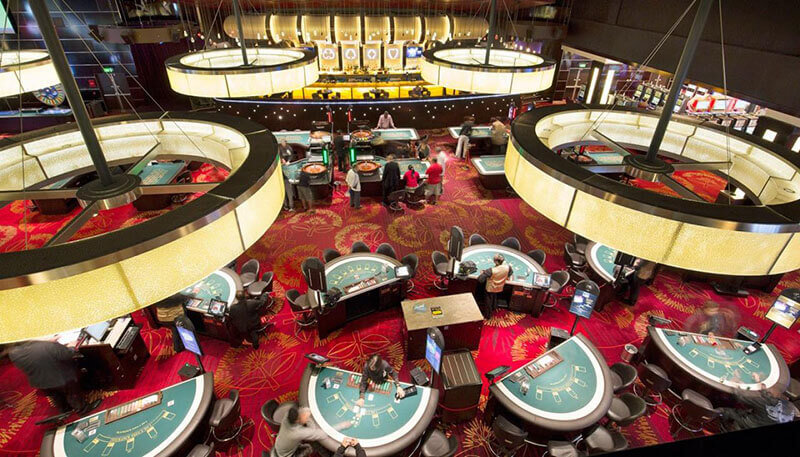 View on the gaming floor at Skycity Auckland.

Age limits
Players younger than 20 years are restricted from participating in any gambling activities. Guests aged 14 and under must be accompanied by an older family member or parent. Children must be accompanied at all times when they are within the hotel or casino premises.

VIP gaming
SkyCity Auckland provides one of the best VIP experiences in the New Zealand region. Members get access to premium facilities, a dedicated team of hosts, and other helpful perks. The exclusive table game area called "EIGHT" is a quiet and serene environment at the centre of the VIP facilities at the Hotel. This is where the most valued table members gather to engage in private gambling action. You can find several private tables that are also available, allowing VIP members to enjoy exclusive games of poker, blackjack, baccarat, and more.
There is also a gambling machine salon referred to as Platinum where slot lovers can have fun. It is an exclusive club where VIP partners can enjoy the highest-value machines you will find at the SkyCity Hotel. At this establishment, VIP members are appreciated, and this is reflected in the amazing services that are offered and the red-carpet treatment that is provided to every club member. The VIP gambling experience provided by the hotel is virtually unmatched in Auckland's CBD.
Skycity Restaurants
When visiting SkyCity Hotel, the least of your worries is finding a restaurant that meets your tastes. The SkyCity Hotel has many dining options that are children, parent, and family-friendly. There are also adult options for the more adventurous, although costs vary depending on the dining experience. Outside food, guests have access to on-site bars which offer world-class drinks and services. Here are some of the dining options available at the hotel:
Sky Cafe
The Sky Tower houses the amazing Sky Cafe and the Sky Deck where guests can enjoy low-cost coffee while enjoying the view of the city. It is one of the most serene spots in the Auckland property and it offers superb service to every person that walks through its doors.
Orbit 360 Dining
There is also the impressive Orbit Revolving Restaurant, which is located over the main observation deck roof of the Sky Tower. From this Sky Tower location, guests will get a full view of Auckland, New Zealand. The ambiance adds to the experience, and it is also a family-friendly spot to enjoy the endless options of good food.
Andy's Burgers and Bar
You can enjoy burgers and fries at Andy's Burgers & Bars. The bar has a decent selection of drinks, and the burger is among the best money can buy in Auckland, New Zealand. Visit this burger place if you want to grab a bite for your child or a beer for the evening.
Federal Delicatessen
If you are looking for something light, check out the Deli, where you can get some great $5 deals for lunch. Your child will love the snack options available because of the variety of options available. There are also some other great meal deals at this same location, and if you are a Premier Rewards member, you will get some great discounts.
In addition to being able to sit and relax at fine restaurants, SkyCity Casino also offers a unique Japanese tea tasting and education session. Here, you can sample different teas while enjoying some bites of delicious desserts that have been created by Chef Nic Watt.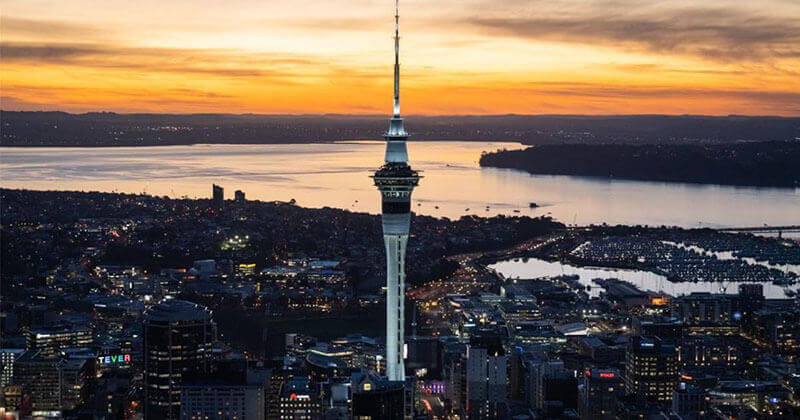 View of the wellknown SkyCity tower.
Skycity hotels
There are three hotels at SkyCity's Auckland Casino location and each has glowing reviews from guests who have used their services. Guests are advised to book their stay at least a week ahead of the relevant date by visiting the casino site for free. They will need to create an account or contact the hotel help desk for more details.
SkyCity Hotel
A short walk from the Sky Tower, this hotel offers the best services you can find anywhere. It has a beautiful environment that would be great for your family photo plus it offers access to the Sky Tower roof, where you can enjoy the views of the city. Rooms usually cost around NZD 279 and above but you can save money by booking ahead.
The Grand by SkyCity
The Grand is a premium location for visitors who want a full luxury experience located at the Sky Tower. The staff are at your beck and call with the control of your experience resting solely in your hands. There is also no language barrier, as the hotel staff are trained in numerous languages so they can serve visitors better. Rooms at the hotel start from around NZD 329, but prices may vary.
Horizon by SkyCity
The Horizon is a technological marvel where glass meets luxury. Sign in to the rooms using key cards and control your experience using the technology tools at your disposal. The 5-star experience provided by the Horizon ensures that the standards at the Sky Tower remain at the highest levels. Bookings start from NZD 379 per night for new and returning guests.
Skycity attractions and experiences
The iconic Sky Tower is the most recognisable attraction at this location and it is the centre of this Auckland location. The Sky Tower offers the best views of Auckland, New Zealand while housing other attractions for family and guests. Although the iconic Sky Tower is the most recognisable location, there are other attractions such as the Sky Jump, Sky Slide, SkyCity Triple Combo, and Weta Workshop Unleashed.
There is also the Theatre where visitors can enjoy some family-friendly entertainment. The movies at the theater are scheduled by date and time, so visitors can check the movies showing at their convenience for free. The theatre is also available till late at night and it is a walkable distance from the hotels.

Final Verdict
SkyCity Auckland's Casino and Hotel is a great destination for entertainment and fun. With over 2100 games, players will be treated to an experience virtually unmatched anywhere in the world. In addition, the VIP experience gives players access to exclusive environments that make the premium rewards worth every penny.
There are so many activities on the property for visitors of all ages. The food and dining experience is great plus the staff is available to serve diners with the highest quality professionalism. Furthermore, the additional activities on-site make the property more attractive for children as it increases its appeal to every visiting child.
This review covers every important aspect of the Hotel and Casino. Bring your children, friends, and family down to the property site for some unbridled action. We hope this review has provided you with all the details you need to enjoy your stay.
Skycity Casino Auckland FAQs
Is there an age limit at the casino?
Yes, visitors who are aged 20 and younger are not allowed to gamble at the casino. Minors (14 years and younger) must be accompanied at all times.
How do I reach customer service?
For all inquiries, you can reach customer service via their email: enquiries@skycity.co.nz. All responses would be acknowledged within 1-2 days while complaints take around 20 days to be resolved.
What can I do outside gambling?
There are different activities you can enjoy outside gambling including the SkySlide, Sky Jump, Sky Walk, and so much more experiences.
Author: Amelia Smith
Last updated 15/11/2023 - Article published 01/06/2017