SkyCity Auckland
When it comes to successful casinos in New Zealand, there are few that have the incredible reputation and success as SkyCity Auckland. This casino is well known in New Zealand for offering an elegant design and endless forms of entertainment. The exceptional casino floor is complemented by two hotels, four amazing restaurants, and an incredible nightclub. If you are looking for something to do when taking a break from the slots and the tables, you will always find something fun and exciting at SkyCity Auckland.The casino is conveniently located on the corner of Victoria and Federal Street and it has become a major attraction for tourists. This was the second New Zealand casino to open and was built in the 1990s. Since that time, the casino has added hotels and restaurants to offer you the best possible experience with each and every visit. The resort is also the home of a great convention centre that was added in 2013.The casino resort is owned by SkyCity Entertainment Group and this Auckland location remains one of the premier casino destinations in all of New Zealand. With a 5-star hotel addition that was completed in 2005, SkyCity Auckland gained even more recognition and today, you cannot find a better gaming experience than what is offered here.
Reading time: 4 minutes.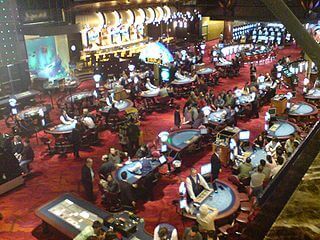 Gambling Excitement Offered
At SkyCity Auckland, you will find everything you want to enjoy a thrilling and rewarding gambling experience. At this casino, there are more than 2,100 gaming machines along with 150 table and card games. These games can provide every level of entertainment whether you are a casual gambler or a high roller. With 24-hour access, you will find a game that will meet all of your needs and offer you amazing chances at winning.
The gaming machines make up the largest portion of the casino and with over 2,100 options, there are endless games to enjoy. These machines include top rated slots as well as video poker machines. If you like the simplicity of a traditional slot, you will be in luck as there are a number of three-reel games located on the casino floor. Video slots are also popular and with these, you can enjoy multiple paylines and innovative bonus rounds for huge payouts.
Table games are also very popular at SkyCity Auckland and you will find all types of games being presented. There are multiple tables of blackjack, baccarat, roulette, craps, poker, and more. All of these provide various betting options and you will benefit from friendly dealers who can even explain the rules of the game if you are a new player.
Baccarat is a very popular game in New Zealand, so this casino offers a Baccarat Room, where you can find more than 20 tables available. The room presents a vibrant environment and you will enjoy a dedicated bar, smoking balcony, and even some exclusive promotional deals that can be redeemed.
If you are new to gambling and this is one of your first times at SkyCity Auckland, you may want to take advantage of the Learn to Play packages. These offer a great gaming experience where you can learn the rules of a new table game or develop better skills and strategies if you have already played these games in the past. There are some great table options that include Blackjack, Baccarat, Poker, Texas Hold Em, Three Card Poker Roulette, and Caribbean Stud Poker. There are two packages that can be purchased and they each offer exclusive use of tables, complimentary beverages, and some other great incentives.
VIP Gaming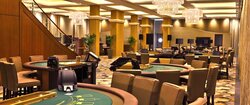 At SkyCity Auckland, VIP members get some special treatment. There is a member only area called EIGHT, and here, the most valued table members gather to engage in private gaming action. There is also a gaming machine salon referred to as Platinum. This is also an exclusive club for members only and this is where you will find all of the high value machines. You can find a number of private tables that are also available, allowing VP members to enjoy exclusive games of poker, blackjack, baccarat, and more.
At this casino, VIP members are appreciated and this is reflected in the amazing services that are offered and the red carpet treatment that is provided to each and every club member.
Great Dining Options
When visiting SkyCity Auckland, you will have many options when it comes to dining and drinking. The Sky Tower houses the amazing Sky Café and the Sky Deck. There is also the impressive Orbit Revolving Restaurant and this is located over the main observation deck. At this casino resort, there are endless options when it comes to finding good food. You can enjoy a burger and fried at Andy's Burgers & Bar or you can enjoy some Chinese cuisine with a visit to the Jade Dragon.
If you are looking for something light, check out the Deli, where you can get some great $5 deals for lunch. There are also some other great meal deals at this same location and if you are a Premier Rewards member, you will get some great discounts.
In addition to being able to sit and relax at fine restaurants, SkyCity Auckland also offers a unique Japanese tea tasting and education session. Here, you can sample different teas while enjoying some bites of delicious desserts that have been created by Chef Nic Watt.