Yggdrasil
Yggdrasil was founded in 2013 by Fredrik Elmqvist, a former CEO at industry giant NetEnt, and it wasn't until 2015 that they became to make a significant impact in the industry. Yet despite coming to the online casino gaming sector nearly two decades late, they have managed to carve out a position as a respected provider of high-end slots titles. In any list of New Zealand players' most popular games, you are sure to find a few Yggdrasil Games titles, as they are responsible for a host of immersive slots.
That meteoric rise to success has been marked by a number of accolades. Yggdrasil was named as Slots Provider of the Year in 2016 and 2017 and Innovator of the Year in 2017. Based in Malta, the company has branched out to operate in a wide variety of online betting markets, offering games licenses to some of the world's biggest online casinos. It has also created a number of popular licensed lottery games.
In case you're wondering about the name, Yggdrasil comes from Norse mythology. It's the name of an enormous tree that the Norse gods visit each day and is often regarded as the tree of life, bringing bountiful good to the world.
Reading time: 5 minutes.

Choose a great NZ casino
Common features of Yggdrasil games
The feature that Yggdrasil Games are best known for is the quality of the graphics they employ in their slots titles. In the short time that it has been in operation, the company has brought together some of the world's most talented creative software experts, including character artists and animators, and the results have been spectacular.
To put it simply, Yggdrasil games just look better and run more smoothly than the competition. In fact, the company has played a major role in raising standards across the industry and other games developers are now trying to copy the Yggdrasil formula. The company has therefore been responsible for an industry-wide revolution in graphical and gameplay standards, but while other companies have been working hard to catch up, there is no doubt that Yggdrasil are still leading the way in game quality.
The emphasis that the company places on game quality has had the effect of limiting the number of games it has been able to produce, and New Zealand players will have noticed that the Yggdrasil name is not as ubiquitous as some of the industry's other players.
The relatively small number of casino titles in its portfolio is also related to the fact that the company is fairly young and so has had less time than the likes of NetEnt and Microgaming to build up its roster. Another potential issue with Yggdrasil's games is that many of them have quite high variance, so they can produce a lot of non-paying spins. With Yggdrasil games there are fewer but bigger wins in exchange for a more immersive gaming experience.
Famous Yggdrasil games
For fans of high quality online slots gaming, the trade off between high variance and game play is worth making. Whereas many games developers produce titles that can be derivative, all of the Yggdrasil games offer a different atmosphere.
For example, Jokerizer provides an entertaining theme along with crisp gameplay, while Magic Mushrooms offers a wild electric experience and games like Fruitoids and Robotnik combine cutting-edge HD graphics and player-friendly bonuses. Among the many popular Yggdrasil games, here are three that have helped put the company on the map:
Vikings Go Wild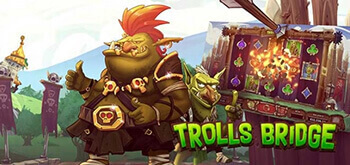 This was one of Yggdrasil's earliest successes, a Norse-themed game that offers plenty of bonus features including sticky wilds, free spins and multipliers. Although Yggdrasil have gone on to produce more visually spectacular games, Vikings Go Wild was still among the most visually arresting games available when it was launched, and proved to be extremely popular with Kiwi online casino players.
Super Heroes
Super Heroes is one of the more original games produced by Yggdrasil, though it combines some of the most successful features of other popular titles such as Beauty and the Beast, with a number of new and unique features. The game is themed around a battle between good and evil, with a variety of super heroes emerging during the game play. The game offers players a range of bonuses, including wilds, instant wins and free spin bonuses that can significantly boost your bankroll, as well as an impressive jackpot.
Jungle Books
This extremely popular Yggdrasil slot is themed around the famous Rudyard Kipling classic, and the graphical style is in keeping with the animated versions of this story that have delighted audiences for decades. Jungle Books is one of the best online casino slots to have been developed in the last few years and features stunning graphics that depict each of the game characters in painstaking detail.
The game-play itself is also cutting edge as the reels shift position when the game enters a new realm and each character has their own range of prizes and bonuses to ensure that the game remains fresh and absorbing no matter how often you play it. Jungle Books has to rate as one of the most popular online slots with discerning New Zealand players.
Yggdrasil Summary
The stunning success of Yggdrasil shows that by focusing on quality over quantity and offering players a better gaming experience, developers can make a big impact in a short space of time. With superb graphics and innovative game structures, Yggdrasil casino games have caught the imagination of thousands of Kiwi gamers.