HTML5 casino
Online casino gaming is the most modern way for New Zealand players to enjoy their slots game favourites and as you would expect, online casinos are constantly updating their product as new technology becomes available. For many years, online casinos relied on Flash to power their games, but the arrival of HTML5 had a dramatic effect on the experience of Kiwi online casino players. New Zealand online casinos have been busy upgrading to the new technology, which offers a better gaming experience, particularly for mobile gamers.
Reading time: 5 minutes.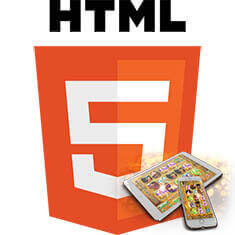 Choose a great NZ casino
What is HTML5?
So what exactly is HTML5? HTML stands for HyperText Markup Language, and five is the latest version of the language. It's a code used for web pages, and is made up of three elements: HTML, Cascading Style Sheets (CSS) and JavaScript.
HTML5 was designed for any online function, without the need to add browser plug-ins. It can handle anything from music to animation, and has two big advantages for online casinos and games developers. Firstly, it isn't proprietary, which means you don't have to pay royalties in order to use it. Secondly, it is cross-platform and so works on any device, whether you are playing online casino via smart-phone, tablet, notebook or Smart TV.
Before HTML5
To understand the impact of HTML5 casinos, it is important to remember how pre-HTML5 casinos worked, particularly for mobile users. Kiwi casino players who like to play on the move, tend to access their preferred online casinos using a mobile browser. But before HTML5, every kind of mobile device needed its own app or downloadable software in order to be able to use the site. This could be fiddly and inconvenient and made for a frustrating and confusing experience for online casino games players, particularly as not every New Zealand casino offered apps for every mobile device on the market.
Mobile online gamers who had Apple technology had it particularly tough as it was difficult to find New Zealand online casinos that worked with their devices. Apple did not allow Flash to run on its iOS system, but as most online casinos relied on Flash, this meant that Apple-technology users were unable to access the best New Zealand online casinos.
The impact of HTML5 Casinos
The arrival of HTML5 led to a revolution in the experience of New Zealand casino gamers. For a start, the use of HTML5 as the building block for casino sites and games enabled those with Apple devices to enjoy online casino gaming with their iPhones and iPads. This is because HTML5 works well with the iOS operating system used on Apple devices, which was great news for Apple users throughout New Zealand.
It was also a positive development for New Zealand casino site operators, because iOS-based products are popular throughout the country, particularly among mobile device users.By being able to access technology that functions with iOS devices, casinos have been able to serve a much bigger audience, and New Zealand casino users have been switching in large numbers to HTML5 casinos as the technology became more common.
And since HTML5 also works on non-iOS operating systems, casino sites and game producers were able to offer a full range of games to all players, and were no longer required to provide a variety of different apps. Although you may still come across some New Zealand casino sites that use Flash technology, HTML5 has grown rapidly in popularity and is on the way to becoming the technology of choice for Kiwi gamers and online casinos.
HTML5 games
While the ability to access your favourite casino games on multiple devices and operating systems is a big bonus of using a HTML5 casino, there are other advantages to this technology. Games that are produced for HTML5 can offer a better quality of graphics and much more immersive game play. Slots titles at HTML5 casinos are usually among the latest and most impressive in the industry, and provide the most exciting experience.
HTML5 technology has also made it possible for game developers and online casinos to offer a much wider range of online games to the New Zealand player. You can play everything from the latest video slots to high definition video poker and classic table and games such as roulette and blackjack. All these HTML5 based games offer enhanced graphics and more interactive possibilities such as live dealer games, which are increasingly popular.
HTML5 on mobile
But perhaps the biggest advantage of HTML5 casinos that the technology works well with the touch screen software employed on mobile devices, making it easy for mobile users to enjoy the best online casino games. The ability to navigate your favourite online casino site with just a touch or a swipe can enhance your playing experience. HTML5 has helped to significantly improve the online experience for all Kiwi online casino gamers.
Getting access to the games through a HTML5 casino site is simple. Whether you are operating an Apple or Android device, you will be able to play direct via web browser, thanks to HTML5 technology. Alternatively, you can download the casino's app straight to your mobile device, which will enable you to play all of the casino's games on the move.
HTML5 Summary
With so many New Zealand online casino players using their preferred sites via mobile applications, HTML5 casinos offer a high-tech gaming environment for the modern online player. By making it possible to access a wide choice of the most immersive and high quality games, HTLM5 technology has dramatically improved the online gaming experience. With a HTML5 casino, you are can access the latest games anywhere, and whether you are using an iOS, Windows or Android device, you can be sure of fast, smooth game-play.